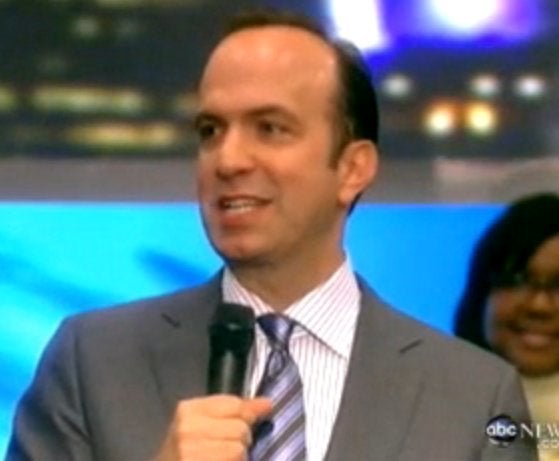 UPDATE: An "ABC insider" told The Hollywood Reporter's Linsday Powers that ABC President Ben Sherwood "laughed off" a video attacking him. The source also said it was unlikely that current ABC staffers produced the video. "We think the people who work here are much more talented and creative," the source said.
ORIGINAL POST: Current and former ABC News staffers have allegedly produced a video attacking their new president, Ben Sherwood.
On Monday, a video was posted on Vimeo by a user dubbed "Roone Arledge," the name of the legendary former head of ABC News. The video shows footage of the speech Sherwood gave to staffers upon his arrival in the new post earlier this month, interspersed with text that, to say the least, is not complimentary.
The most serious charge? That Sherwood "told a lie about his mother being sick" when he left "Good Morning America," where he had been executive producer, in 2006. The real reason he left, the video alleges, was that he was about to be fired for having "no strategy." The video provides no evidence for this claim, however. Sherwood has said publicly that his mother is a survivor of ovarian cancer.
The video also dubs Sherwood "shallow and cloying," and says that he will "preside over the final dismantling of ABC News."
The people who made the video contacted Gawker, saying they were current and former ABC News staffers.
Related
Popular in the Community