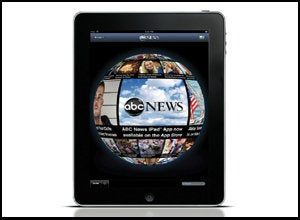 ABC News became the first broadcast news division to release an application for the iPad Wednesday.
The network's app is more than just a website converted for the iPad: it centers around a simulated 3-D "news globe," which users can spin to scroll through stories from the ABC News website and videos from the network's news programs. The globe leverages ABC News Digital's video archive — which dates back to 1963 — to show users video from a given date throughout the last half-century of history.
It's the globe, says ABC News Vice President of Product Development Isaac Josephson, that transforms news consumption from an obligation to a leisure activity.
While users maintain some control of what stories populate the globe, there is also a degree of randomness inherent in spinning around a globe of news stories, meaning users can get lost reading stories and watching videos they didn't know would interest them. And the presence of the archival footage means that history buffs can spend hours watching footage from ABC News' past.
The app also features share functions — with the touch of a button, users can send stories to Facebook or Twitter — and the ability to save stories for offline viewing.
Watch a demo below:
Popular in the Community