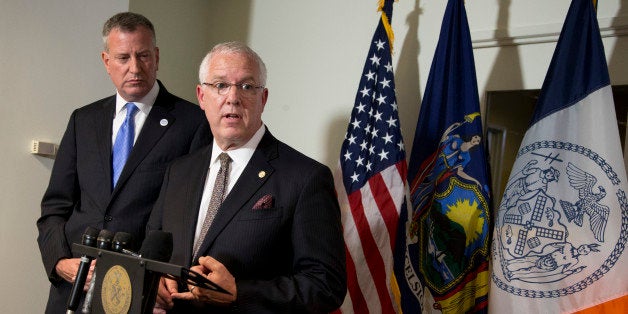 Former ABC News correspondent John Miller is expected to give testimony in an upcoming terrorism trial regarding an interview he conducted with Osama bin Laden, The Wall Street Journal reported Thursday, citing "people close to the case."
While Miller currently serves as deputy commissioner of intelligence and counterterrorism at the NYPD, federal prosecutors are hoping his testimony will help them convict Khaled al-Fawwaz for his role in the bombings of two U.S. embassies in Tanzania and Kenya in 1998. Miller wrote in his book, The Cell: Inside the 9/11 Plot, and Why the F.B.I. and C.I.A. Failed to Stop It, that he met with al-Fawwaz at his home outside of London, and that the defendant helped him secure an interview with bin Laden in May of 1998. Some three months later, the al Qaeda -executed bombings would leave a total of 234 dead, including 12 Americans.
Though Miller no longer works as a reporter, The Wall Street Journal points out that his expected testimony is the latest installment in a heated debate concerning whether or not the Justice Department obtaining evidence from journalists is an encroachment on press freedoms. In December, news broke that New York Times reporter James Risen would be subpoenaed to answer "limited questions" ahead of the trial of former CIA operative Jeffrey Sterling.
According to a 2008 Washington Post article, Miller -- at the time the FBI's chief spokesman -- gave testimony regarding the 1998 interview before at the military commission trial of Salim Ahmed Hamdan, bin Laden's former driver, in Guantanamo Bay.
The Huffington Post has reached out to ABC News for further comment and will update this post if and when a response is received.
Related
Popular in the Community