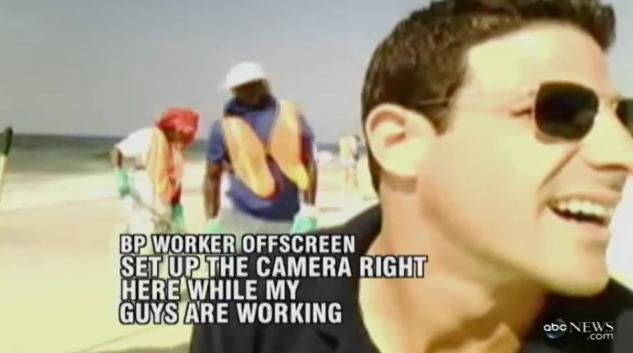 While reporters in the Gulf of Mexico may want to do more to protect themselves from the risks involved in touching and swimming around in the oil, the larger battle they are fighting as they cover the oil spill crisis is one of access. BP has exerted no small effort in keeping the press at arm's length from the story. They've been barring reporters from oil drenched areas, forbidden aerial flyovers, clamped down on shooting photos of the dead wildlife, and basically worked hard to give reporters the runaround.
While preparing for a video chat on his laptop from a public beach in Alabama, Gutman was hassled by the manager of a nearby crew, asking Gutman why he was on the beach.


"You mind if I ask why you've set up a camera right here while my guys are working?" the man asked. After Gutman explained that he was a reporter for ABC News, the manager responded, "I find it interesting."

For Gutman and other journalists along the Gulf, it's tough to report when so many are barred from talking.

"It's incredibly frustrating working here because of those conditions," Gutman told ABC's Dan Harris. "Everywhere you go, you find police barricades, people telling you, you can't do this, you can't do that, or you can't talk to these people. We're not exactly sure why that is."
I tell you what, if the presence of a reporter on the beach is something a typical BP manager finds "interesting," maybe he should take a step back and take a look at ALL THE OIL, THAT IS EVERYWHERE.
Fueled by the static thrown his way, Gutman and his in-studio partner Dan Harris ended up filing a terrific report. Gutman couldn't help notice that the workers who were initially in his shot were all asked to pull down the beach until they were out of camera range. He went on to relate just how difficult it's been for reporters to talk with the locals involved in the clean-up activity, many of whom are afraid to speak on the record because they now depend on BP for their livelihood.
On this past week's edition of This Week, National Incident Commander Thad Allen told Gutman's colleague, Jake Tapper, "I put out a written directive and I can provide it for the record that says the media will have uninhibited access anywhere we're doing operations, except for two things, if it's a security or safety problem. That is my policy. I'm the national incident commander."
[Would you like to follow me on Twitter? Because why not? Also, please send tips to tv@huffingtonpost.com -- learn more about our media monitoring project here.]

Support HuffPost
The Stakes Have Never Been Higher
Related
Popular in the Community