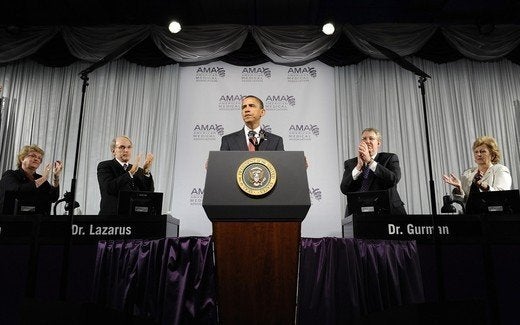 An executive from ABC News has responded to a letter from RNC Chief of Staff Ken McKay that criticized a planned ABC series about health care, set to be broadcast from the East Room of the White House.
In the original letter, McKay wrote he was "deeply concerned and disappointed with ABC's astonishing decision to exclude opposing voices" on the issue.
Today, the Republican National Committee requested an opportunity to add our Party's views to those of the President's to ensure that all sides of the health care reform debate are presented. Our request was rejected ... I find it outrageous that ABC would prohibit our Party's opposing thoughts and ideas from this national debate, which affects millions of ABC viewers.
ABC Senior Vice President Kerry Smith responded, calling McKay's arguments were based on "false premises." Smith said that the health care specials are "devoted to exploring and probing the President's position and giving voice to questions and criticisms of that position," and he dismissed charges that the program would feature a partisan, one-sided message.
ABC News is looking for the most thoughtful and diverse voices on this issue. ABC News alone will select those who will be in the audience asking questions of the president. Like any programs we broadcast, ABC News will have complete editorial control. To suggest otherwise is quite unfair to both our journalists and our audience.
The healthcare special is set to air on June 24.
Popular in the Community