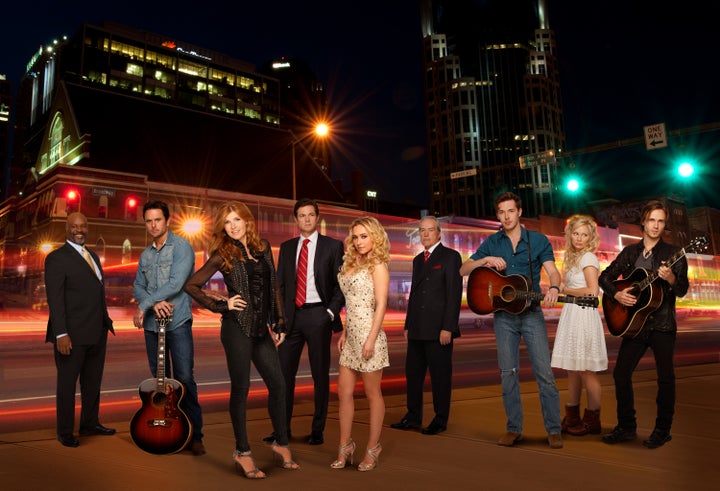 We've seen ABC's new fall and midseason pilots, and while they're not for review (things often change drastically before the shows are set to premiere), we do want to share our first reactions with you.
This quick guide is designed to get you excited for some new shows ... and to warn you to curb your enthusiasm for others. Just keep in mind that we'll have full reviews of the final pilots closer to airdate. For now, here are our snap judgments of all of ABC's new shows for the 2012-2013 TV season.
Here's how we broke them down:
Watch It - awesome show, can't wait for more
Skip It - it's either horrible or just totally not their thing
DVR It - there's potential, will give it a second chance
FALL 2012

"666 PARK AVENUE" Read more about "666 Park Avenue" and watch the trailer here Ryan: Skip It "Revenge" has fun with its status as a classic nighttime soap, so why can't this show have a good time with its melodramatic premise? Sadly, "666" takes itself deadly seriously, which is kind of goofy given the "killer apartment building" concept at the show's core. I love me some Terry O'Quinn, but I'm far from convinced that this can work long-term or even medium-term.
Furlong: Watch It I think this could be the supernatural show for people who don't really like supernatural shows. The cast is phenomenal and there's plenty of mystery to uncover.
Etkin: DVR It It's no "Lost," but I will watch Terry O'Quinn play his typecast friendly, yet creepy bald character any day, especially in a New York City apartment building as stunning as this one.
Harnick: DVR It While the pairing of Terry O'Quinn and Vanessa Williams steals the show, I'm not exactly convinced this supernatural thriller has the chops to make it into my official TV schedule.
Moaba: Skip it Why are everyone's hands bleeding? Why do John Locke and Ben Linus from "Lost" only get cast in shows where they're playing mysterious puppetmasters? Why do I care? Wait, I don't.
Weingus: Watch It If you're a fan of thrillers and don't mind jumping our of your seat every few scenes, don't miss this one.
Prudom: Watch It It needs to decide whether it wants to be campy or a real drama, because right now the bipolar tone is throwing me a little, but the cast is great and I like supernatural shows, so I'm willing to see where it goes.
"LAST RESORT" Read more about "Last Resort" and watch the trailer here Ryan: Watch It Easily the most exciting new show of the fall. I can't exactly see how they'll turn this excellent pilot into a TV show, but I can't wait to see the creative team try.
Furlong: Watch It I'm not sure where this one goes after the pilot, but with Shawn Ryan at the helm and this cast, I'll keep watching to find out.
Harnick: Skip It Just not my thing, but it wasn't terrible.
Moaba: Watch It Andre Braugher kills it as a kick-ass submarine commander who's forced to go rogue after his ship is used as a pawn to provoke a nuclear war with Pakistan. Most suspenseful, politically-relevant sub drama since "Crimson Tide." I DON'T HAVE TO THINK THIS OVER.
Weingus: Skip It Everyone seems to be in a state of constant panic in "Last Resort" ... except maybe the viewer.
Prudom: Watch It It boasts an excellent cast and a surprising amount of tension. I'm not sure what the long-term plan is, but the pilot is intriguing enough that I'm curious to find out -- parts of it felt like a Tom Clancy adaptation.
"MALIBU COUNTRY" Read more about "Malibu Country" and watch the trailer here Ryan: DVR It I will not watch further episodes of this show, but I said "DVR It" because this very traditional sitcom will likely be perfectly acceptable to fans of Reba McEntire (and Lily Tomlin, who plays her sassy mama). It's this year's "Last Man Standing": inoffensive, corny, competent and not really for me, but it may well find an audience.
Furlong: Skip It Reba is a star, people, but someone needs to tell her and this show's writing staff that it's 2012. Even a pot-loving granny (come on, Lily Tomlin) can't counteract the hokey jokes and an unforgivable homophobic moment. Have fun on Friday nights with that awful Tim Allen show that I've also forgotten about since the pilot!
Etkin: Skip It I loathed nearly everything about this, yet I assume it will be the most watched show in its timeslot.
Harnick: Skip It Is it too early to start the "Save Lily Tomlin!" campaign? Never trust a multi-camera sitcom that has gay and drug jokes in the pilot.
Moaba: Skip It The studio audience/laugh track found it a lot funnier than I did (the lone exception being when when Lily Tomlin's character got a hold of a weed lollipop). But I could see middle America tuning in to watch Reba and Tomlin navigate the culture shock of moving their family from Nashville to Southern California.
Weingus: Skip It Reba's no fun, the supporting characters are obnoxious, and laugh tracks are (or should be) a trend of yesteryear!
Prudom: Skip It Everything I hate about multi-camera sitcoms. If you, like me, dig the southern accents, just cut your losses and watch "Nashville" instead.
"NASHVILLE" Read more about "Nashville" and watch the trailer here Ryan: Watch It I'm not necessarily interested in the lives of country singers in Nashville, but this show made me interested. Connie Britton anchors a strong cast and there's some real potential (and pretty good music) here.
Furlong: Watch It Connie Britton country catfighting with Hayden Panettiere? And some good music to boot? Even if you don't like country music, tune in for this soapy drama.
Etkin: DVR It So it is "Country Strong" without the drinking problem. But it is Tami Taylor so it'd make for an entertaining marathon after saving enough episodes up on my DVR.
Harnick: Watch It You won't get a much better feud than Connie vs. Hayden this season. Lots of interesting plots to explore in this soapy musical.
Moaba: Skip It "Smash" for country fans. In other words, see you never.
Weingus: Watch It It's heartwarming. It's fun. Plus, Tami Taylor's back!
Prudom: Watch It One of my top three pilots of the year -- Connie Britton is flawless, the script is engaging and the songs will be stuck in your head for days.
"THE NEIGHBORS" Read more about "The Neighbors" and watch the trailer here Ryan: Skip It I don't have the words. Except this one: NO!
Furlong: Skip It I didn't give up on this show when I heard the neighborhood-full-of-aliens premise, but I gave up pretty quickly when I saw how poorly executed that concept is here. (Sidenote: Apologies to the stars of this show, but they didn't cast a single "star" that can carry a sitcom.)
Etkin: Skip it Stay as far away from this show as humanly and alien-ly possible. Plus, "Coneheads" called and they would want the rights to this ripoff ... that is, if anyone would dare want to be associated with this abomination.
Harnick: Skip It The only reasonable explanation for "Neighbors" is ABC is playing an elaborate, expensive prank on the public.
Moaba: Skip It I almost want to recommend watching it -- just once, or really, just for five minutes -- to take in the sheer weirdness, unintentional comedy factor and campy "Mars Attacks" vibe.
Weingus: Skip It It's like "Pleasantville" meets "Stepford Wives" ... or something equally as horrible.
Prudom: Skip It What were they thinking? "Third Rock From The Sun," this ain't.
"THE FAMILY TOOLS" Read more about "The Family Tools" and watch the trailer here Furlong: Skip It Why can't Kyle Bornheimer find a show that's right for his particular brand of hilarious-guy-next-door comedy? I was pumped when I heard he'd gotten a new show ... then I watched this. Maybe next season!
Etkin: Skip It On the upside, there's a pretty adorable puppy that shows up mid-pilot. On the downside, everything besides the puppy.
Harnick: Skip It Tropey and boring. No mas!
Moaba: Skip It Such a weak, laughless pilot that I felt like a tool for watching it.
Weingus: Skip It In what world is a failure of a son taking over his father's repair business against a suburban backdrop even slightly interesting?
Prudom: DVR It The first half made me snore, but moments in the second half made me chuckle, so I guess it has potential?
"HOW TO LIVE WITH YOUR PARENTS (FOR THE REST OF YOUR LIFE)" Read more about "How To Live With Your Parents (For the Rest of Your Life)" and watch the trailer here Ryan: DVR It Sarah Chalke long ago proved that she's one of TV's most consistently winning and skilled comedy performers, and if the rest of this show is a little broad and manic, it might settle down into something sweet and mildly entertaining. Fingers crossed it's the next "Suburgatory."
Furlong: DVR It Get past the name -- seriously, just do it -- and give this show a shot, just for the cast alone. Quirky and cute, it has potential.
Etkin: DVR It Another one of those shows that I want to like because of its stars -- Sarah Chalke! Elizabeth Perkins! Another adorable little girl! -- but it didn't quite work. But "HTLWYPFTROYL" has some things to work out ... obviously.
Harnick: DVR It It's sort of cute, but annoying at the same time. Hopefully the kinks will get worked out.
Moaba: DVR It Nothing lol-worthy, but Elizabeth Perkins, Brad Garrett and Brad Garrett's earring playing kooky, too-sexually adventurous grandparents had me chuckling occasionally. Enjoyed the final montage set to Edward Sharpe & The Magnetic Zeros' "Home" more than the rest of the pilot, which probably isn't a great sign.
Weingus: DVR It The pilot was entertaining, but the pathetic "I'm in my 30s and live with my parents" storyline will likely get old.
Prudom: DVR It The pilot was light on laughs, but it has a great ensemble, so I'm hoping the scripts sharpen up.
"MISTRESSES" Read more about "Mistresses" and watch the trailer here Furlong: DVR It After that soft core porn excuse for a trailer (cheesy clips, bad lighting and all), I was dreading this one, but was pleasantly surprised. These four women are like the modern-day L.A. version of "Sex and the City" -- and, thankfully, there's nothing desperate or housewife-y about them.
Etkin: DVR It It's a little bit "Desperate Housewives" without the camp -- with storylines both mysterious and realistic -- and I don't think that's a bad thing. Plus, Sun!
Harnick: DVR It Not a perfect pilot, but I would definitely give this show another shot.
Prudom: Skip It It's not terrible, but there's nothing original, inventive or all that compelling about it, and you can see the "twists" coming from a mile away.
"RED WIDOW" Read more about "Red Widow" and watch the trailer here Furlong: DVR It This is what Ashley Judd's "Missing" wishes it had been. Radha Mitchell is a badass, and there's plenty of intrigue here. Curious to see where it goes next.
Harnick: Skip It There's sort of a "Missing" vibe, but not nearly as hammy. "Red Widow" seems a bit out of place on ABC and I will happily ignore it.
Moaba: Skip It Not bad, not good, not particularly memorable in any way. A show about pot smuggling should be a lot cooler, man.
Weingus: DVR It Thanks to a stone-faced little kid with a gun and a mysterious plot, "Red Widow" is definitely DVR-worthy.
Prudom: DVR It The pilot felt about two hours long and got bogged down in laying groundwork for the rest of the season, so I didn't see much actual plot movement, but I might check out the second episode to see where it intends to go from here, since it seems to have ambition and a strong female lead.
"ZERO HOUR" Read more about "Zero Hour" and watch the trailer here Ryan: DVR It Did Anthony Edwards' "ER" money run out already? What's up with that? Having said that, I have a weak spot for mythology-oriented shows, and amid the hyperactive melodrama and leaden dialogue, there were some nice "X-Files"-ish flourishes, so I'll give "Zero Hour" a few episodes to find itself. I may well regret it, but I can't help myself.
Furlong: Skip It If the bizarro Nazi conspiracy theories don't turn you off, the repeated clock imagery certainly will. When a show's this dull, you might not want to keep reminding your audience of how much time they're wasting watching.
Harnick: Skip It Dr. Greene's return to TV is a mix of "National Treasure" and "The Da Vinci Code," but I still expect him to save strap on a stethoscope and save me from my boredom.
Moaba: Skip It Nazis, treasure-hunting, Anthony Edwards. Zero interest.
Weingus: Skip It Enough with the melodrama, ABC!
Prudom: DVR It It has "Da Vinci Code" aspirations and an intriguing premise, so I'll give it a second look, although Anthony Edwards is surprisingly low energy. Glad to see "Greek's" Scott Michael Foster livening things up.
Tell us: Which of these new ABC shows are you excited to see for yourself?
Check out our snap judgments of other pilots here, by network:
Check out trailer and more info on ABC's new 2012-2013 shows here:
Calling all HuffPost superfans!
Sign up for membership to become a founding member and help shape HuffPost's next chapter
BEFORE YOU GO