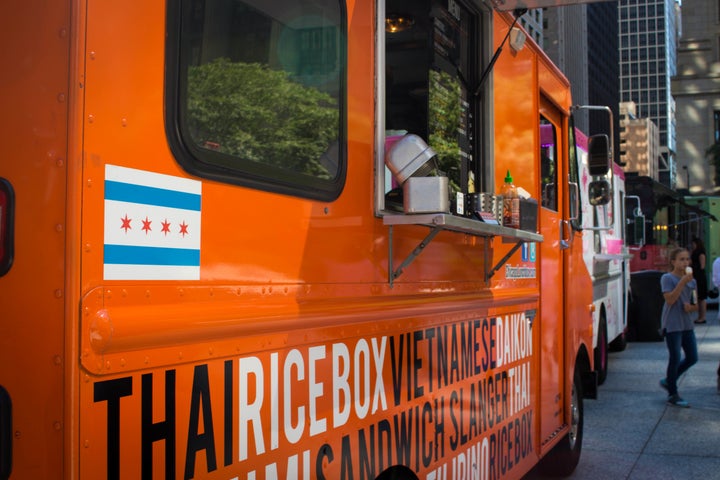 The life of a Chicago food truck owner is a ceaseless battle for survival.
The weather can be awful. The market is cutthroat. And city government has shackled food trucks with restrictions that are unheard of in other major cities.
But a new headache has emerged for Chicago food trucks: the Chicago Sun-Times and ABC7. These two outlets have released a series of stories attacking these popular eateries, but the information fueling their attacks is incorrect, at best. What's worse, this misinformation is the justification Chicago city officials are using to ramp up food truck inspections.
Botching inspection numbers
The latest scoop from the Sun-Times-ABC7 joint investigative team has to do with health inspections of food trucks. The investigation's marquee claim is that only 10 percent of Chicago food trucks ever face a "surprise" health inspection from city officials.
"According to our analysis of city data, food trucks are scrutinized when getting their license or when an inspector shows up reacting to a complaint, but only a mere 10 percent ever get a surprise inspection," wrote ABC7's I-Team.
This sentence reveals a major fault with the team's analysis. Surprise inspections consist of "canvass" inspections as well as inspections derived from customer complaints. In both cases, the food truck owner is not given prior notice of an inspection.
With this in mind, a second look at city numbers tells a completely different story.
Looking at the 43 food trucks the Illinois Food Truck Owners Association says are active in Chicago, 18 have received surprise inspections in the last three years, according to city records. That's 42 percent.
In total, those 43 trucks in operation have received nearly 150 inspections from the Chicago Department of Public Health over the last three years. And every one of these trucks has faced inspection when receiving or renewing its license to operate.
Further, those numbers don't include surprise inspections these trucks often experience at festivals such as the Taste of Chicago, the Pilsen Food Truck Social and the West Town Food Truck Social.
Meanwhile, a recent report from Chicago's Office of Inspector General found that less than 44 percent of Chicago restaurants and similar establishments received all required routine health inspections in 2015.
Clearly, when it comes to food safety, Chicago's food trucks are far from the renegades painted by Sun-Times and ABC7 journalists.
In addition to misrepresenting inspection data, the investigation decided to pick on one business in particular – The Slide Ride.
Nida Rodriguez is a single mom and the owner of The Slide Ride, a popular food truck serving hamburgers.
"Another truck, The Slide Ride, went into business more than 3-1/2 years ago and hasn't faced a surprise food inspection yet," wrote Dan Mihalopoulos at the Sun-Times.
That's not true. In fact, city records show The Slide Ride has faced four complaint-driven inspections, which are always a surprise. Rodriguez posted a photo of one of the inspections on Twitter.
ABC7 peddled further innuendo regarding Rodriguez's truck.
"The I-Team also found that the city's health department may not be categorizing trucks in the proper risk level, which determines the amount of inspections which should occur. For example, a truck called Slide Ride cooks hamburgers but is a risk three, the lowest priority for inspection," wrote reporter Jason Knowles.
The Slide Ride is categorized as a low-risk truck because it does not handle any raw ingredients or cook on the truck. Rather, Slide Ride cooks all burgers off-site at a licensed commercial kitchen, Rodriguez said, and simply serves them on the truck.
Demand for her fare is so high that Rodriguez couldn't possibly cook burgers quickly enough on the truck to satisfy hungry Chicagoans.
A fight for food truck fairness
The city's mistreatment of food trucks borders on the absurd.
City code mandates that trucks change locations every two hours and stay at least 200 feet away from any brick-and-mortar business selling food. Due mainly to the latter restriction, it is illegal for food trucks to park on 97 percent of downtown curbs, according to exhaustive research from the Institute for Justice.
Assuming trucks can even find parking, strict enforcement of the two-hour rule makes running a profitable business extremely difficult.
Thankfully, Alderman Joe Moreno, 1st Ward, introduced an ordinance Dec. 14 that would extend the time limit to six hours from two hours. While additional parking is also crucial for truck owners, this proposal gives a glimmer of hope.
Food trucks already are facing an uphill battle against a city that has been unwilling to embrace the food truck movement.
Unfortunately, inaccurate reports like those issued by the Sun-Times and ABC7 only add to this burden.
Popular in the Community