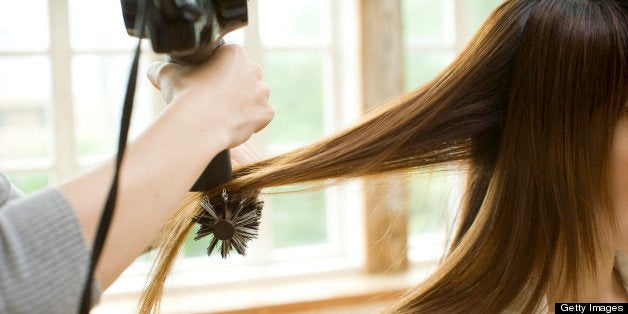 When TV "investigative journalism" is done well, the public becomes educated, important issues receive attention... and someone wins an Emmy award. When it's done poorly, it seems, the story could end up on ABC's weekly news program, 20/20.
Which is precisely what happened on May 3rd, when the network broadcast a piece entitled "Confessions of a Hairstylist," a one-sided, eight-minute segment in which a cackling, unprofessional, Santa Monica-based colorist -- whom ABC seemingly treats as the sole spokesperson for the entire hair industry -- took it upon herself to denigrate her own profession, while laughingly uttering the words, "I'm going to hell!" Branding practically everyone in her business as unscrupulous, unclean, and downright immoral, the story likely convinced more than a few viewers to pick up a pair of drugstore shears, lock themselves in a bathroom, and cut their own damn hair. What's more, it made mincemeat of top celebrity stylist, Adir Abergel (who styled Anne Hathaway's hair during the 2011 Academy Awards), for commanding as much as $600 per haircut.
"Sadly, people who are not successful in a given industry enjoy an opportunity to bash that industry, which is exactly what seems to have happened here," says leading color expert, Beth Minardi, a 30-year veteran of the business, and an educator who has been branded by some as "the scientist of color."
By focusing on the worst offenders (those salons with lousy sanitation practices, rampant gossip, employees who retaliate against bad clients) and taking shots at the issue of haircut pricing, 20/20 does a disservice to the $75 billion-dollar hair biz, and the professionals who take pride in their work, their training, and their artistry. "No profession is perfect," says Minardi, who agrees that there are plenty of "great salons, ok salons, and bad salons." "It's this universally negative portrayal that's disturbing."
20/20's Voice Over: "Hair Salons: Are they clean or dirty? "Dirty," says their expert."
While some salons are cited with sanitation violations (after all, there's got to be fodder for Bravo TV's Tabatha Takes Over or she wouldn't have a show), hygiene is at the top of the list for many shops, including the 1,000-plus JCP salons (formerly known as JCPenney), that recently beefed up their talent roster by replacing all front-desk receptionists with licensed cosmetologists. "We are held to very high standards," says Vanessa Scott, a master stylist at JCP's Ann Arbor, MI salon, who's been brandishing the scissors for 14 years now. "We're actually required to have four different containers at our stations -- one for dirty combs, another for clean combs, one for dirty brushes, another for clean brushes." Also in this chain-salon's hygiene arsenal: Barbicide cleansing wipes for shears ("I clean mine after every client," says Scott), which they also place at the shampoo bar to wipe down chairs, bowls, and neck rests. In fact, large-scale chain salons may actually be cleaner than some random shops, given the stringent sanitation requirements often mandated by corporate policy.
And then there are the ones that simply shine all by themselves. At the Mark Garrison Salon in NYC, assistants spend a portion of each day cleaning brushes, combs, and rollers, while housekeepers sanitize the bathroom countertops, floors, and windows. Sure, you might pay a premium for the meticulous maintenance (read: overhead), but what you're shelling out in fees, you're getting back in spades, explains Minardi, whose team takes up a section of the Garrison salon.
In the end, though, you have to be your own watchdog when it comes to choosing wisely. Celebrity stylist, Damien Carney, urges consumers to keep their eyes open and pay attention to a salon's image, right down to noticing whether they stock new magazines in the reception area, offer freshly-brewed coffee, and even display diplomas and awards on the walls. "You don't need to be an expert to note attention to detail," says Carney. "You'll know what looks good and professional. Salons are the one place where it's okay to judge a book by its cover."
20/20's Voice Over: "Your stylist is almost always spilling your secrets and judging everything about you."
Many stylists agree that they are often the first person to which a client will confess their fears, pain, or betrayals, but that doesn't mean your personal business becomes gossip material in the break room. "We have the honor of being able to physically touch people, and because of that, we form relationships with regular clients... some of whom we've been seeing every month for 20 years or more," says Minardi, who explains that it's not unheard to chat privately with co-workers about how badly they feel for a suffering client. Vanessa Scott agrees that some of her customers become like family. As for the troublemakers? "We're only human," says Minardi. "If a client is terribly rude and makes a scene or behaves in an impossible manner, we might talk about them. But most people working together tend to do this, no matter what business they're in."
20/20's Voice Over: "Some salons keep more tabs on you than the CIA. Receptionists may make secret notations about you: Poor tipper, bad attitude...or the kiss of death...always late."
What 20/20 may see as a bad thing -- maintaining client profiles -- may actually be an important part of good old-fashioned customer service. Just as the best hotels keep track of which pillows you prefer, and the best waiters greet you with your favorite cocktail, the best hair salons offer the same kind of personalization -- not to your detriment, but in an effort to offer accommodate the whims and ways of their regular clients. "Even if negative notes are taken -- about clients' tantrums or their habitual tendency to put their stylist behind schedule -- it informs the staff that they need to be ultra-careful in their attempt to satisfy the guest, or to be flexible that day, or to know which stylist may or not be a good match for that customer," says Minardi.
20/20's Voice Over: "But we all know it always come down to the money."
Ultimately, though, 20/20's piece spends most of its time bashing the bucks: how much people should pay for a haircut and whether or not any of it is worth the money. In an effort to discredit the notion of shelling out top dollar, the show sends a buffet of women (with coifs that range from $20 to $600) onto the streets of Hollywood, and asks passersby to match the tab -- Price is Right-style -- with the cut. As you might expect, most failed miserably, which must have made producers of the segment positively giddy. But comparing high to low is like comparing apples to go-carts: The price of the cut has little to do with looking great. One thing most stylists agree on is that the term "perfect hair" means something different to each customer. "A cut may or may not be technically perfect, but it looks good on a client...or is easy for them to style... or is better than their last cut... or happens to lay well with their particular hair type... or maybe it's simply that the guest enjoyed the stylist and their experience in the salon, says Amy Quackenbush, owner of Seattle's Adele Salon. "All of that makes for a perfect haircut."
And that's what the entire business is really about -- self-confidence. "You can buy a suit for your next meeting and feel smart because you look good and you only paid $80 for it, or you could pay $800 and feel just as great about yourself," says California-based hair pro Cheryl Robinson, who owns 36 Supercuts salons -- a chain known for specializing in low-cost, time-efficient services, a walk-in/no reservations policy, and an a la carte menu that allows customers to pay -- or not pay -- for add-ons, like a blow dry. Yet despite being an expert in the budget business, she, too, acknowledges that a haircut is a about a heck of a lot more than just its price tag. "Our stylists spend 1,600 hours in schooling to get their license, and another 80 hours of intense education in cutting hair for our company; but many factors go into the price of a service in our industry, and it's not necessarily based solely on the quality of the cut. It's also based on the quality of the experience the customer gets."
To wit, NYC stylist and national educator, Stephen Wang, wields the finest, $1,000 haircutting scissors, creates blowouts that last for days with natural-bristle Mason Pearson brushes, and works out of a swanky salon on the upper east side of Manhattan, an area that easily gets as much as $40,000 monthly rent... all of which plays a part in setting his $175 tab. "Ask yourself about the difference between a Valentino dress and an H&M dress," challenges Minardi. "They're both dresses. They both cover your ass. But, like fashion, haircutting is an art form. If a stylist commands top dollar, it's because many people demand to see this person for a cut that has become very important to them."
And that's exactly how the luxury-goods market has always worked; those who choose Mercedes over Mazda, or Vuitton over Nine West are getting flawless design and emotional satisfaction for a premium price -- one that they're willing to pay. "At the end of the day, we can coexist just fine," says Supercuts' Cheryl Robinson. "We're all professionals in the beauty industry. Well, except for the lady they interviewed."
Related