With most of the votes counted, Designated Survivor is the best new network show of the fall season.
Premiering at 10 p.m. ET Wednesday, Designated Survivor brings Kiefer Sutherland back as Tom Kirkman, a marginal cabinet member who suddenly becomes president when terrorists blow up everyone else during a State of the Union address.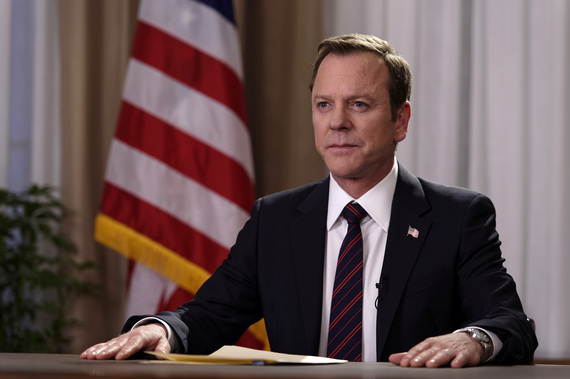 It's fiction, but since terrorism is not, the premise resonates, and the first several episodes pull the viewer all the way into the boat.
It's a political drama that, at least out of the box, deserves the attention paid to the likes of The West Wing, Scandal and House of Cards.
Designated Survivor is none of those shows, though it shares their wise approach of being as much human as political. Mainly, it compellingly conveys what it might be like to suddenly become the most powerful person in the world under the worst of circumstances.
Kirkman shares some perpetual soul-searching with Sutherland's best-known TV character, Jack Bauer of 24. But Tom isn't Jack. Jack was an outsider scrambling around in a desperate attempt to secure the perimeter. Tom sits at the center. He defines the inside.
But just hearing White House Chief of Staff Aaron Shore (Adan Canto) call you "Mr. President" isn't quite enough to declare mission accomplished.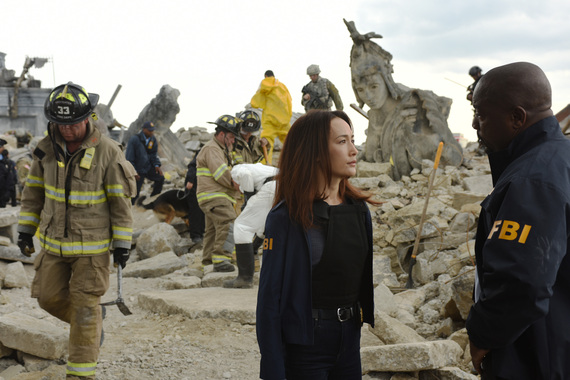 Tom Kirkman takes over a country that has been slammed senseless by the mass murder of almost all its leaders. He has to start by assuring Americans they still have a country (above: Maggie Q and Malik Yoba), and that he has the wisdom and willpower to secure and lead it.
The tests, immediate and brutal, could define the future of the planet. Some of his generals argue that America needs to strike back hard and fast, telling him that a show of strength all by itself means more than being sure exactly whom to direct it against.
Kirkman, whose cabinet position and expertise were more in the area of housing, has a worldview that mercifully seems fair and humane. Whether he can implement it under the crushing pressure of this situation, with pretty much no time for reflection, is one part of his challenge.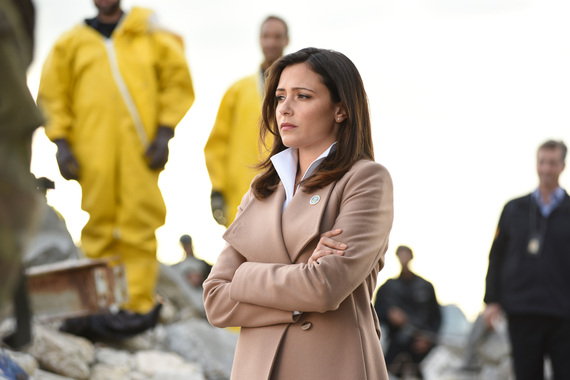 Fortunately, he has a few long-serving people around him, including his chief of staff Emily Rhodes (Italia Ricci) (above). Back at home, his wife Alex (Natascha McElhone) is strong and smart and once she gets past all the bureaucrats and officials who assume she's incidental, she proves she is anything but.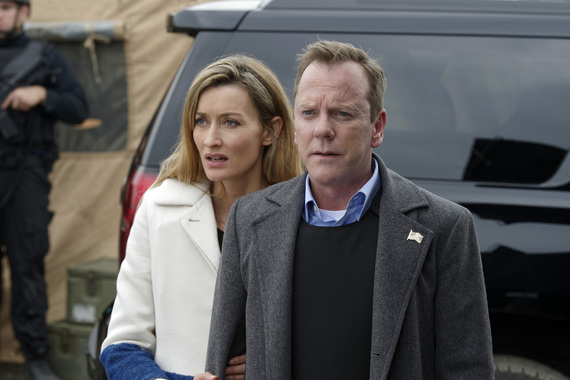 Not that your husband suddenly becoming president is easy for Alex (above).
As Kirkman takes the roll call of who is left in the government and the power structure, he realizes that most of them don't think he can do the job.
There are moments when he fears they are right, and he underscores the degree of difficulty by making some mistakes. He's studying to be the president at the same time he has to be the president.
Sutherland plays this ambivalence, amid all the contradictory demands, very nicely. He even uses the fact he's not particularly tall or imposing to reinforce the fact that he's the classic underdog.
If some television dramas scramble to ensure they have enough plot, Designated Survivor could run for a decade and never touch on all the issues that Tom Kirkman will face.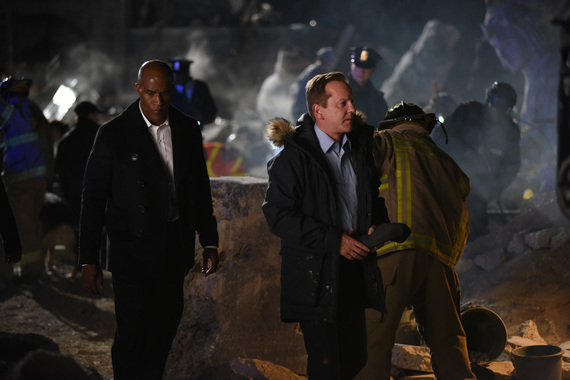 For starters, he's got to figure out whether that attack on the Capitol was just an opening volley, while reassuring a dazed and angry nation that even if it was, America will find a way to survive.
Then he and the country have to start restocking the government. Presumably an election needs to happen soon, and how does the new president play that?
He's no sooner been sworn in than he's getting concerned calls from the leaders of every country in the world, all expressing sympathy while angling to get something out of this chaos for themselves.
For the creators of Designated Survivor, the challenge is to weave all these threads together into compelling television. Early in their term, they have.
REAL LIFE. REAL NEWS. REAL VOICES.
Help us tell more of the stories that matter from voices that too often remain unheard.