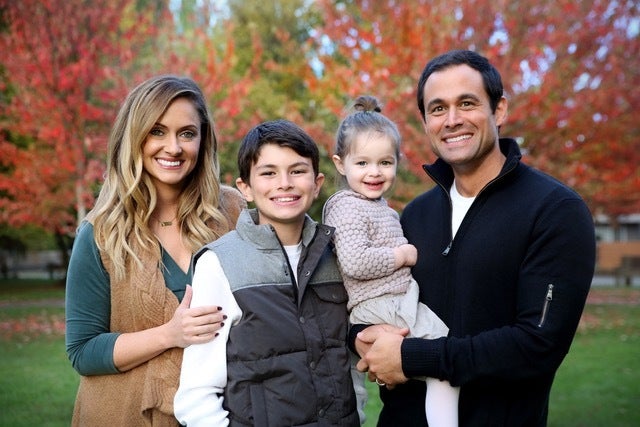 Anyone who's a reality TV fan knows Jason Mesnick. Or rather, you know the guy who was portrayed on ABC's The Bachelor (star of Season 13), and The Bachelorette (runner-up of Season 4). Of course, no fan of The Bachelor can forget what transpired at his season's After The Finale Rose show when he broke up with fiancée Melissa Rycroft, on live television, telling her that he still had feels for the runner-up, Molly Malaney. Well, as the story goes, Jason became an instant villain the likes of which reality television had never created before.
Finally we learn, in Jason Mesnick's own words, what he says happened behind the scenes...
"I will start with that everything is amazing now. We have a beautiful baby, and Ty is great. Molly and I are great. When you have a great marriage and a beautiful child that comes from it, it's hard to have any regrets about where we stand now. But, initially I was angry with myself and I was angry with the producers because there were promises made."
"The biggest thing (producers said to me prior to filming After The Final Rose) was, "Jason, we (now) want Melissa to be the next Bachelorette. Because we're going to let you ask Molly out, and you can't do that away from the camera because you're under a five million dollar contract (to not make contact with the runner-up), we need your help to have America feel for Melissa in the same way they felt for you when DeAnna dumped you. The fans just need to feel sorry for Melissa. Work with us and we'll let you have Molly." That's what they told me."
"And they said, "(At this time) We've asked Molly to be The Bachelorette and we're going to be giving up a lot. So we just need you to work with us in return." In my gut I knew it was the wrong thing to do."
"Melissa and I had had so many conversations and I could never say anything bad about her. She is a very sweet person. We had broken up before all that, but the only thing they had asked me not to do was not to mention anything about Molly. And so I didn't do that. I never told Melissa about my feelings about Molly. Melissa and I were just getting to know each other. It had only been a few weeks since we were done filming—about six weeks. If I would have listened to my gut and my heart I would have never listened to any producer."
"And I actually told Melissa never to trust a producer, they are only in it for themselves; they're only looking to make a good show. Yet, what I did was I listened to the producers. I went against ever moral, every bone, everything in my body."
"To take a couple of steps back, I had even called Melissa's parents, while we were filming, telling them I want to pick your daughter, but that I'm not going to propose to her. And a producer called her parents immediately after I hung up the phone and said, "Jason is just nervous, he'll call you back tomorrow, he's rethinking what he just told you." Which was not the truth."
"I never stood up to them. I don't know if I was afraid of the producers. You know, it's not just one person. There's a team of like a hundred people all saying the same thing—audio people, producers and directors, and people who are just serving you lunch—and they're all on this team and it's like how can a hundred people be wrong?"
"When I go back to it, I wish I would have stood my ground and never did anything that was against my morals or hurt anyone."
"I remember a couple of things that stood out, we still had to do some press (the contracted 'Exit Interviews') and I remember going on Jimmy Kimmel. I had Jimmy Kimmel, and the next day I had Ellen DeGeneres. Jimmy Kimmel is the nicest celebrity that I've met through that whole experience. I did his show and afterwards he was like, "Hey, do you want to sit down and talk after the show.""
"We sat backstage for an hour and he gave me advice. He said, and I'm paraphrasing, "Ellen is going to really attack you because she needs to do it for her audience. Here's what I would say if I were you, based on your experience... And here's what I would do on Ellen... Just because you don't want people to react and you're not a bad guy. I can see that." And so I took his advice and I went on Ellen and was just like, "Look, I don't really know anything about this industry. I'm just trying to be myself.""
"Anyway, I took Jimmy Kimmel's advice. He's such a good guy. I don't know Ellen at all; I've been on her show a few times because of The Bachelor. Ellen was kind of harsh, like Jimmy said she would be, but I remember that between takes on commercials she said something like, "I know how this show works. Don't worry about it. I'm just kind of doing my thing." I thought—even her, right? So she had to lash into me based on TV stuff, but when the camera stops rolling she says—don't worry, it's all for TV. It was just one of those things where I thought why can't we have an honest conversation where the truth is the same when the cameras are rolling as when they're not rolling?"
Dear Reader: I remember Jason's appearance on Ellen that day. From where I was sitting, I thought Ellen was very fair with him. She did a good job seeking accountability from Jason, on behalf of her female audience in particular. And, she too gave him solid advice, as well as an opportunity and a platform to say anything he felt needed to be said. And yet, only Jason had the experience from his perspective. What I found particularly interesting was that Ellen reminded Jason of his contractual obligations with The Bachelor franchise. Sage advice indeed. She was helping him more than he might have known at the time. He continued...
"There are things that people think are truths that just don't happen. I'm not sure why. Maybe they don't sell as well in the media. Maybe it's because ABC and Ellen and all these people are part of the same conglomerate that are trying to sell the same product. There's a piece of all that that I'm not clear on."
"Today, I've had to take a step back and I'm thinking about: What is happiness to me? And I'm just fortunate enough to have a beautiful wife and two wonderful kids and when I think about happiness, just sitting here right now, I'm lucky. This morning Molly was gone at five in the morning, and I had the baby up at six giving her a bottle, and my son snuggling up with us showing us something funny on his iPad. Being able to drop them off at camp. One of my favorite things in the world is watching my son play his little league sports."
"We all have expectations of ourselves, but the balance is important. You know, not commuting so far for work and being able to spend time and be able to attend my son's sporting events versus having a job where I can't. And taking my daughter to daycare, those are some of the best times and some of the best memories."
"That wasn't on TV. It wasn't on camera. It has nothing to do with money. It has nothing to do with fame. But what I'm learning is, not only the love for my family, what truly makes me happy isn't making this grand impact like I've always hoped and have put pressure on myself to do."
"Happiness is all these little things and doing your best to live in the moment. Which is really hard to do."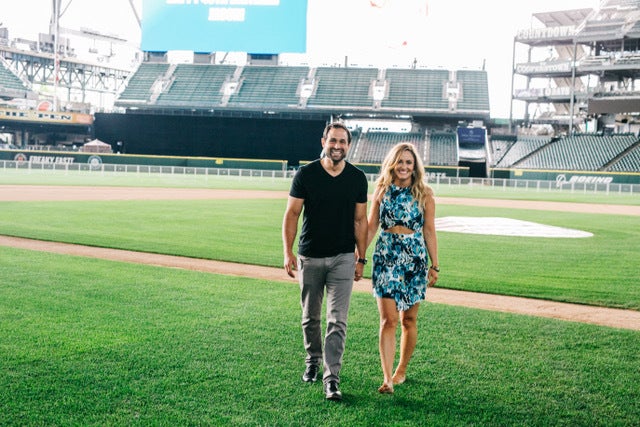 Thank you to Jason for this insightful interview.
Related
Popular in the Community