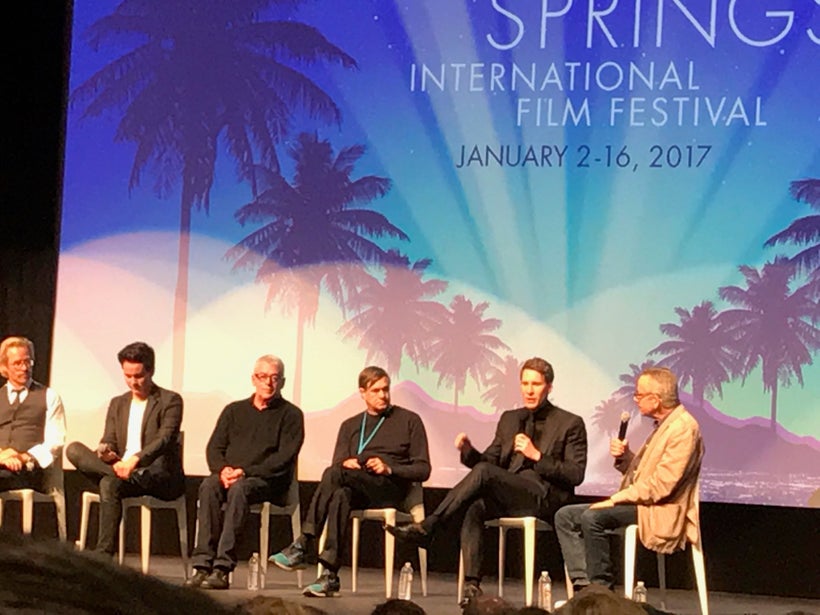 "When We Rise" hits ABC in February in a bold, ambitious, 7-hour, four-night, mini-series event, the likes of which the network hasn't seen since it aired "Roots" 40 years ago. But judging by the thunderous applause and standing ovation the LGBT civil rights-themed mini-series received after its first two hours premiered at the Palm Springs International Film Festival (PSIFF) this week, one would think that Oscar-winning screenwriter Dustin Lance Black ("Milk") and director Gus Van Sant's collaboration is destined to garner big ratings, provoke thought, and maybe even further fuel existing calls to action, when it airs Feb. 27 through March 2.
To be sure, Palm Springs is an ideal destination to screen a project that recounts the dramatic LGBT civil rights movement and its key players of the mid-20th century—the city boasts a robust gay population, after all. Still, the production, at least the portion made available to the film fest crowd, appears to have all the perfect creative ingredients in place to become a critical hit—a solid ensemble cast, effective writing, and a thematic tone that manages to spark intrigue and make you want to learn more about its key players and the issues they take on.
The cast includes Guy Pearce, Rachel Griffiths, Mary-Louise Parker, Ivory Aquino, Michael Kenneth Williams and a slew of other notables, including Rosie O'Donnell, portraying Del Martin, co-founder of the first Lesbian organization in the country, and Whoopi Goldberg, taking on the role of Pat Norman, the first openly gay employee of the San Francisco Health Department.
"When We Rise" is based, partly, on the aptly crafted memoir by activist Cleve Jones, who was on hand to answer audience questions after the screening, alongside Black, Van Sant, and Pearce and Austin P. McKenzie, who both portray Jones at various ages in the mini-series.
"This is the first time I've seen this," a noticeably emotional Jones told the PSIFF crowd. He later went on to say that, "I want to believe gay people have something unique to offer. And maybe what we have is that we are born into every color and skin, and we are born into every faith, ethnicity and nationality and status. So maybe we can be the bridge-builders at this crucial moment in our country's history, and maybe the world's history, to help lead the way to resist, to fight back, to reverse what has happened to us."
"When We Rise" was initiated four years ago, long before President-elect Donald Trump's curious rise spawned one of the most contentious political climates the country has witnessed in decades. Look around. The time to begin making a mad dash toward unity and ensuring civil rights are protected—across the board—was, oh, several months ago.
That said, it's interesting to note that earlier this month, at the Television Critics Association's Winter Tour, Black revealed that he wrote "When We Rise" for some members of his own family in mind, pointing out that, "Hey, we have more in common than we think and we speak the same language." He went on to add that he treasures his family.
Jones, still a voracious activist, served as a consultant on the miniseries, whose first round unfolds in 1972, when Jones (played by Mckenzie) enters the San Francisco fold and joins forces with future activists Roma Guy (Emily Skeggs) and Ken Jones (Jonathan Majors). Look for how well the first chapter pushes the characters together and creates a stellar roadmap of what's to follow through the decades.
While it's still too soon to know for sure what kind of imprint "When We Rise" will leave behind, hats off to Black, Van Sant, and ABC for giving birth to an outing that could serve as a conversation about what it's like to be a minority in this world, chasing it back so wonderfully with a very strong reminder of the importance of unity to boot.
"When We Rise" airs Feb. 27 through March 2 on ABC.
Calling all HuffPost superfans!
Sign up for membership to become a founding member and help shape HuffPost's next chapter
This post was published on the now-closed HuffPost Contributor platform. Contributors control their own work and posted freely to our site. If you need to flag this entry as abusive,
send us an email
.