French authorities suspect that the ringleader of Friday's attacks on Paris is a well-known Belgian radical who was involved in other plots against European targets and is now somewhere in Syria. 
Before the coordinated shootings and bombings in Paris, Abdelhamid Abaaoud, 27, was linked to foiled attacks, such as one in August when three passengers, including two American servicemen, subdued a gunman aboard a high-speed train to Paris. 
But by then, Abaaoud had reportedly fled from his home in Belgium. He allegedly escaped in January after police raided his terrorist cell and exposed a plot to assassinate officers. The raid killed two suspected jihadis and 15 others were arrested, but Abaaoud slipped away.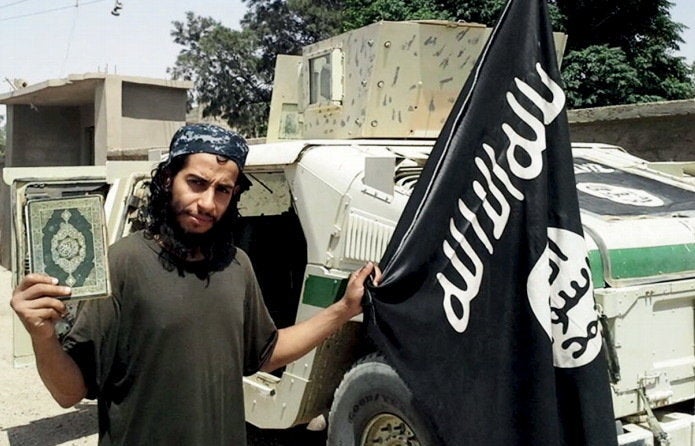 In April, French police arrested a university student who allegedly had weapons and intended to attack a church. Authorities contend Abaaoud was associated with the student. 
Abaaoud grew up in an immigrant neighborhood in Brussels that is a reputed hotbed for radical Islam, as well as for the black market trade in weapons. Abaaoud, himself the son of Moroccan immigrants, attended a Brussels high school with a good reputation. Before becoming radicalized, Abaaoud was reportedly imprisoned for theft.
His sister has said that he was not religious in any way before traveling to Syria in 2014. But while there, he reportedly fought alongside ISIS. A gruesome video from that time shows him in a pickup truck dragging mutilated bodies.
In another video, he acts as a recruiter and urges other Muslims to journey to Syria to wage jihad. A Belgian court this year tried him in absentia and sentenced him to 20 years in prison for recruiting for ISIS, the Guardian reported. 
Abaaoud's father accused him of kidnapping his 13-year-old brother Younes last year and absconding with him to Syria, where he has posed with weapons for photographs. The father, Omar, a grocer, rebuked his older son in an interview with a Belgian newspaper this year, saying that he had "brought shame to our family."
His sister, Yasmina, said she got a call last year saying Abaaoud became a martyr in Syria, and said the family hadn't heard from him or Younes since then, but authorities believe the martyrdom claim was meant to deceive Western intelligence. 
Abaaoud boasted of his exploits in a February interview with ISIS's English-language propaganda magazine Dabiq. Using the name Abu Umar al-Baljik, he talked about plotting attacks and traveling to Syria in 2014 without getting caught by Western authorities. 
"I was able to leave … despite being chased after by so many intelligence agencies," he reportedly said. "All this proves that a Muslim should not fear the bloated image of the crusader intelligence.
Read More Paris Coverage
Calling all HuffPost superfans!
Sign up for membership to become a founding member and help shape HuffPost's next chapter