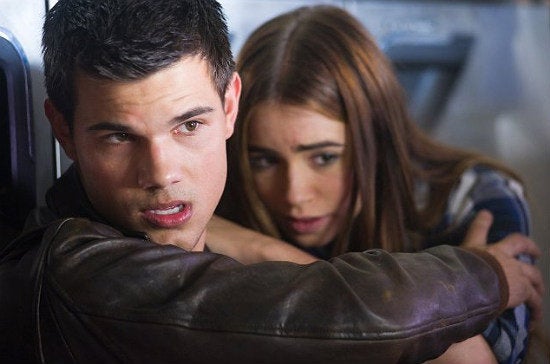 Taylor Lautner has shed his lone werewolf status.
The "Twilight Saga" second fiddle and six pack champion stars in his first solo lead role, taking on the government and a mysterious past in the upcoming thriller, "Abduction." Lautner plays Nathan Harper, a teen who finds himself on a missing persons website. The discovery serves as a spark that, along with a visit from shadowy government agents, begins Harper's burning adventure to find out who he really is -- and who has been lying to him for his entire life.
Lily Collins, who was just cast as the lead in "The Brothers Grimm: Snow White," co-stars along with Lautner; she's the one who initially finds him on the website, and joins him in the action-packed adventure that recalls Jason Bourne in high school. Alfred Molina leads the chase, and Sigourney Weaver gets involved, too.
The film will be the first of a number of tests for Lautner's leading man potential; he's become a teen icon with his simmering, often-shirtless role in the "Twilight Saga" films, covering magazines across the world, but "Abduction" is aimed at a broader, action-hungry audience. He'll also star in another action film, "Stretch Armstrong," which is, yes, based on the classic toy.
"I think when people see this film [Abduction] they'll see a more mature Taylor," Singleton said. "He's doing this [thing] he's never done before. He's funny and charismatic. He has room to breathe that he's never had before."
"Abduction" makes its way to theaters September 23rd.
WATCH
: