Abdul Qayyum Sajjadi is a scholar and politician, serving as the Member of Parliament for Ghazni province since 2005. He migrated to Iran following the Soviet invasion of Afghanistan. Over the next 12 years, he studied Islamic teachings and obtained a Master's degree in political sociology and a Doctorate in international relations from Tehran University. He taught for five years in an Iranian university and returned home after the fall of the Taliban. In Afghanistan, Sajjadi has been involved in setting up the National Strategic Studies Centre and publishing the quarterly journal Gofteman Nou [New Discourse]. He has written eight books, mostly about political Islam and legal issues. He teaches Political Sociology of Afghanistan at a number of Afghan universities, including Kabul University, and Islamic Diplomacy in various Iranian universities.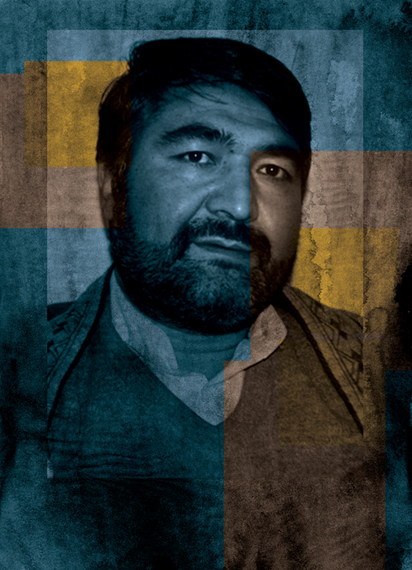 Photo : Jawad Darwaziyan / Matthieu Hackière

What are some of the important recent achievements in Afghanistan?
There is space for pluralism in political practice and behavior in Afghanistan today. We see former Mujahideen, leftists, fundamentalists, and representatives of many other groups sitting and talking together in Parliament after so many years of violent conflict. We have also seen the emergence of mutual understanding between all ethnic communities in the country, something which never existed in the past.
What gives you hope for the future?
It is promising to see an open political space that allows for freedom of expression and activism. The experience of the industrialized countries shows that the first requisite for development is an open, democratic system. Similarly, I see promise in the public's commitment to achieving change.
What do you fear most?
Like most other Afghans, I am afraid of a return to the past, to that tension-fueled political, social and religious environment. For now, the positive cooperation between Afghanistan and the international community is keeping that at bay. But if this cooperation ends, we cannot rule out the possibility of returning to the dark days of the past.
What are the biggest challenges facing Afghanistan?
I believe the most fundamental problems that we face in our country arise because we don't have a real political culture, but rather the persistence of a tribal culture.
For the past decade, the international community has been intent on establishing a range of different institutions in Afghanistan. These institutions now exist but what we are lacking is the mentality that underlies and supports them. By themselves, the institutions cannot guarantee democracy and respect and protection for human and women's rights.
Another challenge comes from the multitude of ethnic communities in Afghanistan, each with their own history. Some of them have been suppressed by the Afghan social structure throughout history. These policies of ethnic superiority and deprivation have become institutionalized in Afghanistan, and have given rise to aspirations among minorities who are seeking their rights.
Is it possible that girls could once again be banned from schools and women excluded from social participation, as was the case under the Taliban rule?
One of our fundamental problems in Afghanistan is that we have never been able to free ourselves from our traditional and tribal ideas. The Taliban-influenced ideology towards women, for example, is deeply rooted in the tribal and traditional beliefs. However, I do not think that Afghanistan will allow schools to be closed to girls again. I think that even the Taliban mentality has shifted somewhat in response to the developments of the past decade, and in particular the increased social and cultural participation of women.
Can you give us an example of a violation of women's rights you have seen in Afghanistan?
I have witnessed many violations of the rights of women in my home province of Ghazni. For example, many girls are married to men they have never met. It has always tormented me to imagine a young girl living her whole life with someone she didn't have the slightest information about before they got married.
What are the major factors limiting women's participation in social, economic, political, and cultural spheres?
A major problem originates with the dominant societal attitude towards women. The general attitude is that politics and the economy are not appropriate sectors for women. Another problem is the lack of a proper and reasonable model for women's political and social participation. On a related note, we also lack a secure environment and proper channels for the social and political participation of women.
What do the women of Afghanistan want?
I think the first demand of women concerns their citizenship and human rights. Women must have the right to choose their lifestyle and their husband. These are the natural and basic rights of women.
If you could have one wish for your daughters, what would it be?
As a father, I wish that my daughters will be able to enjoy the political and social rights that I believe all women deserve.
Any final messages you wish to share?
I believe that the political, social, and economic backwardness of our society has its roots in scientific and cultural underdevelopment. In a society where around 70% of the population are illiterate, it is difficult to leave the tribal, misogynist and monopolist approach behind. Our biggest problem is the traditional tribal mentality. If we cannot evolve beyond this mentality, we will not see any changes, even if we establish numerous modern, democratic institutions.
"Unveiling Afghanistan, the Unheard Voices of Progress" is a campaign by Armanshahr/OPEN ASIA and FIDH, which explores views held by Afghan civil society actors. Over 50 days, 50 influential social, political, and cultural actors hope to spark conversation and debate about building a society that is inclusive of women's and human rights in Afghanistan.
You can read original interviews in Dari on Armanshahr/OPEN ASIA
Calling all HuffPost superfans!
Sign up for membership to become a founding member and help shape HuffPost's next chapter