Tweeps may be prosecuted for religious offenses, legislators may come and go, cabinets may be replaced, but Kuwait's youth are hoping to steer the country in the right direction through participation in an advisory body tasked with helping to set official policies.
"This initiative is supported by the emir who wants to encourage young people who will eventually become leaders in Kuwait," said Abdulaziz Sadeq, head of the National Youth Council's (NYC) media committee.
Sadeq and other Kuwaitis aged 18-30 represent 60 percent of the oil-rich Arab Gulf country's population and are preparing a road map through The National Youth Project (TNYP).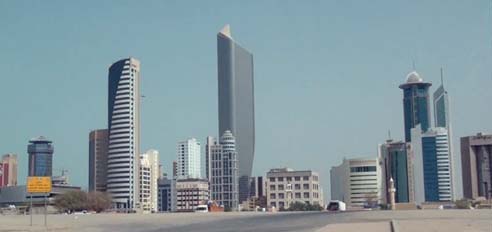 Kuwait City skyline (Abu-Fadil)
On Feb 15, at the opening of then Parliament's session, ruler Sheikh Sabah Al Ahmad Al Sabah called on Kuwaitis to "focus on developing and nurturing youth, providing them with job opportunities, respectable living conditions, and galvanizing their positive and constructive participation in serving and developing society, as they are our hope."
[That chamber has since been dissolved and legislators from a former election were reinstated following heated debates over the members' legitimacy and right to participate in public life. But the NYC and TNYP proceed with their task undeterred by the changes in government.]
The emir wants TNYP members to submit recommendations on how to improve the country's overall performance by capitalizing on its human resources at a national youth congress in November.
The call for youth participation was music to the ears of 28-year-old Sadeq, who majored in Communications and PR at Ajman University in the United Arab Emirates, and spent two years as an uber staffer working with the super-kinetic team at the Dubai Press Club.
Although the pace of doing business in Kuwait is a bit slower than Dubai, it hasn't prevented Sadeq from maintaining a frenetic schedule of activities in his country and on the road.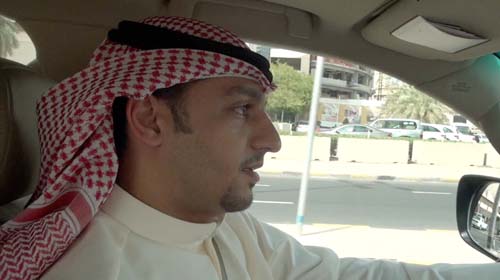 Abdulaziz Sadeq constantly on the move (Abu-Fadil)
He has been instrumental in promoting the project in traditional and online media, including a heavy dose of social media, as well as in advertisements on TV channels and on roadside billboards across Kuwait.
The TNYP campaign aired a catchy song called "Ana badait liajl al Kuwait," (I began for Kuwait) with the aim of engaging young people in a variety of social and national issues.
Young Kuwaitis are encouraged to chip in with recommendations and initiatives on the economy, education, housing, health, the environment, the arts, literature, sports, volunteerism, the law, reinforcement of citizenship and democratic practices, to name a few.
The program's motto is "Kuwait is listening" and the youth project posted a page on its site for Kuwaitis to provide their input.
The council selects three initiatives per month and supports one with a stipend of 10,000 Kuwaiti Dinars (US$ 35,511.32) and two others with 3,000 Kuwaiti Dinars (US$ 10,653.41) each.
To help expand his charges' horizons, Sadeq accompanied a group of young Kuwaitis to Dubai in June to tour government and other institutions to learn from their Emirati colleagues.
He arranged for the group to meet with Dubai's ruler Sheikh Mohammad Bin Rashed Al Maktoum and the executive director of the Dubai Press Club Maryam Bin Fahad.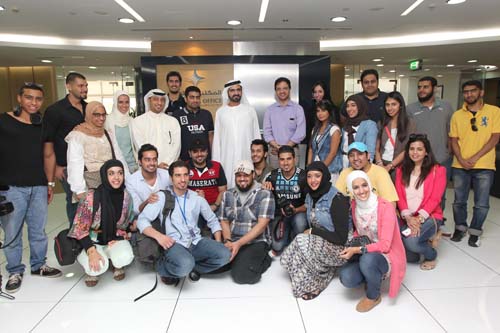 Abdulaziz Sadeq and Kuwaiti youth visit Dubai ruler Sheikh Mohammad Bin Rashed Al Maktoum - center (Courtesy of Abdulrahman Al Khamees)
"This is one of many sessions we've organized to hear from young people since over 50 percent of all Kuwaitis are under the age of 26 and they're the ones who will eventually be running the country," Minister of State for Planning and Development Adel Safar told the media about an initial gathering that brought young representatives and government officials together.
The youth's key demands were human resource development and employment, he added at a seminar entitled "Youth's Vision on Human Development."
This is particularly important in a country whose GDP per capita based on Purchasing Power Parity (PPP) was estimated at $40,700 in 2011, down from $52,657 in 2007, according to World Bank statistics.
Kuwait is an oil producing country with a 2.5 million population (2011 figures) heavily reliant on government jobs, so a handsome slice of its budget goes into employing university graduates.
"There's little incentive to go into the private sector and become entrepreneurs when the government provides us with a welfare state on a silver platter," a young Kuwaiti told me on a trip to the emirate.
Kuwaitis need to rethink their priorities, and just aspiring to landing government jobs is not sustainable in the long run as it leads to a bureaucratic mindset, reduced productivity, and lowered competitiveness in a globalized market, he added.
But the state allocates funds for regular training to upgrade and update its employees' skills and knowledge, Minister Safar said.
"We've asked the government to tap officials to discuss some of these issues with the young people and find out what their concerns and priorities are," Sadeq said.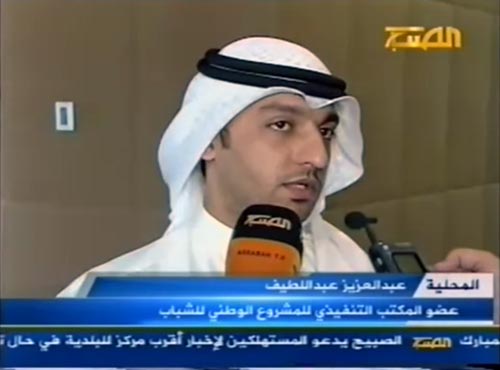 Sadeq promoting National Youth Project on Al Sabah TV (Abu-Fadil)
He is one of several Kuwaitis serving on the National Youth Council's executive committee that has drawn groups to the preparatory body hammering out the policy paper.
Council members are required to be ambitious, able to communicate, come up with new ideas and initiatives, be energetic, believe in volunteerism and teamwork, be educated, cultured and knowledgeable about Kuwaiti youth's needs.
To ensure the widest representation, organizers approached 31 public service organizations and student federations as well as unofficial youth groups known for their volunteer work to nominate three persons each.
Sadeq has an impressive volunteering track record, including a stint as head of logistics for an NGO working with mentally handicapped Kuwaitis.
He has also worked in publishing, marketing and as an assistant director general of a company supporting Kuwaiti youths' innovations.
Popular in the Community