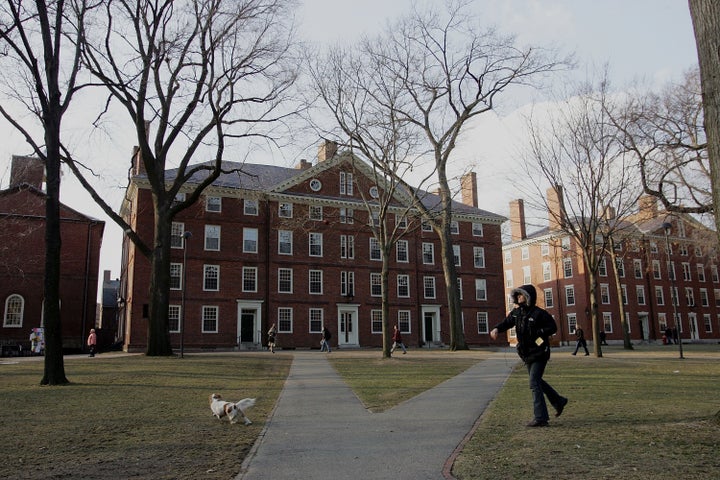 A 27-year-old man posing as a Harvard undergraduate student was outed this week by two of university's student newspapers.
On Tuesday, the Harvard Independent revealed that Abe Liu had been cited by campus police for trespassing and using a false identification card. The paper's behemoth saga detailed how the young man, a drop-out of NC State University who is reportedly taking classes through Harvard Extension School, faked his way into becoming a Harvard undergrad because he "was lonely."
First, this past summer, he joined a Harvard University Class of 2015 Facebook group and began posting about Harvard and chatting with students.
"I just played off like I was a student. It got addicting," Liu told the Harvard Crimson. "It got fun."
Liu made friends with a group of Harvard students and frequently stayed with them in an on-campus dorm, even telling some people he lived there. He took classes, participated in campus events, ate in the dining halls and went to parties.
To explain his older appearance, he offered a wide variety of explanations. In one case, he claimed to be 22-year-old freshman who had taken time off between high school and college. In another, he said he was a former Olympic athlete.
Finally, due to an anonymous tip, Harvard Police picked up on his semester-long fraud. He was escorted out of the dorm and warned against trespassing again. Still, he claims he had no malicious intentions.
"I made a mistake," he said. "My mistake was being lonely."
This isn't the first time someone has faked being a Harvard student. Ipso Facto, a Harvard blog, pointed out a 2007 incident where a 35-year-old ex-inmate post as an undergrad and committed a series of crimes.
Related
Popular in the Community