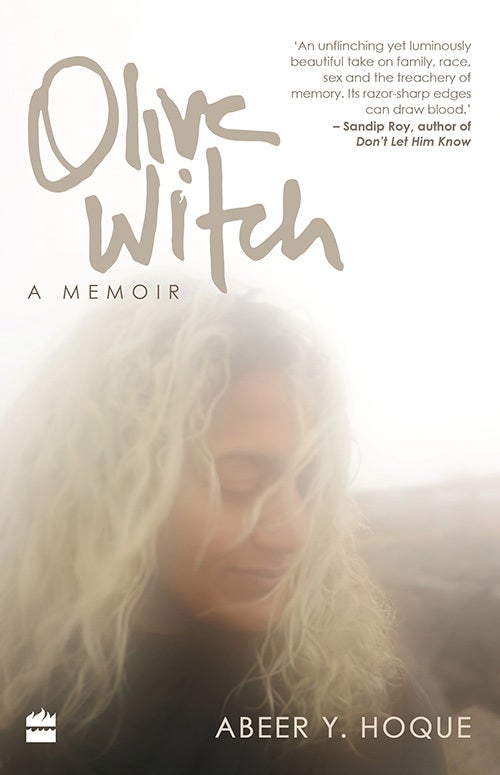 An internationally nomadic childhood isn't always as glamorous as it sounds.
As a biracial Sri Lankan American Third Culture Kid (TCK), I've had few opportunities to see people like me represented three-dimensionally. It's only been in recent years, with a spate of novels and memoirs by other South Asian TCKs getting picked up by traditional publishers, that I've had the pleasure of seeing some of my own experiences reflected in the pages of books. Most notably Nayomi Munaweera's Island of a Thousand Mirrors and What Lies Between Us — two powerful tales of the Sri Lankan American immigrant experience — and Piyali Bhattacharya's Good Girls Marry Doctors — a collection of essays by and about South Asian women "on obedience and rebellion" — that I began to feel less alone, and less like my own life was some kind of social and cultural outlier to everyone else's.
It's no surprise, then, that Abeer Hoque's Olive Witch: A Cross-Cultural Memoir would begin calling to me. And when I say the book called to me, I am not exaggerating. During Hurricane Irma, while 100+mph winds battered my home like a ghost army, the phrase "olive witch" became like a mantra. I said it to myself over and over again, like a prayer, like protection, like a magical token that would get me through this new trauma. After the storm passed and I cracked open Olive Witch's pages, I understood why.
Reading this deeply poignant memoir was like returning to an old friend I had just met, someone who profoundly understands my own experiences and pain without me having to explain any of it.
Abeer Hoque is a Nigerian-born Bangladeshi American, whose tale alternates between her childhoods spent in Africa and America as well as her stint in a psychiatric ward after a suicide attempt. The book traces Hoque's multicultural experience through powerful vignettes from her life, written in a prose so delicate and masterful it borders on poetry. Olive Witch isn't so much a book as it is like a living object that exposes what is at the heart and soul of another human being, the points in life that went right and those that went terribly awry are presented with a compassion and grace belying an incredible fount of inner strength. I've never been so moved by a book. Or inspired.
One of the most important aspects of Hoque's memoir is how it highlights the links between mental illness and the Third Culture Kid experience, especially for those of us TCKs who grew up in the pre-Internet age. Issues of a lack of fixed identity, unresolved grief, anxiety disorders and depression are all results of a TCK childhood that only now are more openly discussed and treated. But when Hoque and I were growing up — and especially with the added stigma of mental illness in the South Asian community — these were not things anybody talked about. Ever. And for some, like Hoque and myself, the weight of these silent traumas was heavy and emotionally crippling to the point where it became hard to imagine life and a future, most especially with so much transcultural and transnational baggage.
Hoque's bravery in opening up her life in such a personal way paves a new path for Desi TCKs to be able to confront their own troubles without shame and hesitation.
Through each chapter we can see how a childhood of travel and multiple citizenships that sounds privileged from the outside is in fact also the thing that can cause extreme mental and emotional damage. Hoque was forced to come to her own terms with this during a time when we simply didn't have enough information about the Third Culture Kid personality. By now, and reading Olive Witch, we can see all the theories of a TCK's emotional distress in almost textbook action as we visit different moments in Hoque's life that lead up to her suicide attempt. The heartbreaker is that while all those little traumas were happening that provoked fault lines in Hoque's self and psyche, there was hardly any acknowledgement that those events were in fact profound traumas that would have long-term impacts. Hoque's accounts of her childhood years in Pittsburgh after living in Nigeria were particularly painful — especially the cruel bullying she endured for years as a brown girl in a white American context. The divide between her's and her parents' lives turned into a Grand Canyon of social and cultural misunderstandings, and without a common emotional language between them all everyone suffered.
These kinds of traumas are deaths by a thousand cuts, rather than the grand fissures we associate with major and life-shaping traumatic experiences. But when coupled with the grand trauma of not just moving, but moving internationally on a regular basis, we are left with so many fault lines that may collapse without prior warning to devastating effects.
As hard as this book was for me to read at times — seeing myself reflected in ways I never had before and the many parallels to Hoque's experiences and my own — it is one of the most exquisite works I've ever had the honor of reading. Like a bar of 90% dark chocolate, Olive Witch is richly bitter in its beauty, with sweet undertones that haunt you and leave you wanting to know more. This is an important and nourishing read, highlighting the importance of self-reintegration as part of the adult Third Culture Kid's growth and development.
Abeer Hoque's Olive Witch is a testament to how creativity and art — in this case through writing — can help us heal from even the most devastating and fragmenting of ruptures, be they emotional, social, psychological, or cross-cultural. This memoir is a must-read for fellow Third Culture Kids as well as anyone in the South Asian diaspora.
Popular in the Community