(Adds Aeropostale results and CEO comment, more information on Abercrombe, paragraphs 3, 4, 23)
By Phil Wahba and Dhanya Skariachan
Aug 22 (Reuters) - Abercrombie & Fitch Co, Aeropostale Inc and American Eagle Outfitters Inc have fallen out of fashion with fickle U.S. teen shoppers and aren't likely to win back their business anytime soon.
The retailers, known as the "3As," have long been popular for their cool basics like jeans, hoodies and t-shirts. But young shoppers are now less interested in their logo-centric clothes and more eager to shop for electronics or go to low-cost, fast-fashion chains like Zara, Forever 21 and H&M that offer greater variety more quickly.
This week, American Eagle gave a weak forecast for the fall, citing an "unprecedented" level of discounting. Abercrombe's comparable sales fell 10 percent last quarter and the company said business would get worse this quarter, which includes back-to-school.
Earlier this month, Aeropostale said comparable sales fell 15 percent last quarter, and on Thursday forecast another loss this quarter, saying low traffic and pressure to offer deals were an ongoing problem. Shares fell almost 10 percent to $9.90 in after hours trading, their lowest levels in 2 years.
"The teen retailers seem to be not in style or in vogue at this point in time for their target consumers," said Bryan Keane, portfolio manager of the Alpine Global Consumer Growth Fund. "That usually does not turn around quickly."
One of the big problems the 3As face is a narrower clientele than that of H&M and Gap Inc, which draw shoppers of all ages.
American Eagle gets about 80 percent of sales from its standard merchandise, and Hanson conceded that it has been tough to compete as his company tries to offer more fashion, more quickly.
"This team (young shoppers) wants to be fashionable but they don't want to spend a lot of money, and fast fashion works very well for that," said Eric Beder, a Brean Capital analyst, who has a "sell" recommendation on Aeropostale.
For example, H&M sells V-neck men's t-shirts for as low as $5.95, while Aeropostale t-shirts on clearance on Wednesday were priced at $6.99.
The result has been constant pressure to discount. American Eagle's gross margin fell 3.6 percentage points last quarter to 33.8 percent of sales, well below the typical level of 40 percent.
"We believe youth spending has likely diverted to other categories," Abercrombie CEO Mike Jeffries told analysts on a conference call.

The competition has only grown more intense as U.S. government statistics show young shoppers have gradually directed more of their spending toward electronics and less on clothes.
GameStop Corp, the world's largest retailer of video game products, posted results on Thursday that beat Wall Street estimates, thanks to higher mobile and digital game sales.
At the same time, teens are facing lower employment levels this year, according to Challenger, Gray & Christmas, and their parents are grappling with higher payroll taxes, gasoline prices and a slow job recovery.
On top of all that, the three chains are facing an ever more crowded field as international "fast-fashion" rivals are aggressively expanding in the United States.
H&M, a Swedish retailer, said its U.S. sales rose 10 percent in the first half of 2013, and it just launched a U.S. e-commerce site. It has 269 U.S. stores, after opening 40 last year.
Uniqlo, owned by Japan's Fast Retailing, is opening six more U.S. stores this fall with a goal of having 200 by 2020.
U.S. sales at Zara, owned by Spain's Inditex S.A., more than tripled between 2007 and 2012, according to Euromonitor International.
U.S. rivals are also stealing market share from the 3A's. Forever 21 Inc's sales rose 82 percent in the period 2007-2012.
These new chains are bringing new products, such as Uniqlo long johns that warm up on touch, making it risky to offer the same-old, same-old.
"There isn't a lot of innovative clothing out there for anyone, and there are plenty of other places to buy clothes if you want," said Wendy Liebmann, CEO of WSL Strategic Retail.

Aeropostale is moving away from its logo business and adding more expensive, fashionable items. But KeyBanc analyst Ed Yruma said in a note last week the move is a "tacit acknowledgement that the targeted teen customer base may have moved elsewhere."
Aeropostale CEO Thomas Johnson said his company's results are "particularly disappointing" in light of those efforts.
Last year, many apparel chains got a boost from the bright-color jeans craze. But this year, analysts say there is no such must-have to bring teens into the stores.
"Sometimes, you have something unique that everyone has to have," said Jessica Bemer, an analyst with Snow Capital Management. "But the look is going to be very similar this year to last year." (Reporting by Phil Wahba and Dhanya Skariachan in New York; Editing by Jilian Mincer, Tim Dobbyn, John Wallace and David Gregorio)

Before You Go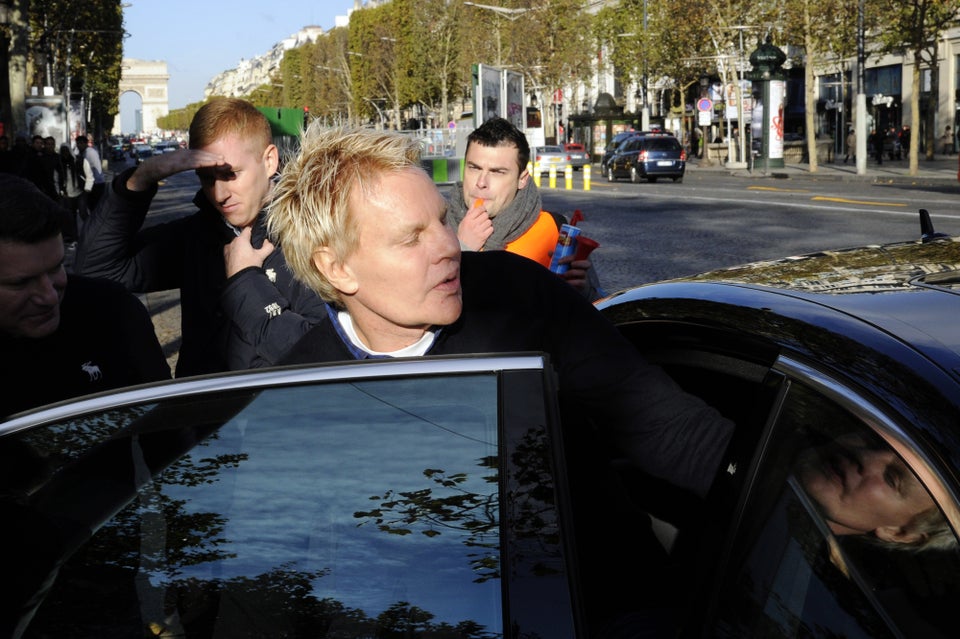 Abercrombie & Fitch Scandal Timeline
Popular in the Community