Anna Zakhlyebayeva arrived for her first day of work at a Hollister store in Olympia, Wash., wearing a navy blue Hollister tank top, dark Hollister jeans and Hollister flip flops -- an outfit she believed conformed to the retailer's corporate dress code.
There was one exception: the tiny silver cross pendant on her necklace.
Her manager had her remove the cross because it didn't fit parent company Abercrombie & Fitch's "Look Policy," recalls Zakhlyebayeva, who was then 17 years old. She stuffed the necklace in her pocket.
"I am still ashamed for taking my cross, a sacred symbol of my faith, rolling it up into a mess, and shoving it into my pocket just to live up to Hollister's extremely discriminatory Look Policy," Zakhlyebayeva, now 21, told The Huffington Post in a recent interview.
Even in the teen fashion industry, where retail workers are expected to wear the style of clothes they sell, Abercrombie & Fitch stands out for its draconian dress code. Company style guides map out precisely what type of attire store employees of Abercrombie and its offshoot brands Abercrombie Kids and Hollister can wear, and how they can wear it -- women's jeans should be cuffed at seven-eighths of an inch; the top three buttons of a denim shirt should be left undone.
Now company insiders and industry observers say the dress code has gone too far as it increasingly ensnares workers who wear religious garb.
Abercrombie's treatment of employees who want to wear religious items is "the peak in absolute ridiculousness," said Brian Sozzi, an analyst who keeps close tabs on the company as chief executive of Belus Capital Advisors.
HuffPost readers: Do you face discrimination at work? Tell us about it -- email Kim.Bhasin@huffingtonpost.com. Please include your phone number if you're willing to be interviewed.
"It's one thing to say your brand only hires super-skinny females and oddly buff male teenagers," said Sozzi, referring to Abercrombie's notoriously sexualized advertising and hiring methods. "But to show arrogance in disrespecting the religious rights of U.S. citizens is by far the worst thing that has surfaced on the company."
Abercrombie declined to comment for this story.
Hani Khan sued the company after she was fired from an Abercrombie store in San Mateo, Calif., in 2010 for refusing to take off her hijab at work. According to court documents, Abercrombie argued that its Look Policy goes to the "very heart of [its] business model" and thus any deviation from the rules threatened the company's success. Under federal law, employers may be liable for religious discrimination if they fail to accommodate religious beliefs, unless they can prove that doing so would pose an "undue hardship" on the conduct of their business.
Federal judge Yvonne Gonzalez Rogers rejected Abercrombie's argument in Khan's case: "Reasonable jurors could determine that by offering Khan one option -- to remove her hijab despite her religious beliefs -- Abercrombie acted with malice, reckless indifference or in the face of a perceived risk that its actions violated federal law," she wrote in a decision this month.
In an interview with HuffPost, Khan said that while she felt ashamed and angry when told to remove her hijab, she was mostly confused -- she had worn the headscarf in her initial job interview and for four months while working in the store. It wasn't until a district manager came by that she was instructed to take it off.
"I refused. I told them that that wasn't appropriate and I told them that I was not going to take it off," said Khan. "I had to be escorted out of the store."
Interviews with several former and current Abercrombie and Hollister workers revealed that Khan's experience was hardly singular.
When Esraa Mohamed interviewed for a job at an Abercrombie in Fairfax, Va., the manager asked her about her hijab and whether she had to wear it. He brought the issue to his district manager, who approved Mohamed's hiring because she would mostly be working in the back of the store.
Each time the district manager visited, she would be sent to the back room. In fact, she was constantly relegated to duties in the back, even though other workers on her team were allowed to roam around the sales floor, Mohamed said.
"I felt like I never belonged and was uncomfortable working at Abercrombie," Mohamed, who left the company in late 2011 after more than a year at the Fairfax store, told HuffPost. "It was pretty ironic how they were recruiting diverse employees, but only if your hair is not covered."
Niti Patel, a former employee who worked at three different Hollister stores over three years, arrived at work after a Hindu priest had tied a sacred religious string around her wrist -- a string that's supposed to stay on until it falls off. According to Patel, her manager demanded she remove the string and threatened to put her in the stockroom if she didn't comply.
Abercrombie chief executive Mike Jeffries is fixated on controlling every detail of his stores, according to a rare interview he gave to Salon in 2006. "How does a store look? How does it feel? How does it smell? That's what I'm obsessed with," he said.
Documents acquired by BuzzFeed earlier this year show Abercrombie's internal spring 2013 employee "style guide" with how-to photos depicting the rules, including those for "acceptable" and "unacceptable" hairdos.
"The Look Policy should be strictly enforced," reads one document. "There are some circumstances under which we will make limited exceptions to the Look Policy. Those circumstances will arise when an associate claims, for example, to have a religious or disability-related reason s/he cannot comply with the Look Policy."
According to the documents, head coverings are not permitted, but exceptions are to be made for "certain purposes, such as religion or disability." Managers are instructed to contact the human resources department immediately if an issue pertaining to a Look Policy exception arises.
Abercrombie employees are allowed to wear jewelry, but only if it's "simple and classic." The guidelines do not specifically address necklaces or pendants, such as Zakhlyebayeva's cross, but state: "If the first thing a customer notices on an associate is his or her jewelry, then it does not meet this requirement."
According to store employees, any number of violations can get workers reprimanded, sent home or fired: a decal on a fingernail, a 5 o'clock shadow, hair highlights, traces of eyeliner.
Individual Abercrombie store managers are tasked with enforcing the dress code, leaving some workers confused about what's appropriate to wear to work, according to several current and former Abercrombie employees. Managers' whims end up determining who's "punished" -- and who's not.
Many of these individual store managers disagree with the rigid policies that come from corporate, but it's hard for them to go against the rules because they're monitored so closely, said Jenny Glazier, who worked at two Abercrombie locations in Nevada between 2009 and 2011. District managers often drop by unannounced and secret shoppers are used to help grade stores. Many stores have cameras that can be remotely accessed by district and corporate managers, former Abercrombie employees said.
"Some managers are cooler than others when it comes to Look Policy," said Glazier, adding that they "cannot be too lax about it" because their bosses consider the code an important aspect of the company's brand.
One former employee said he worked for Abercrombie for about two years until a new manager was hired who "took the Look Policy way too seriously."
"I was sent home because I wasn't wearing 'up to date' clothes," the employee said. "I quit the next day."
Although Abercrombie's army of store workers must follow the uncompromising outfit rules, the atmosphere is very different at company headquarters in Columbus, Ohio.
There's no official dress code at the home office, a current employee told HuffPost on condition she not be named for fear of retaliation from Abercrombie. The worker said no one needs to sit employees down and tell them the dos and don'ts for office attire because "you just know" what to wear -- "it's just the status quo," she said.
"You don't wear black and you are encouraged to wear the brand as much as possible," the worker said. "When you are speaking to him [Jeffries] you are expected to wear head-to-toe Abercrombie and it has to be our current look."
The employee said she had seen a few women wearing black hijabs around the office. As for other religious attire like cross necklaces, she said the expectation is "you wear what you want to wear."
Related
Before You Go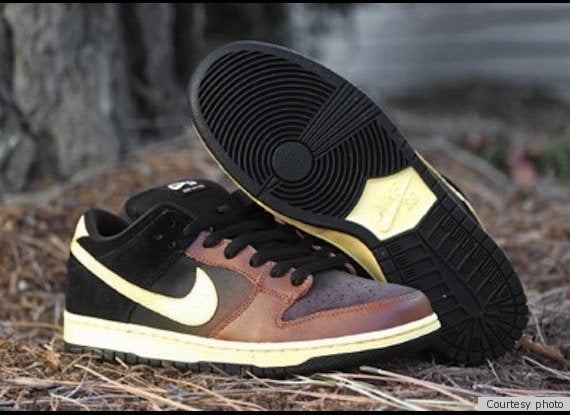 Controversial Products
Popular in the Community