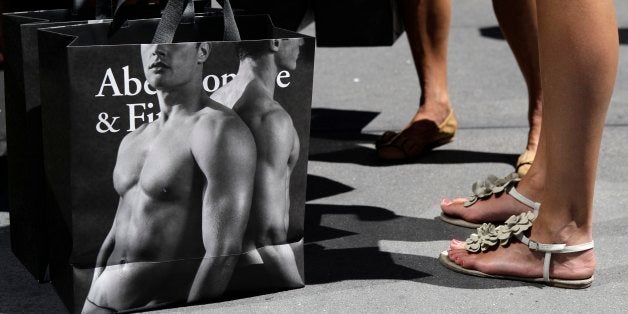 Abercrombie & Fitch is trying everything to get teens and college kids to come back to its stores. It's eliminating clothes with logos, rolling out new store designs and culling underperforming locations while attempting to cut $200 million in costs.
Yet it seems that nothing's working.
The teen apparel retailer reported dismal results on Wednesday, with sales falling 12 percent for the quarter from a year ago, despite the multitude of changes meant to spur a turnaround. Chief executive Mike Jeffries blamed the struggles on weak store traffic and overall turbulence in the teen fashion industry.
"It is very clear that the young apparel sector in which we operate is going through a period of disruption, and turmoil," Jeffries said on a conference call with analysts on Wednesday. When reached for additional comment, Abercrombie referred to Jeffries' statements on the call.
The lack of progress has some industry observers concerned that Abercrombie won't be able to pull itself out of the bog. The moves may be "too little, too late," Eric Beder, an analyst at Wunderlich Securities, wrote in a note to clients on Wednesday. With its logo apparel still in stores, bleak sales results, low traffic and stiff competition, he's worried that the retailer won't be able to recover.
"The glory days of Abercrombie are long gone, and the once teen giant has fallen," wrote Beder. "We are unsure when it will be able to rise again."
Teens don't like logos any more, and Abercrombie knows it.
Abercrombie and its sister brand Hollister have fallen on hard times. Shares are down 36 percent over the past two years. The company cut its 2014 earnings outlook on Wednesday. Plus, both brands are losing traction among teens, according to the latest teen shopping survey from research firm Piper Jaffray.
Back in the 1990s and early 2000s, teen shoppers flocked to Abercrombie, lured by the perceived coolness of the A&F name and trademark moose logo. But the retailer was slow to adapt when fashion trends shifted and customers began shunning logos.
Now, Abercrombie and Hollister are under siege from fast fashion retailers like H&M and Forever 21, which constantly adapt the newest styles from the catwalk, bring them to store shelves within weeks and sell them at low prices. A pair of jeans at Abercrombie costs between $68 and $88 when full price, while customers can snatch up a plethora of denim styles from Forever 21 for under $25.
"The Abercrombie and Hollister brands face enormous global competition and pricing pressure from fast fashion retailers that operate with price points significantly lower and inventory turns that are significantly faster," John Kernan, an analyst at Cowen and Company, wrote in a note to clients in November.
Hollister stores are being overhauled, but will it be enough?
Still, Jeffries remains optimistic as the changes roll out. Hollister stores are experiencing a full revamp, with new storefronts, softer music and less musk spritzed throughout. Logos on clothes should be gone by spring. Meanwhile, Abercrombie's adjusted its marketing to appeal to a wider range of body sizes, and now sells some plus-size clothes online.
"In light of a very difficult quarter, we must ask ourselves, and I know many of you ask the same question, are we make the right changes, are we moving fast enough, will these changes be enough to overcome a very challenging environment?" Jeffries said on the call. "Despite the difficult results for the quarter, we believe the answer to these questions is 'yes.'"
Support HuffPost
The Stakes Have Never Been Higher
Related
Popular in the Community