As the Supreme Court heard oral arguments in a case that could forever change the policy of affirmative action in America, one woman's name continued to bubble up on social media: Abigail Fisher.
Fisher, the plaintiff in the case and the subject of the #StayMadAbby hashtag that took over Twitter, claims she was denied admission to the University of Texas at Austin because the school considered race in its admissions process. Fisher says she did everything right -- worked hard in school, played the cello, volunteered, earned respectable test scores -- but was at a disadvantage because she is white.
Yet the university argues that race is just one of many factors it uses to consider applicants and had no bearing in its decision to deny Fisher's application.
The court is expected to decide on the case next year. In the meantime, here's what you should know about the woman who may put an end to diversity efforts in higher education.
She was a UT Austin legacy applicant.
Fisher grew up in Sugar Land, Texas, about 150 miles from Austin. As a child, she had some important Longhorn role models in her life, including her father and sister.
"I dreamt of going to UT ever since the second grade," she said in a 2012 video released by her legal team. "My dad went there, my sister went there and tons of friends and family. And it was a tradition I wanted to continue."
The UT system bans the consideration of legacy status when evaluating applicants. However, an independent investigation conducted earlier this year found that alumni influence may have led to the admission of some students who had below-average test scores.
She applied in an extremely competitive year.
When Fisher applied to the school in 2008, UT Austin automatically offered admission to students in the top 10 percent of their high school graduating class. (The university has since reduced that amount to 7 percent.) Fisher, who graduated from high school with a 3.59 GPA and scored a 1180 out of 1600 on her SAT, did not finish in the top 10 percent of her high school class, and was thus left to compete for the 841 spots reserved for non-top-tier students that year. Fisher's chances for admission were therefore much lower than the school's overall acceptance rate of roughly 43 percent.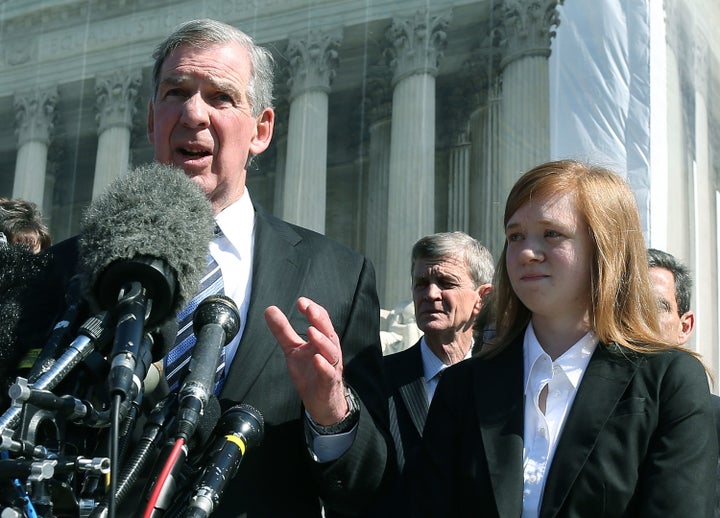 Her grades weren't good enough.
Because she wasn't a top-10-percent student, UT Austin evaluated Fisher using her grades, test scores and what was called a "personal achievement index." Admissions officers weighed academic achievements along with applicants' essays, leadership roles, extracurricular activities and "special circumstances," which included criteria such as race and socioeconomic status.
Fisher has argued that by considering these circumstances, the university discriminated against her for being white.
"I was taught from the time I was a little girl that any kind of discrimination was wrong," she said in 2012. "And for an institution of higher learning to act this way makes no sense to me. What kind of example does this set for others? A good start to stopping discrimination would be getting rid of the boxes on applications -- male, female, race, whatever."
However, as ProPublica reported in a 2013 examination of Fisher's case, the university felt Fisher's academic record was simply not strong enough. And of all the admitted students who had lower test scores and grades than Fisher, only five were black or Latino -- while 42 were white.
An activist recruited her to take her case to court.
Like many plaintiffs in landmark cases, Fisher was sought out by an activist who wanted to bring a case like hers all the way to the Supreme Court. In her case, it was Edward Blum, whose legal defense fund, the Project on Fair Representation, has challenged multiple race-related policies.
Blum, a former stockbroker, has forged a second career steering cases like Fisher's to the courtroom. As Reuters reported in 2012, Blum had sought a plaintiff to challenge the University of Texas' use of affirmative action after the makeup of the Supreme Court shifted to the right under former President George W. Bush. He spent years searching for the right student, even setting up a website to recruit potential plaintiffs. However, Blum struggled to find a student he felt could stand up to the scrutiny the case would bring.
Eventually, Blum received a call from an old acquaintance -- Abigail Fisher's father, Richard. After hearing about her story and deciding she had the right temperament for being in the public eye, Blum persuaded the Fishers to file suit, and recruited lawyers to represent them. The Fishers' legal fees, according to Reuters, have been paid by Blum's conservative backers.
She attended LSU and now works in finance.
While Fisher was denied admission at UT's flagship campus, the university did offer her the opportunity to enroll at a satellite campus and later transfer to Austin. But she instead decided to enroll at Louisiana State University, which she graduated from in 2012.
Fisher now works as a business analyst in Austin.
"The only thing I missed out on was my post-graduation years," she told The New York Times in 2012. "Just being in a network of UT graduates would have been a really nice thing to be in. And I probably would have gotten a better job offer had I gone to UT."