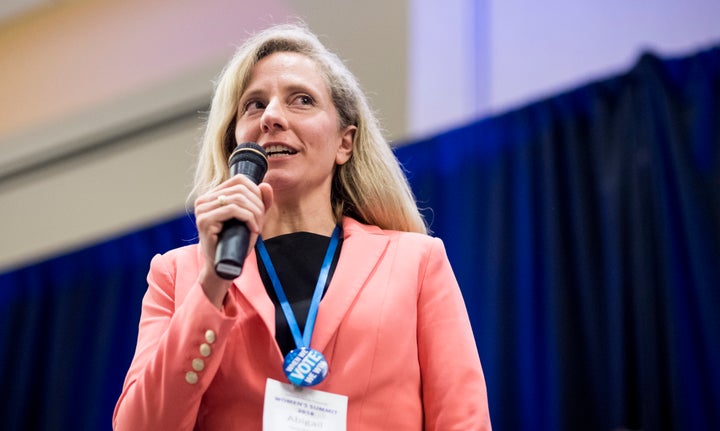 A Republican super PAC that obtained a copy of Democratic congressional candidate Abigail Spanberger's security clearance application through a botched public records request used that material to create an Islamophobic TV ad, attacking the former CIA officer for her one-year substitute teaching stint at a Saudi-funded Islamic school in northern Virginia.

Spanberger taught English at the Islamic Saudi Academy from 2002 to 2003, after starting the lengthy process of applying for jobs with the federal government. She eventually received a security clearance and went on to work at the U.S. Postal Inspection Service in 2004 and joined the CIA in 2006.

The ad, produced by the Congressional Leadership Fund, accuses Spanberger of hiding the fact that she taught at the school. It points to two former students as evidence that the Islamic school is inherently violent: Ahmed Omar Abu Ali, who was accused in 2005 and later convicted of plotting to assassinate President George W. Bush; and Raed Abdul Rahman Alsaif, who was arrested in 2009 for trying to board a plane with a knife.

"So dangerous, even Chuck Schumer called for the school to be shut down," the ad's narrator said, referring to the current Democratic Senate Minority Leader. "But Abigail Spanberger cashed her paychecks like nothing was wrong."

The CLF ad is misleading for several reasons. Both Ali and Alsaif were accused of wrongdoing years after Spanberger completed her brief substitute teaching role at the school. And the Schumer quote was taken out of context. He called for an investigation into the school in 2005, long after Spanberger had moved on. After the CLF came out, Schumer condemned the attack on Spanberger, whom he described as "an upstanding patriot" who "had absolutely nothing to do with my concerns."

Spanberger, who is running against Rep. Dave Brat (R-Va.), dismissed the ad as "desperate and weak."

"The CIA hired me, gave me a Top Secret/SCI security clearance, and trusted me with some of our nation's greatest secrets in part because of my engagement with and knowledge of other languages, perspectives, and cultures," Spanberger said in a statement  Thursday. "I drew on this knowledge every day at CIA — doing so made me a strong operations officer."

Spanberger's time at the Islamic Saudi Academy wasn't exactly a secret, it just wasn't really a notable part of her resume. The CLF learned about it after the U.S. Postal Service released the former CIA officer's complete, unredacted security clearance application in response to a Freedom of Information Act request from the GOP research group America Rising, which then passed it to the CLF.

Typically, privacy protections would require federal agencies to withhold or heavily redact security clearance applications, which include extensive personal information about the applicant. Spanberger accused the super PAC of wrongfully obtaining her application and sent a cease-and-desist letter last month to the group's executive director, demanding he destroy all copies of the document and refrain from using the information. Spanberger has suggested that the release might have been a politically-motivated leak.

Shortly after the private document was released, the Postal Service apologized and said that the disclosure was the result of "human error." The Post Office asked America Rising to return the mistakenly released information.

Instead, CLF put a slightly redacted version of the application on its website and used the information to launch its smear campaign against Spanberger.
REAL LIFE. REAL NEWS. REAL VOICES.
Help us tell more of the stories that matter from voices that too often remain unheard.