CHICAGO (Reuters) - Abner Mikva, who served as a White House adviser, federal judge, congressman and mentor to President Barack Obama, has died at age 90, his Chicago nonprofit organization said on Tuesday.
Mikva, who died on Monday, emerged in the 1950s as a liberal reform leader who defied an electoral culture in Illinois dominated by machine politicians before moving on to Washington.
Obama, who presented Mikva the Presidential Medal of Freedom in 2014, credited Mikva with steering him into public service when the future president was a law school student.
"He saw something in me that I didn't yet see in myself, but I know why he did it," Obama said in a statement. "Ab represented the best of public service himself and he believed in empowering the next generation of young people to shape our country ...
"Like so many admirers, I've lost a mentor and a friend."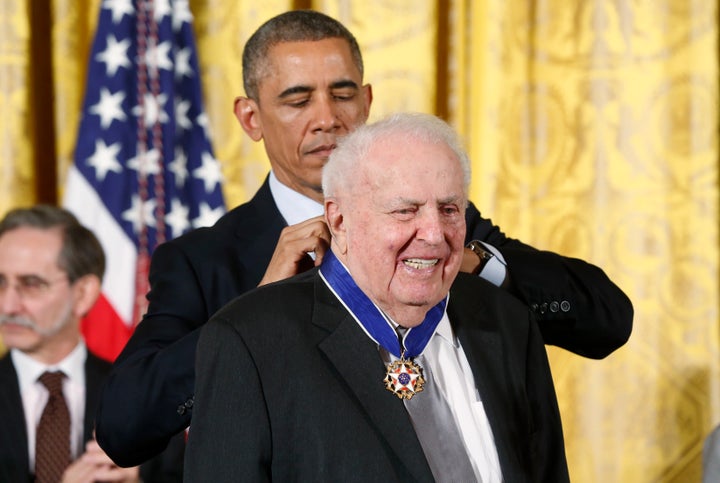 Mikva also served as then-President Bill Clinton's White House counsel.
Sen. Dick Durbin of Illinois called Mikva "my North Star for integrity."
"In an era of cynicism and disappointment, Abner's record of public service was proof that the good guys can win without selling their souls," he said in a statement.
Supreme Court Justice Elena Kagan issued the following statement to HuffPost on Mikva's passing:
Ab Mikva gave me my first job -- and my first chance -- in the law. For that alone, I owe him a deep debt of gratitude. But far more important, I am thankful to him for modeling, for me and so many others, how to live a life dedicated to public service. For more than 60 years, Ab devoted his extraordinary gifts of intellect, wisdom, energy, and spirit to advancing the public good and strengthening the country he loved. He was a person of complete integrity and unwavering principle. I count myself honored to have had him as a mentor and to have been his friend. I send my deepest condolences to Zoe, to Mary, Laurie, and Rachel, and to all their families. May his memory be a blessing.
Mikva's first brush with politics came in 1948 as a University of Chicago law student, when he approached a city ward boss about volunteering for the Democratic campaigns of gubernatorial candidate Adlai Stevenson and senatorial candidate Paul Douglas.
"The quintessential Chicago ward committeeman takes the cigar out of his mouth, says, 'Who sent you, kid?' And I said, 'Nobody sent me.' He puts the cigar back in his mouth and said, 'We don't want nobody nobody sent,' and that was my introduction to Chicago politics," Mikva recounted in an oral history recorded by the Abraham Lincoln Presidential Library.
Mikva was elected to the Illinois state legislature in 1956 and served in the U.S. House during the 1960s and 1970s.
In 1979, President Jimmy Carter nominated him to the U.S. Court of Appeals for the District of Columbia Circuit, where he became chief judge. One of his law clerks was Elena Kagan.
Mikva remained on the bench until 1994, when he was appointed by Clinton as White House counsel.
Chicago Mayor Rahm Emanuel, who worked on one of Mikva's congressional re-election campaigns, issued a statement calling him "one of the great public servants of our time."
Mikva's death was confirmed by Mikva Challenge, a leadership program for Chicago youth, but it did not provide a cause of death.
(Editing by Fiona Ortiz and Bill Trott)
Calling all HuffPost superfans!
Sign up for membership to become a founding member and help shape HuffPost's next chapter
BEFORE YOU GO
PHOTO GALLERY
Notable People We've Lost In 2016