It started as a hashtag and became a key policy plank in the biggest political upset this election cycle, and now progressives from coast to coast are running on the idea of ending America's internal immigration enforcement agency.
Welcome to the summer of #AbolishICE.
The idea of ending Immigration and Customs Enforcement has vaulted into the spotlight in recent weeks as anger over the Trump administration's treatment of unauthorized immigrant families grew and 28-year-old activist Alexandria Ocasio-Cortez made it a centerpiece of her winning platform last week.
The support is coming from Democrats prominent and obscure. Possible presidential contenders embraced the idea, and low-profile leftist candidates are rushing to highlight their support. All argue the agency has essentially gone rogue under President Donald Trump, frequently raiding workplaces and deporting immigrants without criminal records, making its replacement a necessity.
"ICE has been abused by the current president," said Rep. Mark Pocan (D-Wis.), who last week introduced the first piece of legislation to eliminate the agency. "These aren't the original functions of the agency. The president has irreparably broken ICE."
But establishment Democrats, including key leaders in Washington, are reacting coolly to the idea, with Senate Minority Leader Chuck Schumer (N.Y.) telling reporters ICE has "some functions that are very much needed" and saying he backs reforming the agency instead. And Trump has already begun highlighting the issue, with Republicans smelling a political winner.
The political fight over abolishing ICE shows how left-wing activists are increasingly choosing to draw attention to their causes and build momentum by embracing maximalist goals, getting ahead of a Democratic establishment that often demands a perfect think tank white paper before pushing even incremental policy changes. And it provides Republicans with fodder for their plans to stem a blue wave this November by firing up their intensely anti-immigrant base ― a fear of many mainstream Democrats.
"Gillibrand becomes first U.S. senator to call for ICE to be abolished," Brad Parscale, Trump's 2020 campaign manager, wrote on Twitter on Friday. "Democrats want chaos, no borders, and the destruction of legal citizenship."
A HuffPost/YouGov poll on abolishing the agency found that the public largely hasn't heard of the concept, with a plurality of surveyed Americans saying they oppose disbanding ICE. Just 17 percent said they had heard of calls to end it, while 59 percent said they had not.
Opinions on ICE as an agency are mixed: Just 37 percent of those surveyed said they have a favorable opinion of the agency, and 39 percent said they have a negative opinion. But the public appears far from eager to get rid of the agency. Just 21 percent of respondents said they support abolishing ICE, while 44 percent said they oppose it, with 35 percent undecided. Nearly 3 in 10 Americans polled said they strongly oppose the idea.
HuffPost and YouGov conducted the poll on June 20 and 21, and increased media attention over the past week likely means an increasing number of Americans know about calls to end ICE.
Progressives And Presidential Contenders Versus A Skittish Party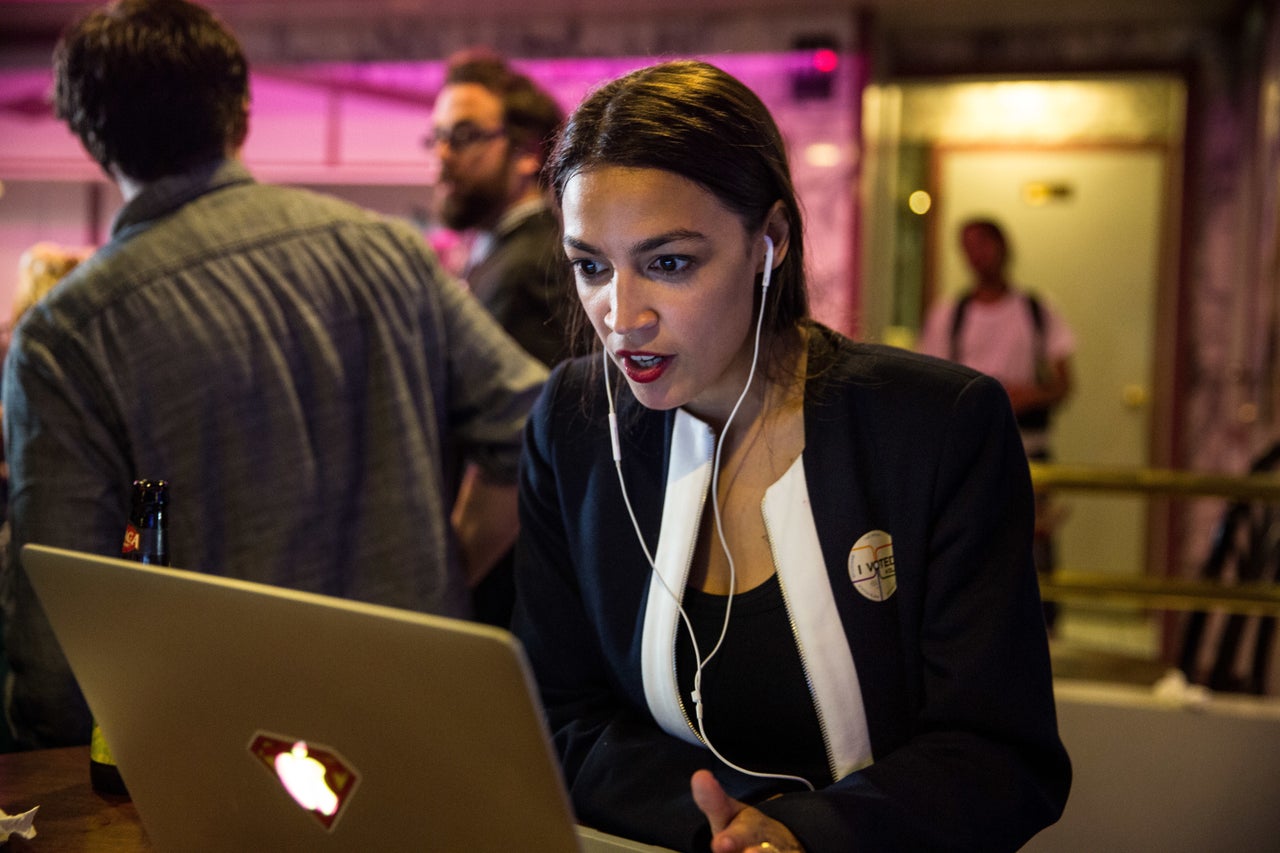 When HuffPost asked Ocasio-Cortez before her upset victory what her first priority would be in Congress, she didn't hesitate.
"Morally, we need to abolish ICE," she said. "We are now at a moral crisis with the development of what's going on at the border. Pushing for an immediate stop to that if we haven't done it by November is absolutely a No. 1 priority."
She wasn't the first congressional candidate to push for abolishing ICE, nor was she the first to win her primary. (That was Deb Haaland in New Mexico's 1st Congressional District.) But since Ocasio-Cortez's victory, declaring support for the cause has become shorthand to signal a new brand of a more aggressive Democrat.
After Ocasio-Cortez's win, Juana Matias, a state representative running in a crowded Democratic primary for the open seat in Massachusetts' increasingly diverse 3rd Congressional District, emphasiszed that she supports ending ICE. "I hope that the rest of the Democratic field will follow our example and embrace a real progressive agenda," she said.
Kaniela Ing, a millennial democratic socialist and state lawmaker seeking the Democratic nomination for Hawaii's 1st Congressional District, has also embraced the call to abolish ICE. He sported an "Abolish ICE" T-shirt at a recent protest outside an ICE branch office in Honolulu.
A key part of the movement to elevate ICE's elimination into a mainstream issue has been that possible contenders for the 2020 Democratic presidential nomination have rapidly adopted the stance. New York Sen. Kirsten Gillibrand went first, telling CNN's Chris Cuomo she wanted to "get rid of it, start over, reimagine it and build something that actually works." Massachusetts Sen. Elizabeth Warren, appearing at a weekend rally to protest the Trump administration's family separation policy, said ICE should be replaced with "something that reflects our morality and that works." Vermont Sen. Bernie Sanders and California Sen. Kamala Harris have also called for re-examining the agency.
New Jersey Sen. Cory Booker adopted the same position in a brief interview with HuffPost.
"What most people don't understand is the agency is not that old," he said. "I'm one of those people that calls for us taking a serious look. I think we should be having hearings and really dive into this agency. It costs Americans billions of dollars. It's not necessarily, in my opinion, achieving its high-minded purpose that might be achieved better in other ways."
There's good reason for 2020 Democratic presidential hopefuls to think primary voters could reward their call to end ICE: Just 22 percent of surveyed Democrats said they have a favorable opinion of the agency in the HuffPost/YouGov poll, while 61 percent said they have a negative opinion, and 4 in 10 Democrats said they would support ending the agency, with 28 percent opposed.
Democratic senators without high-profile presidential ambitions have been a bit less eager. Oregon Sen. Jeff Merkley, whose trip to an ICE detention facility helped start the outrage over the Trump administration's treatment of unauthorized immigrants, demurred. "My focus right now is very much on ending the afflictions of children by the administration." New Hampshire Sen. Jeanne Shaheen? "I think it's very important to get ICE to behave differently," she said. "I'm not sure abolishing it is the right approach."
And two Democrats trying to win Senate races in states with heavy Latino populations are also staying away from the issue. Asked if she supports dropping the agency, Nevada Rep. Jacky Rosen dodged in an interview with HuffPost, saying only that "we need to have comprehensive, bipartisan immigration reform." Rep. Beto O'Rourke of El Paso, Texas, who is hoping to unseat Sen. Ted Cruz, said at a town hall meeting on Friday night that he wants to abolish some of the agency's tactics but not the agency itself. Both those Democrats have been outspoken about policies of family separation on the border ― Rosen released one of the first ads to hit on the topic ― but wary of changing the terms of the immigration debate.
Establishment Democrats, backed by public polling, are confident the immigration debate is one they can win before the November elections. Their support of comprehensive immigration reform and horror at the Trump administration's now-abandoned family separation policies are backed by strong majorities of the American public. Abolishing ICE is new terrain, and their political next steps are less certain. Groups are scrambling to understand the electoral implications; multiple Democratic groups polled on the issue in the past week, according to a source with knowledge of the surveys.
There is a rapidly forming consensus among Latino groups and Democrats on Capitol Hill that calls to abolish ICE are a distraction from the broader goal of comprehensive immigration reform and the more immediate goal of a DACA fix. They view the push as mostly coming from white-dominated progressive groups, not Latino organizations.
"We understand the impetus for this movement," said Mayra Macias, the political director at Latino Victory, which hasn't taken a firm stance on the issue. "But we're cognizant that the issues around immigration enforcement go deeper than ICE as an agency."
The movement to abolish ICE is often compared to Republican calls to end the IRS during the Tea Party era ― an impossibility that sounds appealing to the base and helps hobble the agency. But Democratic strategists fear it could turn into the equivalent of GOP calls to abolish the Department of Education, which do nothing to limit the agency's power but repel swing voters.
"I don't think this is coming up from the grassroots. This is being driven by elite activists," said one Democratic pollster, who requested anonymity to speak frankly about an intraparty debate. "Republicans will get to go on offense if Democrats get bullied by the professional left into supporting abolishing ICE."
A New Left Flank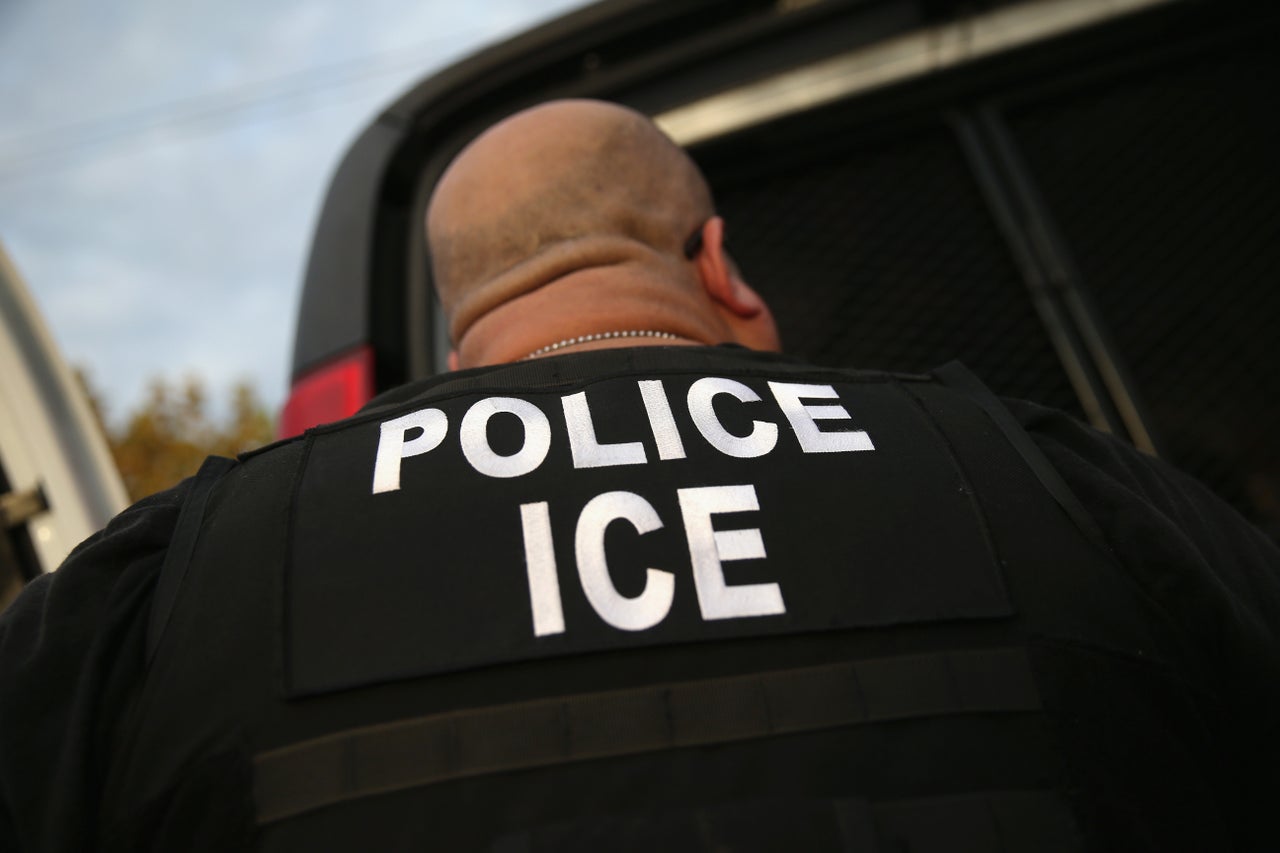 The intellectual forefather of the abolish-ICE movement is Sean McElwee, a New York City–based co-founder of the think tank Data Progress.
He has become something of one-man left-wing idea incubator. He successfully launched the federal job guarantee into the Democratic mainstream after getting Gillibrand on the record in support of it.
Beginning with a March column in The Nation titled simply "It's Time to Abolish ICE," McElwee sought to do the same thing with the elimination of the federal agency responsible for deporting undocumented immigrants from the interior of the country. Since then, he has leveraged his large and influential Twitter following to raise #AbolishICE's profile.
He set his sights on ICE after reading an August 2015 essay by the white nationalist writer Jared Taylor, who argued in support of then-presidential-candidate Trump's plans to deport all undocumented immigrants, including those without criminal histories. Taylor has said he believes that non-European immigration is a threat to America's white character.
The agency Taylor had in mind for the task of making America white again? ICE, of course.
That solidified the idea in McElwee's mind that ICE ― and the interior deportations it has become notorious for carrying out ― is simply a vehicle for "ethnic cleansing," he said.
He modeled the abolish-ICE campaign along the lines of Occupy Wall Street, with the goal of raising public awareness of ICE's actions to a degree that would make the agency radioactive.
McElwee reacted indignantly to the idea that the campaign is not being driven by genuine grassroots anger. An adviser to the Abolish ICE campaign, Antonio Alarcon, is an undocumented Dreamer, he noted.
"This is a movement: 'Abolish ICE' signs can be seen from Boise to Tornillo to Topeka to LA," McElwee said. "There must be a lot of fucking elites in the Democratic Party."
McElwee is sincerely skeptical of the entire concept of deportations from the interior of the country, questioning whether separating people from their community is ever worth its human costs. However, by making the dissolution of ICE the new left pole of the immigration debate, he and his allies hope to widen the so-called Overton window, making more modest reforms seem less radical. In the near term, he said, he sees ending deportation's "routinization" within the political class and forcing Democrats to pay a political price for funding ICE as attainable goals.
He has even identified benefits from the movement for moderate Democrats who remain hawkish on immigration. Right now, nothing distinguishes the immigration stances of Blue Dog Democrats like Minnesota's Rep. Collin Peterson from more left-wing colleagues like Washington state Rep. Pramila Jayapal. Both wings of the party essentially support the same policy: comprehensive immigration reform that provides a path to citizenship for 11 million undocumented immigrants. Opposing ICE's elimination can be a way for them to signal moderate credentials to swing voters.
"Dealing with human beings is very different than dealing with drugs and other goods."
If proponents of eliminating ICE eventually hold enough power to act on their agenda, however, they will have to confront the complexity of the task at hand.
These progressives frequently mention ICE's relative newness to argue that it is hardly a sacrosanct institution and that scrapping it would be less disruptive than is widely assumed.
Congress created the agency only in 2002, as part of the new Department of Homeland Security, after the Sept. 11 attacks redefined immigration as a national security issue.
The 2002 legislation divided the execution of immigration policy among three agencies: ICE would oversee enforcement in the interior of the country, Customs and Border Protection would handle it on the border and at ports of entry, and Citizenship and Immigration Services would process legal immigration.
From 1993 to 2003, all those functions were handled by a single federal agency under the Department of Justice: the Immigration and Naturalization Service.
A key part of the left-wing critique of ICE is that it is extrajudicial, so restoring enforcement to the Department of Justice would at least ensure greater legal oversight to ICE agents' practices. (Abolition skeptics like liberal columnist Bill Scher note, however, that restoring ICE to the Department of Justice's jurisdiction would put it more squarely under the purview of Attorney General Jeff Sessions, an immigration hard-liner.)
While the INS was not beyond liberal criticism, its comprehensive organizational structure likely had its benefits, according to Muzaffar Chishti, a veteran immigration attorney who heads the Migration Policy Institute's office at the New York University School of Law.
Chishti recalled that civil servants processing legal immigration cases he helped shepherd had frequently spent time at the border and that interior enforcement personnel sometimes had experience in less enforcement-driven parts of the agency.
By contrast, ICE simply grew out of the customs enforcement bureaucracy, which has always been concerned exclusively with policing goods ― things like contraband money and drugs. It's a feature of ICE that may influence the culture of its personnel, according to Chishti.
"Dealing with human beings is very different than dealing with drugs and other goods," he said.
But if the left wants to be taken seriously in its calls to abolish ICE, Chishti argued, it must get more specific.
Although the details are still being worked out, progressive proponents of abolishing ICE have grown as confident in their immigration cause as they have about the now-mainstream proposals for "Medicare for all" and tuition-free public college. McElwee said that he was surprised HuffPost's polling didn't show even less support for abolishing ICE and that he expects backing will grow exponentially if mainstream Democratic lawmakers begin to endorse it in greater numbers.
But some professional Democratic strategists warn that abolishing ICE is not as easy of a sell as something like "Medicare for all," even if it emanates from the same maximalist instincts.
"People understand Medicare. They like Medicare. It's much simpler than 'abolish ICE,'" said a Pennsylvania-based Democratic strategist.
And in an election year, he added, "once you get into having to explain, you're losing."
A Fight On Republican Turf?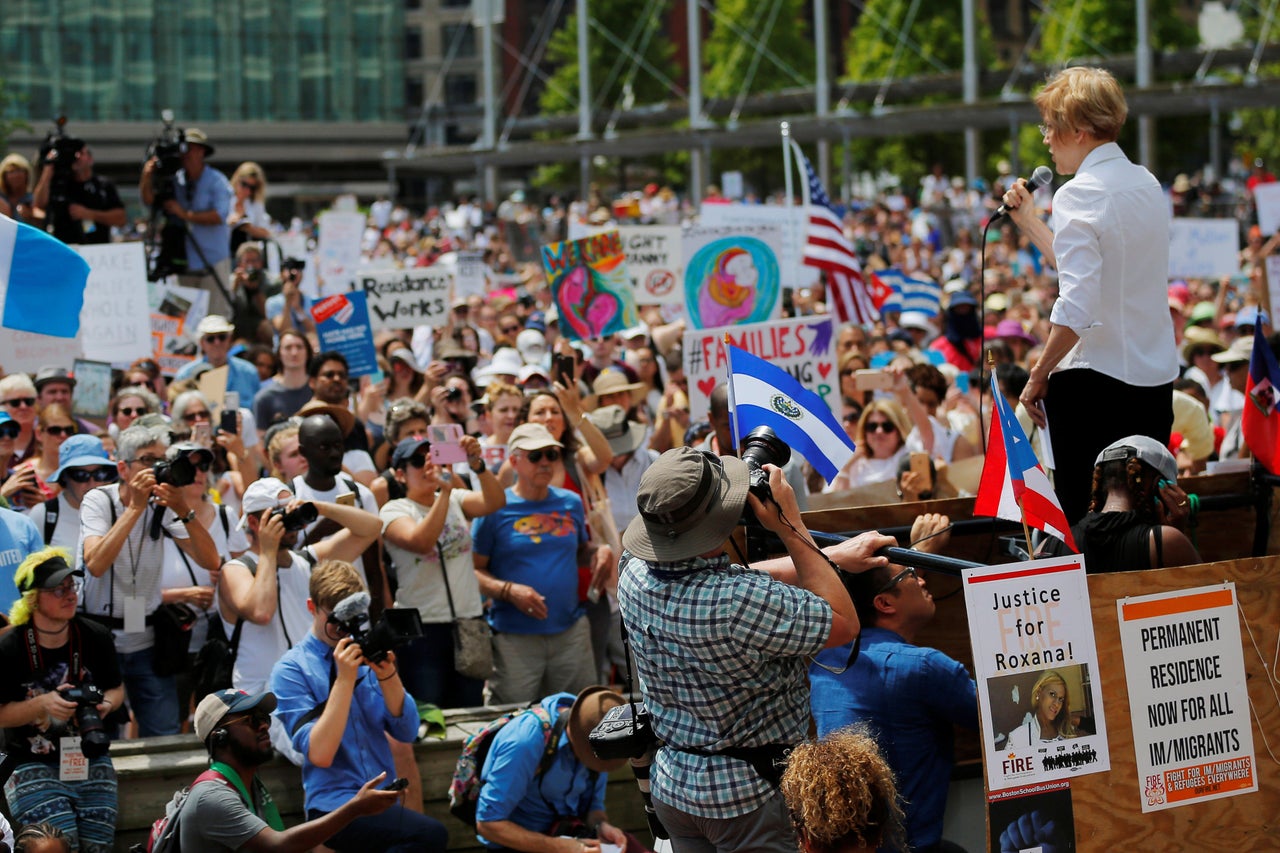 Trump has always wanted the midterms to be about crimes perpetrated by unauthorized immigrants ― never mind that they commit crimes at a lower rate than native-born Americans ― and the movement to end ICE has become the latest iteration of his bogeyman.
"I hope they keep thinking about it," he said of Democrats during an interview with Maria Bartiromo on Fox Business News this weekend. "Because they're going to get beaten so badly."
Trump and Senate Majority Leader Mitch McConnell have tried to argue that support for ending the agency is equivalent to support for open borders, even though Customs and Border Protection is tasked with monitoring the border. But supporters of eliminating ICE admitted that confusion over the agency's responsibilities was a potential obstacle.
"There is not a great understanding of the role ICE plays, and it's only exacerbated by the president lying about what's happening at the border," Pocan said.
Republicans believe their best bet to stop a Democratic takeover of Congress after November is to fire up their own base in order to match a high-energy Democratic electorate eager to oust Trump-aligned Republicans. And no other subject fires up the GOP base the way immigration does.
"I can't think of an issue that would better highlight Trump's strengths than abolishing ICE," said Andrew Surabian, a Republican strategist and former special assistant to Trump. "It plays right into Trump's caricature of the Democratic Party."
The HuffPost/YouGov poll consisted of 1,000 completed interviews conducted June 20 to 21 among U.S. adults, using a sample selected from YouGov's opt-in online panel to match the demographics and other characteristics of the adult U.S. population.
HuffPost has teamed up with YouGov to conduct daily opinion polls. You can learn more about this project and take part in YouGov's nationally representative opinion polling. More details on the polls' methodology are available here.
Most surveys report a margin of error that represents some but not all potential survey errors. YouGov's reports include a model-based margin of error, which rests on a specific set of statistical assumptions about the selected sample rather than the standard methodology for random probability sampling. If these assumptions are wrong, the model-based margin of error may also be inaccurate. Click here for a more detailed explanation of the model-based margin of error.
Igor Bobic contributed reporting.
This story has been updated with a quote from Sean McElwee.
Popular in the Community