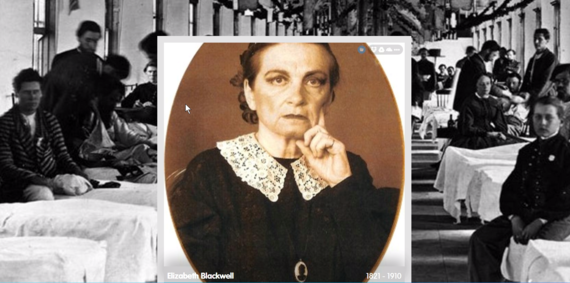 Elizabeth Blackwell was the first woman to receive a medical degree in the United States and a pioneer in promoting the education of women in medicine in the United States.
Born in Bristol, England, to Samuel Blackwell, a sugar refiner, and his wife Hannah Blackwell, she came from a family of 10. While a child, riots broke out in Bristol over voting rights. At the time, only 6,000 of the city's 104,000 citizens were able to vote.
To avoid the bloodshed, Samuel decided to move his family to America. Blackwell was eleven years old when the Blackwells sailed for New York on the liner Cosmo in August 1832. Her father set up the Congress Sugar Refinery in New York City after they settled.
Abolitionist leaders including William Lloyd Garrison and Theodore Weld paid visits to the Blackwell residence. Blackwell and the rest of the children adopted their father's liberal views and voluntarily gave up sugar in protest of the slave trade. This was perhaps Blackwell's first taste of social reform.
She grew to love the excitement of political action - attending antislavery fairs and abolitionist meetings throughout the 1830s. Backwell yearned for greater economic and intellectual independence.
In 1836, the refinery was burned down in a fire. Despite being rebuilt, Samuel Blackwell's refinery ran into business problems only a year later. The family economized, dismissed their servants, and in 1838 moved to Cincinnati, Ohio, to re-establish the business.
The idea of pursuing a medical career medicine was first planted in Blackwell's head by a friend in Cincinnati who was dying of a painful disease, possibly ovarian cancer. This friend expressed the opinion that a female physician would have made her treatment much more comfortable.

Blackwell also felt that women would be better doctors because of their motherly instincts. At first she was repulsed by the idea of a medical career. At the time, she "hated everything connected with the body, and could not bear the sight of a medical book".
Another influence on her decision to pursue medicine was the connotation of "female physician" at the time. Abortionists were known as "female physicians", a name Blackwell found degrading to what a female physician could potentially achieve.

"If society will not not admit of women's free development," she once said, "then society must be remodeled."
Part of Blackwell's decision to become a doctor was that she yearned to live an unattached life, independent of a man and the chains of matrimony.
Blackwell's decision to study medicine was a rather arbitrary one. It was made before she realized just how difficult it would be to overcome the patriarchal barriers to her goal.
But the difficulty only cemented her resolve. In 1845, Blackwell knew that she would one day obtain a medical degree, but she did not yet know where it would be, or how she would get the money to pay for it.
Blackwell boarded with Dr. William Elder, and studied anatomy privately with Dr. Jonathan M. Allen as she attempted to get her foot in the door at any medical school in Philadelphia. She was met with resistance almost everywhere.
Most physicians recommended that she either go to Paris to study, or that she take up a disguise as a man to study medicine.
The usual reasons offered for her rejection were that:
She was a woman and therefore intellectually inferior, and
She might actually prove equal to the task and prove to be competition for the men. One noted that she could not expect them to "furnish [her] with a stick to break our heads".
In October 1847, Blackwell was accepted as a medical student by Hobart College, then called Geneva Medical College, located in upstate New York. Her acceptance was a near-accident. The dean and faculty, usually responsible for evaluating an applicant for matriculation, were not able to make a decision due to the special nature of Blackwell's case. They put the issue up to vote by the 150 male students of the class with the stipulation that if one student objected, Blackwell would be turned away.
The young men thought this request was so ludicrous that they believed it to be a joke, and responding accordingly, voted unanimously to accept her.
On January 23, 1849, Elizabeth Blackwell became the first woman to achieve a medical degree in the United States. The local press reported her graduation favorably, and when the dean, Dr. Charles Lee, conferred her degree, he stood up and bowed to her.
When the American Civil War broke out, Blackwell and her sisters, one of whom also became a doctor, aided in nursing efforts. Blackwell sympathized heavily with the North due to her abolitionist roots, even going so far as saying that she would leave the country if the North compromised on the subject of slavery.
Blackwell met with resistance on the part of the male-dominated United States Sanitary Commission, a private relief agency chartered by Congress to care for sick and wounded soldiers. The male physicians refused to help with a nurse education program if it involved Blackwell. Still, the New York Infirmary managed to work with Dorothea Dix to train nurses for the Union effort.
After this publication, Blackwell slowly relinquished her public reform presence, and spent more time traveling. She visited the United States in 1906 and took her first and last car ride. Blackwell's old age was beginning to limit her activities.
In 1907, while holidaying in Kilmun, Scotland, Blackwell fell down a flight of stairs, and was left almost completely mentally and physically disabled.
On 31 May 1910, she died at her home in Hastings, Sussex, after suffering a stroke that paralyzed half her body. Her ashes were buried in the graveyard of St Munn's Parish Church, Kilmun.
Visit a tribute to Elizabeth Blackwell including a photo gallery and video library.
Create a multimedia Path of your own life or of someone you care about at OurPaths.com.

REAL LIFE. REAL NEWS. REAL VOICES.
Help us tell more of the stories that matter from voices that too often remain unheard.