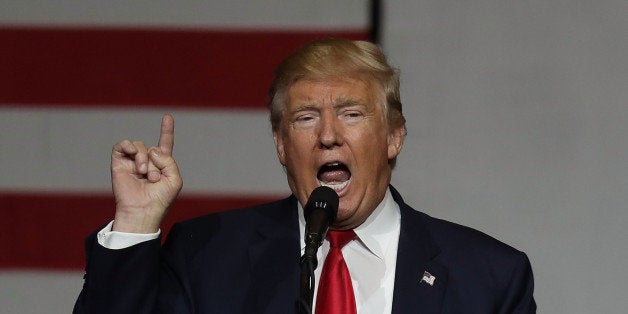 This afternoon I attended Personal PAC's annual luncheon in Chicago. The main speaker was Gloria Steinem and more than 1,400 women and men were present at the event. Personal PAC is an Illinois political action committee that is dedicated to the protection of women's reproductive rights. As the organization rightly observes, "these rights are continually under attack" and are constantly "being eroded by elected officials who would seek to deny access to reproductive choice."
During the luncheon I could not help but reflect on the stakes in the 2016 election. Of course, those stakes are "huge" and they affect an almost endless array of issues. One of them is a woman's right to choose. With Donald Trump in the White House, there is a high probability that the Supreme Court will overrule Roe v. Wade. Opponents of Roe have attempted to achieve this goal for more than 40 years -- without success. They have, however, come within a hair's breadth of achieving that goal, and with Donald Trump in the White House the odds will definitely be stacked in their favor.
Three of the eight current justices -- John Roberts, Clarence Thomas, and Samuel Alito -- have made crystal clear their fierce opposition to Roe. If President Trump gets to replace Antonin Scalia and at least one of the three oldest sitting justices -- Ruth Bader Ginsburg (83), Anthony Kennedy (80), and Stephen Breyer (78) -- there will almost certainly be a majority on the Supreme Court to overrule Roe. This is, indeed, a large part of the reason why Senate Republicans have unconscionably refused to confirm Merrick Garland.
With a Court consisting of Roberts, Thomas, Alito and two Trump justices, Roe v. Wade would be in grave peril. This is especially so because, if Donald Trump is elected president, the Republicans will almost certainly retain control of the Senate, which would mean there would effectively be nothing the Democrats could do to prevent Trump from appointing justices to the Court who are committed to overruling Roe.
What would happen if the Trump Court overruled Roe v. Wade? Here's one indication: Since 2010, when the Republicans won control of most of the nation's state legislatures, more than half the states enacted laws that were clearly designed to make the exercise of a woman's right to choose as difficult as possible.
Although the Supreme Court this past spring handed down a landmark decision invalidating most of those laws -- over the furious dissents of Roberts, Thomas, and Alito -- the very fact that more than half the states had the audacity to pass such blatantly unconstitutional legislation is clear evidence that, if given a free hand, they would at the very least outlaw all abortion unless necessary to protect the life or health of the woman or if the pregnancy was the result of rape or incest. They would, in short, turn the clock back to where it was before 1973, when the Court handed down its decision in Roe.

With Donald Trump in the White House, there is a high probability that the Supreme Court will overrule Roe v. Wade.

Like Gloria Steinem and many others in the audience at today's luncheon, I remember that world all too well. In the years leading up to Roe, approximately one million women each year had an illegal abortion. These women were compelled to resort either to dangerous self-abortions or to equally dangerous "back-alley" abortions. Women who resorted to self-induced abortion typically relied on such methods as throwing themselves down a flight of stairs or ingesting, douching with, or inserting into themselves a chilling variety of chemicals and toxins ranging from bleach to potassium permanganate to turpentine to gunpowder to whiskey. Knitting needles, crochet hooks, scissors, and coat hangers were among the tools commonly used by women who attempted to self-abort. Approximately thirty percent of all illegal abortions were self-induced.
Women who sought abortions from "back-alley" abortionists encountered similar horrors. To find someone to perform an illegal abortion, women often had to rely on the advice of friends or acquaintances or on tips from elevator operators, taxi cab drivers, salesmen, and the like. Because of the clandestine nature of illegal abortions, the very process of finding an abortionist was often dangerous and terrifying.
Women who obtained "back-alley" abortions were sometimes blindfolded, driven to remote areas, and passed off to people they did not know and could not even see during the entire process. Such abortions were performed not only in secret offices and hotel rooms, but also in bathrooms, in the backseats of cars, and literally in "back alleys." The vast majority of these abortions were performed either by persons with only limited medical training, such as physiotherapists and chiropractors, or by rank amateurs, including elevator operators, prostitutes, and barbers.
In the years leading up to Roe, an average of more than two hundred women died each year as a result of botched illegal abortions. The mortality rate for black and Hispanic women was twelve times higher than the mortality rate for white women. In addition to those who died in the course of illegal abortions, many thousands more suffered serious illness or permanent injury. Because of the humiliation associated with having an illegal abortion, many women who suffered complications were reluctant to visit a doctor for treatment. The stories of women who suffered through this nightmare are legion.
One woman recalled how a fellow college student who had had an illegal abortion was too frightened to tell anyone what she had done. She locked herself in the bathroom in her dorm and quietly bled to death. In another incident, 28-year-old Geraldine Santoro bled to death on the floor of a Connecticut hotel room after she and her former lover attempted an abortion on their own. The former lover, who had no medical experience, used a textbook and some borrowed tools. When things went terribly wrong, he fled the scene, and Santoro died alone.
This was the world as it existed before Roe v. Wade. If you want to return to that world, the choice in this election is clear.
REAL LIFE. REAL NEWS. REAL VOICES.
Help us tell more of the stories that matter from voices that too often remain unheard.