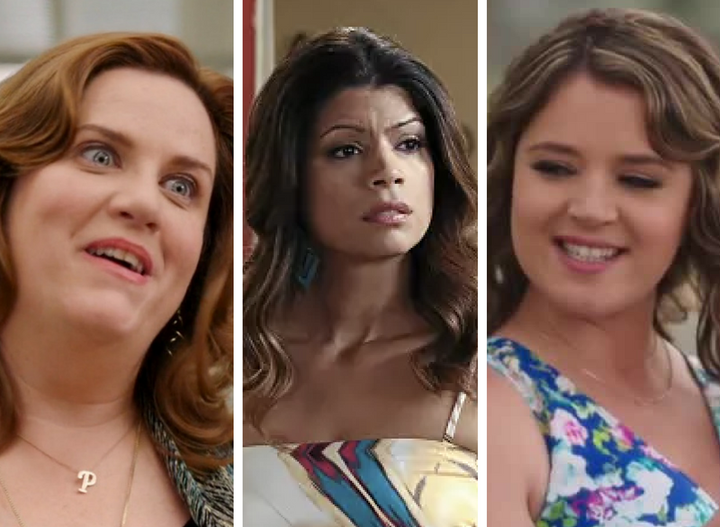 Now that the election is decided, women across the country are rushing to their doctors for long-lasting contraception and worrying over the future of abortion access. Which makes it all the more significant that The CW and FX have shown women electing for safe, legal alternatives to pregnancy, getting drama-free abortions not once but three times over the past month.
The CW's "Crazy Ex-Girlfriend" and "Jane the Virgin" and FX's "You're the Worst" have all shown its stars making levelheaded decisions to end pregnancies. No guilt. No shame. No over-the-top crying. No veiled references to abortion as the-thing-that-shall-not-be-named on a short list of options.
Paula (Donna Lynne Champlin) chooses to pursue her dream of becoming a lawyer instead of having another child with her husband on "Crazy Ex-Girlfriend." Xiomara (Andrea Navedo) has a medical abortion off screen between episodes after taking a hard look at her relationship with her partner on "Jane the Virgin." Lindsay (Kether Donohue) gets an "abobo" after becoming pregnant by a DIY artificial insemination process involving a frozen condom, a microwave and a turkey baster on "You're the Worst."
For these characters, ending a pregnancy was the best choice, and their TV universes didn't come crashing down around them when they went for it. They join a small number of other shows (HBO's "Girls," for example) that have included abortion as a normal choice that sometimes comes up in a woman's life. 
But that's TV. For now, real-life reproductive rights align with television's fictional sphere. In 2017, however, President Trump and Vice President Pence might start making changes.
Calling all HuffPost superfans!
Sign up for membership to become a founding member and help shape HuffPost's next chapter
BEFORE YOU GO
PHOTO GALLERY
Movies That Will Distract You From The 2016 Election