WASHINGTON -- A group of anti-abortion millennials showed up at Rep. Renee Ellmers' office Thursday afternoon to tell her how angry they were that she helped sink a bill that would have banned abortion after 20 weeks.
They also wanted to know where to find a local bar.
The North Carolina Republican was among a group of women and moderate lawmakers in their party who forced their leadership to pull down the abortion bill Wednesday over its rape exception. That exception would have required women to report being raped to the police in order to be eligible for an abortion. Ellmers, who has a 100 percent rating from the National Right to Life Committee, reportedly warned her colleagues that moving such an extreme bill, and so early in the new Congress, could cost the party support among younger Americans.
That didn't sit well with some of the millennials in Washington on Thursday for the annual March for Life, a massive anti-abortion gathering that coincides with the anniversary of Roe v. Wade. Dozens of students strayed from the march and headed to Ellmers' office to let her know how strongly they feel about restricting abortion access. The congresswoman wasn't there, but her staff stood in the hallway and fielded complaints.
"We rally and knock on doors. We are the ones that help elect them and do the work behind the scenes," Lori Kostka, a junior at George Mason University, told The Huffington Post. "To have one of the people we worked for back down, it's kind of shocking and it hurts us. We want to talk to her and say, 'We want to stand with you, but can you get back and stand for life again?'"
"She said this bill wasn't important to millennials and young women," said Ryan Cascio, a senior at George Mason. "Outside, we have half a million people here for the pro-life march. The majority were millennials," he claimed.
Asked what they hoped to accomplish by lobbying a solidly anti-abortion lawmaker to be even more anti-abortion, Cascio said, "Well, she's not voting pro-life." He acknowledged that he wasn't sure if Ellmers had voted for another bill that Republicans brought up and passed Thursday, the No Taxpayer Funding For Abortion Act, which codifies a ban on federal funding for abortions. She did.
"We just want her to stand with this bill," said Kostka.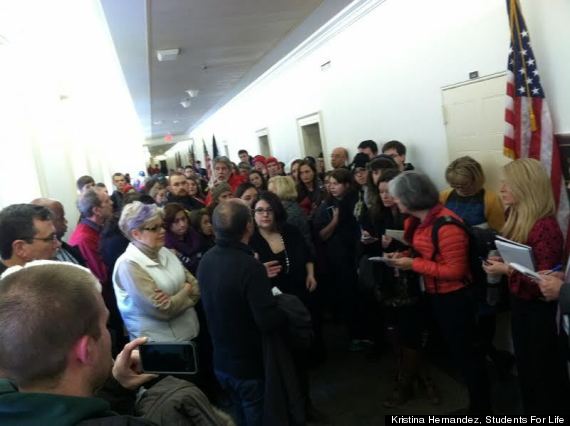 The scene outside Rep. Renee Ellmers' office on Thursday afternoon.
As the college students left, a group of high schoolers from North Dakota walked up to Ellmers' office and banged on the locked door. A young staffer came out.
"There were 800 students from our state here today," began one of the male students. "Obviously we feel strongly about this. There's hundreds of thousands of other millennials here for the march who also feel strongly about this issue. So, to hear comments that millennials don't care about social issues, it stings a little bit."
"It's extremely frustrating because that's what a lot of us are the most passionate about, more than any other issues," chimed in a female student.
The staffer nodded and listened, passing around a guest book for each of them to sign. "I'm glad to see people are passionate about this issue," he said.
There were some long pauses as the younger students told Ellmers' aide where they lived in North Dakota. Someone commented on how cool it was to see the congressional buildings. Finally, the male student spoke up again.
"I do have one question," he said. "Did somebody need to go to Bullfeathers? Do you know where that's at?"
Ellmers' staffer gave them directions to the nearby pub. He also said there were free refreshments downstairs in another congressman's office.
"Awesome," said the male student as they all walked off.
An Ellmers spokesman did not immediately respond to a request for comment from HuffPost.
Before You Go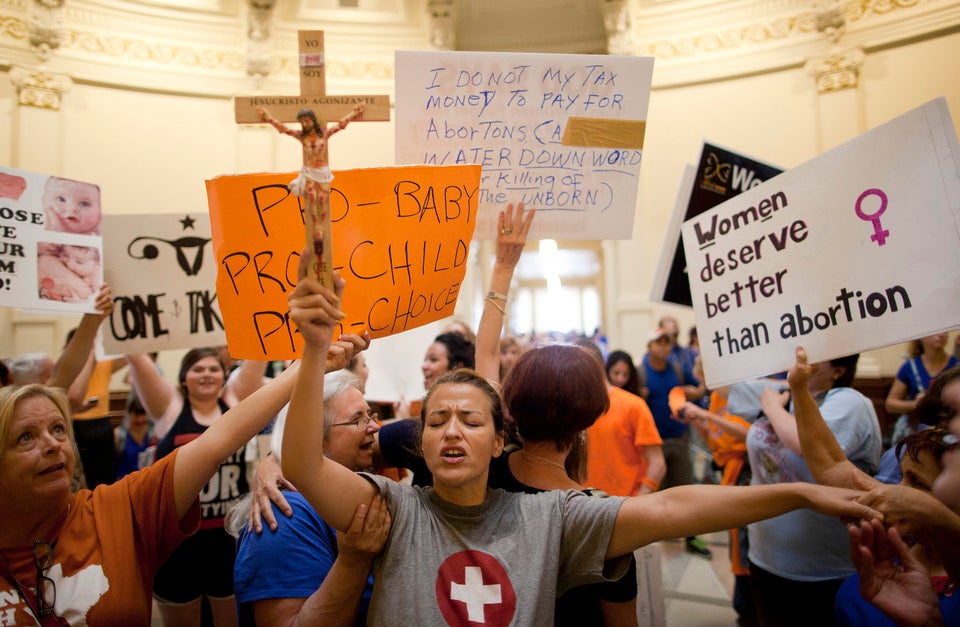 Abortion Protests Around The Nation
Popular in the Community