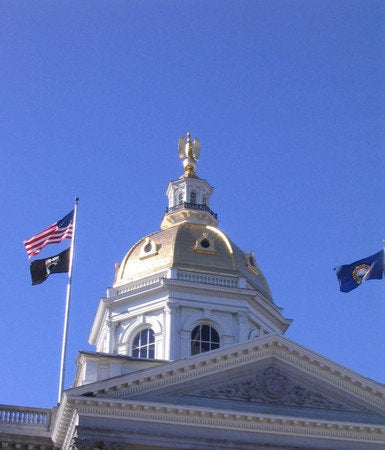 New Hampshire's Tea Party-controlled House of Representatives passed a bill Wednesday that would mandate a 24-hour waiting period before an abortion and require doctors to tell women that abortion causes breast cancer.
The bill, sponsored by Rep. Jeanine Notter (R-Merrimack), was immediately condemned by Democratic leaders, who it would require false information to be spread by doctors to patients. There is no proven breast cancer link to abortion, according to the World Health Organization and the American Cancer Society.
Notter could not be reached for comment Wednesday, but has said in the past she believes there is an abortion-cancer connection. In an interview last month with Merrimack Patch, Notter said she understood that abortion would cause spaces in breast duct tissue to allow for the growth of cancer cells. She said she believed birth control pills lead to the same issue. Notter last month also said that she believed that birth control pills taken by women cause prostate cancer in their male children.
The bill includes a full section on the supposed breast cancer link.
e) Materials that inform the pregnant woman that there is a direct link between abortion and breast cancer. It is scientifically undisputed that full-term pregnancy reduces a woman's lifetime risk of breast cancer. It is also undisputed that the earlier a woman has a first full-term pregnancy, the lower her risk of breast cancer becomes, because following a full-term pregnancy the breast tissue exposed to estrogen through the menstrual cycle is more mature and cancer resistant. In fact, for each year that a woman's first full-term pregnancy is delayed, her risk of breast cancer rises 3.5 percent. The theory that there is a direct link between abortion and breast cancer builds upon this undisputed foundation. During the first and second trimesters of pregnancy the breasts develop merely by duplicating immature tissues. Once a woman passes the thirty-second week of pregnancy (third trimester), the immature cells develop into mature cancer resistant cells. When an abortion ends a normal pregnancy, the woman is left with more immature breast tissue than she had before she was pregnant. In short, the amount of immature breast tissue is increased and this tissue is exposed to significantly greater amounts of estrogen—a known cause of breast cancer. Women facing an abortion decision have a right to know that such medical data exists. At the very least, women must be informed that it is undisputed that pregnancy provides a protective effect against the later development of breast cancer.
Among the provisions in the bill passed today are a 24-hour waiting period before an abortion is administered, with doctors providing information to the woman during this period. In addition to the breast cancer link, the information includes a series of fetal pictures taken at two-week intervals, a list of agencies that assist women during pregnancy and childbirth, a 24-hour state hotline number, material on paternal support obligations, a presentation on the possible medical side effects and a state website for information.
A woman would be required to fill out and sign a checklist saying she has reviewed the information.
The law allows the information to be waived in an emergency, with the doctor filling out a form attesting to the need. The law says ectopic pregnancies, removing a miscarried fetus and delivery a premature child to save the child's life do not count as abortion.
Joel Brind, an anti-abortion biology professor at Baruch College in New York and a leading proponent of what he calls the "abortion-breast cancer hypothesis," has said his research of scientific studies shows there is a link. Several states, including Alaska, Texas and Kansas have passed similar laws. A new bill pending in Kansas would reaffirm its law.
New Hampshire Democrats have attacked the bill, which would need Senate approval before heading to Gov. John Lynch (D).
"When House Republicans are not focused on repealing contraception coverage or defunding basic preventive health care services for thousands of New Hampshire women, they are spending their time legislating that women be given misinformation when exercising their right to have an abortion," House Minority Leader Terie Norelli (D-Portsmouth) said in a statement.
Popular in the Community