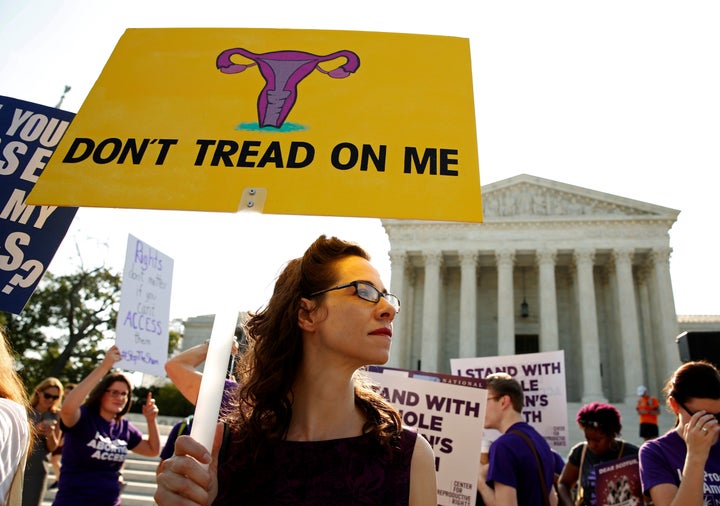 PHILADELPHIA ― In June, the abortion rights movement was handed its first major victory in years. After eight years of steady and successful Republican efforts to roll back access to abortion, after states passed hundreds of anti-choice laws, finally, a win: The Supreme Court struck down Texas restrictions on abortion providers.
The law, HB2 ― filibustered by then-state Sen. Wendy Davis (D) and heavily protested by pro-choice Texans, put harsh restrictions on freestanding abortion clinics and on doctors who provide abortions.
Republican proponents say the law was intended to protect women's health. Most Texas clinics could not meet the law's standards for buildings, and many had to close. Texas was left with only 19 abortion clinics to serve 5.4 million women of reproductive age. Clinic closings also cost millions of people access to low-cost mammograms, STI testing, and contraception. By the time the Supreme Court stepped in, Republicans in other states had begun to follow Texas's lead.
The Supreme Court ruling declaring the Texas law unconstitutional said it placed an undue burden on people who wanted to exercise a right to a medical procedure that is 14 times safer than giving birth. The decision was a win not just for pro-choicers in Texas, but for abortion rights advocates all over the nation.
At the Democratic National Convention this week, the relief and hope inspired by that victory was palpable. For the first time in years, some abortion rights advocates in Philadelphia said, they don't feel like they're up against an unassailable foe. For the first time since the anti-abortion onslaught began, shortly after the 2010 midterm elections, pro-abortion rights advocates said they were optimistic about the future of reproductive rights.
Celia Morgan, president of Texas Young Democrats, recalled how she found out that she was pregnant at a Planned Parenthood center in the Dallas-Fort Worth area. Now, she's a single mom ― her 5-year-old daughter is at home in Texas with Morgan's mother "getting spoiled."
"It's a huge relief that the Supreme Court decided the strike down the law," Morgan said. "It's really relieving to have the court uphold our feelings on this: that these are our decisions, that these are health care decisions."
Morgan said she's looking ahead to the next reproductive justice challenge. "Next is having a comprehensive conversation about what reproductive equality means," she said. "We've seen some really interesting science and research about birth control for all genders. So that's exciting."
But pro-choicers, she said, can't afford to relax.
"In my state, they're not going to give up on this," Morgan said. Texas Gov. Greg Abbott (R) has ordered that aborted fetuses be buried or cremated ― a rule similar to one GOP vice presidential nominee Mike Pence signed as governor of Indiana.
And it's not just abortion access; it's other forms of reproductive health care, too.
"What I'm looking at in Texas is the consistently more extreme values that are coming from our legislators ― our Republican and tea party legislators," Morgan said. "We're really creating an environment for unhealthy families."
Ilyse Hogue, president of NARAL Pro-Choice, said she harbors no illusions that the Supreme Court ruling will end a more than 40-year fight.
"It was a victory for women, absolutely," Hogue said in an interview with HuffPost on Wednesday. "It was a victory for evidence-based decision-making, because what the justices said is that there is still room in our country to research, do data, demonstrate impact on vulnerable women."
Hogue said she's delighted by the "energy, optimism and excitement" in the Clinton campaign's embrace of abortion rights, and she recalled that June day on the steps of the Supreme Court.
"What I felt most viscerally," Hogue said, "is a movement that was on the march. … Relief, absolutely, but you weren't going to stop this movement, win or lose at the Supreme Court."
But Hogue said she's braced for a backlash from anti-abortion activists and legislators. "It freaked our opponents out that this court would actually decide in our favor," she said, "and it makes them even more aggressive about winning the White House in November."
As the general election approaches, and with Pence on the GOP ticket, "the stakes are incredibly high" for proponents of abortion rights, Hogue said.
"It is probably a defensible statement that Mike Pence is the most anti-woman governor ever," Hogue said. "Everything Donald Trump has said he's going to do, Mike Pence has actually done," she said, pointing to Pence's record of signing legislation to jail abortion providers and defund Planned Parenthood.
Two Indiana delegates chatting and smoking outside Wells Fargo Center Wednesday with similarly buttoned and lanyarded convention attendees condemned their governor's fetus funeral rule and spoke with horror about a "huge outbreak" of HIV in Clark County, where Planned Parenthood clinics and needle drop facilities have closed. They said they hoped the Supreme Court decision would allow Planned Parenthood clinics to reopen and would curb Republican efforts to undermine abortion access.
"I feel optimistic about reproductive rights once Pence is gone," one of them said.
Hogue said an elderly woman told her Wednesday the stakes have never been higher. But after the first win in what seems forever, it feels like some of the undue burden has at last been lifted.
REAL LIFE. REAL NEWS. REAL VOICES.
Help us tell more of the stories that matter from voices that too often remain unheard.
BEFORE YOU GO