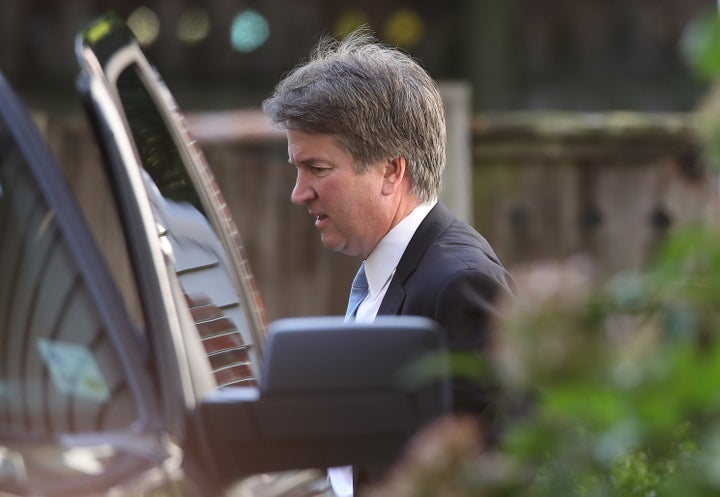 Judge Brett M. Kavanaugh's confirmation to the U.S. Supreme Court could give the anti-abortion movement a clear path to dismantle Roe v. Wade, the 1973 decision that legalized abortion nationwide. Professor Christine Blasey Ford's allegation that Kavanaugh sexually assaulted her when they were high school students has the potential to jeopardize Kavanaugh's confirmation. But that doesn't mean all abortion rights foes are entirely dismissing her. HuffPost reached out to members of the movement. Here's what they had to say:
Jennifer Christie, anti-abortion speaker from Virginia
I became pregnant after a brutal sexual assault by a stranger 4½ years ago. There was not a question of abortion. It didn't occur to [my husband and me]. Everyone's telling you you're crazy, this is a monster's baby. That's not the way it feels.
I think there's a lot of concern — at least in the community that I work with — that Judge Kavanaugh won't do anything to overturn Roe v. Wade. I'm holding off on judging completely, but I'm cynical.
I don't think that a woman claiming sexual assault should ever be dismissed. I think Ford needs to be heard. That's the bottom line. And Kavanaugh also needs to have an opportunity for a fair trial.
We're always accused of inventing stories or trying to bring people down, so I would never say that about another woman. But also, as the mother of four sons, I worry all it takes is an allegation and their lives are over.
Unfortunately, a lot of people are like, "well, why did Ford wait so many years?" I don't think that's a credible argument at all. It's incredibly difficult for a woman to come forward about something like this.
I'd like to think, as a movement, we are not jumping to side with Kavanaugh or dismissing a woman's allegation. In my circles, we're just waiting to see. We want justice to be served.
Rebecca Kiessling, president of Save The 1
I believe that she needs to have an opportunity to be heard but disappointed to hear she won't testify on Monday. [The accuser, who goes by Christine Blasey professionally, said through attorneys that she wants the FBI to investigate before testifying.] I was definitely concerned there could have been a potential for blocking a nomination because of an anonymous allegation. That's not our system of justice.
I'm torn, because I've always said how important it is to give rape victims the benefit of the doubt. My own dear mother was a rape victim. My biological father was never convicted. But, in my situation, my mother told people right away. She told family members, friends, she went to the police, it's in my adoption records. I know there are situations where women bury it and don't say anything for years .... I know that's really, really common.
I feel for women who have held this secret for so many years. It's not easy. We'll see what happens during the committee hearing, whether she'll ultimately be willing to testify. I understand that's going to be difficult, but you can't expect to block a Supreme Court nomination with anonymous allegations.
Charles Camosy, board member of Democrats for Life, associate professor in the theology department at Fordham University
I've always thought that we ought to act on behalf [of] nonviolence and the most vulnerable in every situation and for every person. I'm for universal health care, strong unions and for the Dream Act. I'm against torture and the death penalty and drone strikes.
All women deserve to have such claims fully honored. I believe Dr. Ford is credible, but I think there should be a hearing for both sides under oath where we can learn more about the specific claims.
[If Blasey's allegation is found to be credible], he should withdraw his nomination. Period. And if he doesn't, the White House should. And if they don't, then pro-lifers in the Senate should vote against him ... we cannot be taken seriously on this issue if we ram through someone we think is a pro-life nominee despite having a record of sexual assault ... and then lying about it in order to secure a lifetime seat on the highest court in the land.
I think Amy Coney Barrett [a judge on the U.S. 7th Circuit Court of Appeals] would have been a much better choice. And not just in hindsight. From the death penalty to abortion, there is no question about her pro-life credentials.
Robert Jeffress, pastor of First Baptist Dallas
Sexual assault is a heinous crime, and I feel empathy for all of those who have been victimized by it. I do not know with certainty who is telling the truth, but what I know with absolute certainty is that Democrats don't care about the truth. ...
It's time for this desperate ploy of the Democrats to be brought to a swift conclusion. Dr. Ford and Judge Kavanaugh should testify on Sept. 24, and the committee and then the Senate should vote swiftly for confirmation after that.
Catherine Glenn Foster, president and CEO of Americans United for Life, which has supported Kavanaugh's nomination
Every woman and man in Dr. Ford's situation deserves to be able to share their story and to be heard, and the Senate Judiciary Committee has appropriately determined that it will proceed to do so via the mechanism outlined by the Framers of the Constitution. We are confident that the truth, wherever that may lead, will be brought to light through the process that is being followed…. in a matter as important as this or any instance where a woman or man reports misconduct, there should be a serious examination of the facts in a fair, impartial way, and we trust that the Senate Judiciary Committee is committed to exactly that.
Kristan Hawkins, president of Students for Life of America
We want to see the process go forward to vet the current allegations, but, in looking at the way in which the charges were handled (hidden until the hearings were over and handled by those who have been very public about their goal to oppose this nominee no matter what), we still see Judge Kavanaugh as a qualified candidate who is in the political battle of his life because of the abortion lobby's efforts to keep Roe v. Wade the law of the land.
Liz Wolfe, editor and anti-abortion feminist in Austin, Texas
People should not automatically believe all victims, nor should they disbelieve all victims. Both liberals and conservatives have partisan blinders on and should search for more evidence.
There are lots of pro-lifers like myself who believe that female empowerment does not have to come at the expense of stopping the heartbeat of a fetus. I think pro-lifers have the opportunity to have lots of moral high ground and intellectual consistency.
People who try to rape other people should not be associated with us because they clearly do not value human dignity, autonomy or safety.
Popular in the Community