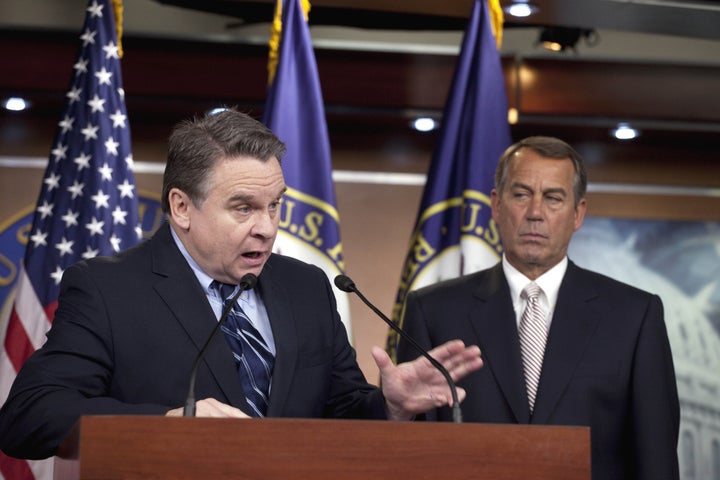 WASHINGTON -- After significant public blowback, House Republicans last week promised to drop a controversial provision in their high-priority No Taxpayer Funding for Abortion Act that would redefine rape. But almost a week later, that language is still in the bill.
Last week, a spokesman for the bill's principal sponsor, Rep. Chris Smith (R-N.J.), said, "The word forcible will be replaced with the original language from the Hyde Amendment." The Hyde Amendment bans taxpayer dollars from being used for abortions, except in cases of incest and rape -- not just "forcible rape," as the Smith bill, H.R. 3, would have it.
But as The New York Times first noted on Wednesday, the "forcible rape" language remains. Ilan Kayatsky, a spokesman for New York Rep. Jerrold Nadler, the top-ranking Democrat on the House judiciary subcommittee focusing on constitutional issues, told The Huffington Post that while Nadler hopes the bill will soon be changed, they have been treating it as it's written.
"So the fact remains: more than 150 Republicans lent their name to this bill, as drafted, which includes the forcible-rape provision," the Nadler spokesman said. Several conservative Democrats also signed on as cosponsors of Smith's bill.
Smith's spokesman did not respond to requests for comment.
There are several ways to change the language in legislation. It could be amended during the committee markup process, which has not yet been scheduled for H.R. 3. The bill could also be reintroduced, but a congressional staffer pointed out that the legislation's high-priority status likely inclines House leaders to keep the bill number already assigned, rather than renumbering it with a fresh introduction.
At a hearing by the Judiciary Subcommittee on the Constitution on Tuesday, Richard Doerflinger of the U.S. Conference of Catholic Bishops defended the forcible-rape language. "The recent debate about forcible rape was simply an effort on the part of the sponsors to prevent the opening of a very broad loophole for federally-funded abortions for any teenager," he said.
Even if the language is dropped, abortion-rights advocates warn that H.R. 3 would still be a significant step backwards for women's rights. In a press conference on Tuesday, Sen. Kirsten Gillibrand (D-N.Y.) said that the legislation shows a "heinous disregard for the health and well-being of women in America" and would be "a tax on all women who want access to a full range of reproductive health care."
Smith's legislation is essentially guaranteed to raise the individual cost of an abortion. It would discourage employers from offering health insurance plans that offer abortion coverage, because that would cost them the tax benefits they would normally receive for offering their employees health care. It would also strike medical tax deductions for individuals who pay for abortions with their own money.

Popular in the Community