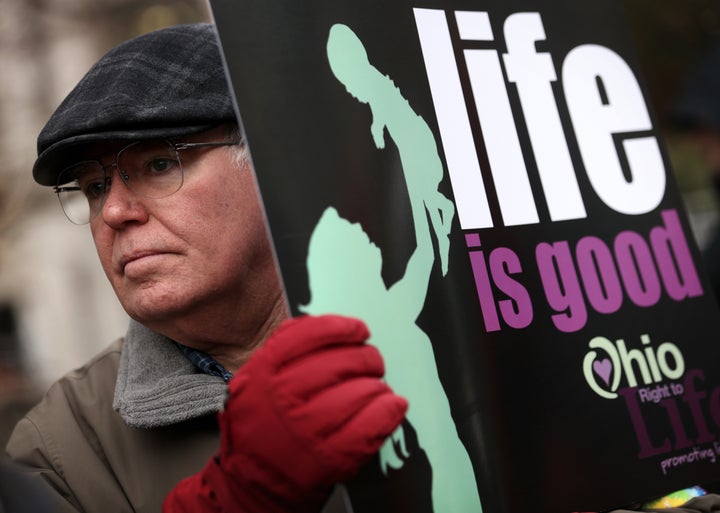 CLEVELAND ― Ariana M. was living in a homeless shelter here with her two children in 2011 when she became pregnant.
She was 25 at the time, working part-time at a temp agency to feed her sons, then 4 and 8, and trying to finish school to become a medical assistant phlebotomist. The decision to have an abortion was an easy one for her, but the slew of anti-abortion laws in Ohio made her experience a nightmare.
"I had to have an ultrasound, which I did not want," said Ariana, who asked that her full last name be withheld to protect her privacy. "I had to wait 24 hours after meeting with a doctor to make a decision, and that drove me crazy, because I was 100 percent ready. But I had to take off work and school to see the doctor, go back to the shelter for two days and think about it, and then take off work and school again."
The $390 abortion was both financially and emotionally burdensome for Ariana. In addition to paying for the actual procedure, she gave up work hours to visit the clinic twice and had to pay for transportation both times. She was barely earning enough in her temp job to feed herself and her children, so she had to resort to desperate measures.
"I stripped to make $200," she said. She then showed up at the clinic and asked the woman at the counter if she could help her, even though she only had enough money to cover half the cost of the procedure.
Ohio Gov. John Kasich (R) has signed 18 abortion and reproductive health restrictions into law since he took office in 2011, more than nearly every other governor during that time period. The state requires women to have ultrasounds, even when they're medically unnecessary, and to wait 24 hours after meeting with a doctor before getting the procedure. Kasich signed a law prohibiting abortion coverage in private insurance plans purchased through state health exchanges, and the state has enacted so many regulations on abortion clinics that nearly half of them have shut down. Kasich also signed a bill― currently blocked pending a court battle― that would defund Planned Parenthood.
"It's fitting that the Republican Party chose this state as the place to hold the Republican National Convention," Planned Parenthood's political advocacy arm wrote in a memo to supporters. "Ohio's policies are just a preview of what all of America would look like if Donald Trump and the RNC leadership got its way this election. Donald Trump has promised to block access to Planned Parenthood, appoint judges that will overturn Roe v. Wade, and has said that women should be punished for accessing abortion."
While Trump has struggled throughout the election to articulate his position on reproductive rights, his choice of a running mate cleared up any confusion. Indiana Gov. Mike Pence (R) has led the fight against legal abortion in America since he threatened to shut down the federal government over Planned Parenthood funding as a congressman in 2011. With Pence by his side, Trump would likely appoint anti-abortion judges and sign whatever restriction on the procedure that hit his desk.
Ariana was ultimately able to have a safe abortion because the Preterm Clinic in Cleveland gave her financial assistance. She is now out of the homeless shelter and working as an advocate for abortion rights at the clinic that helped her.
She said it makes her angry to see Republican politicians convening in Cleveland to push for more laws like the ones that made her life more difficult when she was pregnant, poor and desperate.
"They don't know what real people go through," she said.
CORRECTION: An earlier version wrongly stated that Ohio banned all private insurers from covering abortion. The ban only applies to private insurance plans purchased through the state health exchange.