WASHINGTON -- Sen. Kirsten Gillibrand (D-N.Y.) insisted Wednesday that Democrats didn't run too hard on so-called "women's issues" during the midterms, on the same day that a new poll was released backing up her point.
Gillibrand said the idea that Democrats had a "war on women" strategy that somehow failed this year is a major simplification of the party's agenda.
"I resent the notion that women shouldn't be talked to directly about issues we care about," Gillibrand said during an event hosted by the Center for American Progress Action Fund. "It's a shame that the range of issues that affect women have been successfully rebranded into this one tight phrase to dust off the shoulder."
Gillibrand said Democrats have a full economic agenda for women and families that includes full reproductive rights and affordable birth control, in addition to equal pay, raising the minimum wage, and guaranteeing paid family leave and universal pre-K. Democrats should continue making the point that these are not "women's issues" but "family issues," the senator said, and that Republicans oppose them all.
"Republicans don't have a branding problem with women, they have policy problem with women," said Gillibrand. "Let me be clear: There's a real difference between the parties on the full range of issues that affect women and their families, so the answer is not to stop talking about these issues."
New findings from a NARAL Pro-Choice America and Planned Parenthood Action Fund poll support Gillibrand's argument. Voters surveyed in New Hampshire, Colorado, Iowa and North Carolina, where Senate races helped the GOP regain control of Congress' upper chamber, gave the Democratic candidates a greater advantage on reproductive rights than on any other issue. A candidate's total opposition to abortion even in the cases of rape, incest and health concerns was "an immediate disqualifier" for many of the poll's respondents, and 86 percent of those who were reached said "protecting women's access to healthcare like cancer screenings and birth control" was an issue that influenced their vote.
Such findings provide helpful context for why incoming Republican senators like Thom Tillis (N.C.), Cory Gardner (Colo.) and Joni Ernst (Iowa) attempted to moderate their positions on reproductive rights issues and distance themselves from their records in order to appeal to voters. Gardner renounced his prior support for a state-based "personhood" amendment that experts say would ban abortion and some commonly used forms of contraception, and he and Tillis both came out in support of making birth control available over the counter. Though Ernst confirmed she still supports the federal personhood bill that Gardner co-sponsored in the House of Representatives, she also insisted that the bill is just a statement that she supports life, rather than legislation that would have actual consequences.
The groups that sponsored the poll say it justifies their work, even though only one of the Democratic candidates in the four states polled -- Sen. Jeanne Shaheen (D-N.H.) -- was victorious last week. Udall's campaign, in particular, has been criticized and even mocked for running ads spotlighting Gardner's shift on personhood.
"This data confirms what candidates know and what we have been seeing for many months on the campaign trail --- that running on an anti-choice platform is a loser," Ilyse Hogue, president of NARAL Pro-Choice America, said in a statement accompanying the poll's release. "The facts are clear, and indisputable, the majority of Americans favor women having the right to make their own health care decisions. What we saw this year was many anti-choice Republicans realizing this and running away from -- and in many cases, flat out lying about -- their own record when it came to both choice and access to birth control. Voters are not stupid."
The poll found that running on how they would protect abortion access was the only issue where Democratic candidates were able to "peel off support" from Republican women, who favored the Democratic candidate by 25 points on this issue. (Republican women voters sided with the Republican by at least 29 points on every other issue tested). Planned Parenthood Action Fund President Cecile Richards called this finding "a huge shift" from past cycles.
"Politicians like Cory Gardner, Thom Tillis and Joni Ernst won by moderating their positions on access to birth control and abortion," Richards argued in the statement. "This data clearly shows that voters didn't elect them to restrict women's access to health care, and voters will hold them accountable to what they promised."
The GOP leadership has yet to mention that it will take on Tillis and Gardner's newfound support for over-the-counter birth control access, so it remains to be seen whether their position on expanding contraceptive access was a political ploy or a genuine policy proposal.
Gillibrand said she hopes that when Republicans in the new Congress focus on the economy, they will include reproductive rights, equal pay, minimum wage and other family issues as part of the debate.
"I hope my Republicans friends will agree that just because these issues affect women more acutely, they're not just women's issues," she said. "They are critical middle class economic issues that if solved, could immediately strengthen our economy."
Support HuffPost
The Stakes Have Never Been Higher
Before You Go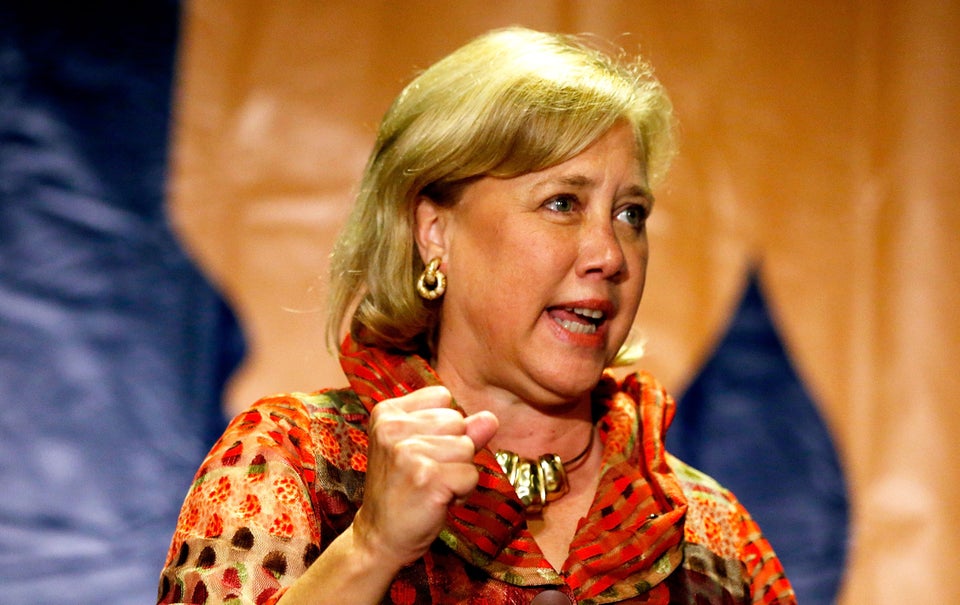 2014 Election Results: Winners & Losers
Popular in the Community