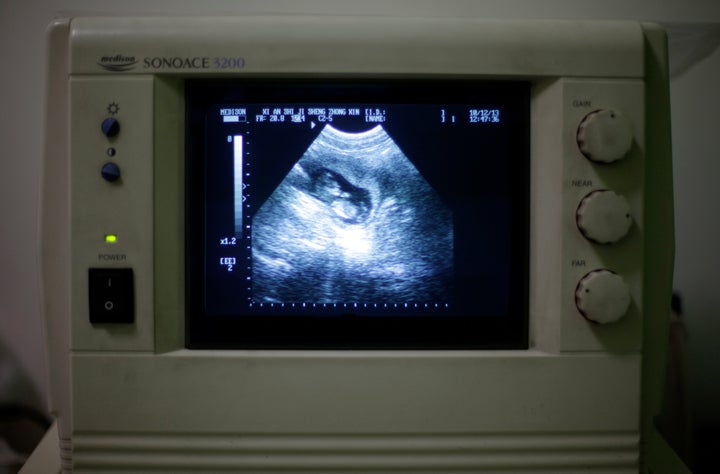 WASHINGTON -- The Center for Reproductive Rights filed an injunction on Friday against a new Texas law that prevents a woman from getting an abortion unless her doctor first gives her an ultrasound, describes the fetus to her in detail and allows her to listen to the fetal heartbeat.
The Center argues that the sonogram bill hijacks the doctor/patient relationship and violates their First Amendment rights by "forcing physicians to deliver politically-motivated communications to women, regardless of their wishes." The lawsuit also charges that the bill discriminates against women by subjecting them to certain "protections" that are not imposed on men.
"It's sex discrimination because Texas is treating women differently than it is treating men based on outdated stereotypes that women are too immature or incompetent to make their own decisions," said Nancy Northup, president and CEO of CRR. "Texas doesn't impose any kind of similar protections over men's reproductive health decisions, such as getting a vasectomy or disposing of unused donor sperm."
State Rep. Sid Miller (R-Stephenville), the author of the bill, said the law is not intended to put unwanted emotional strain on a woman or change her mind, but simply to inform her of her options.
"It would be pretty hard to interfere with the doctor/patient relationship when there's not one," he told HuffPost. "This bill is about allowing the doctor to explain the sonogram, which is not happening now. What we're trying to do is give her all the information available so she can make an educated decision."
The bill mandates an ultrasound between 24 and 72 hours before an abortion, and any physician who fails to comply could be charged with a criminal misdemeanor and stripped of his medical license.
"It's a wholly inappropriate law," Northup told HuffPost. "Doctors are supposed to provide care that is wanted and consented to by their patients, and this forces the government right into the privacy of the doctor's office to push an anti-choice agenda."
Mandatory sonogram bills have gained steam during this legislative session: So far in 2011, 28 ultrasound bills have been filed in 14 different states. Three states -- Arizona, Texas and Florida -- have enacted sonogram laws, and a similar provision was vetoed in North Carolina this month.
CRR successfully blocked the implementation of a mandatory ultrasound law in Oklahoma last year, and Northup said they are optimistic about being granted an injunction in Texas.
"We're encouraged by the decision in Oklahoma," Northup said, "and it highlights how critical courts are in controlling out-of-control legislatures that want to trample on individuals' rights."
Calling all HuffPost superfans!
Sign up for membership to become a founding member and help shape HuffPost's next chapter