WASHINGTON -- Three Republican-appointed Supreme Court justices have written some of the most consequential words about reproductive rights since 1973, when Roe v. Wade made abortion a fundamental right.
"Unnecessary health regulations that have the purpose or effect of presenting a substantial obstacle to a woman seeking an abortion impose an undue burden on the right," read the lead opinion in Planned Parenthood v. Casey, a 1992 case that is now at risk of becoming dead letter if the Supreme Court deflects from a precedent called the "undue burden" standard.
That precedent was a joint compromise by Justices Sandra Day O'Connor, David Souter and Anthony Kennedy -- largely upholding the promise of Roe v. Wade, and making it clear that states could only go so far in their efforts to regulate a woman's right to end a pregnancy.
That constitutional standard is now front and center in Whole Woman's Health v. Hellerstedt, a case from Texas that the Supreme Court is scheduled to hear on Wednesday and that is the most significant abortion standoff the court has heard in nearly a decade.
The case matters because "unnecessary health regulations" is precisely how abortion rights advocates describe H.B.2, the Texas law at the heart of the case. It demands that abortion clinics upgrade their facilities to resemble mini-hospitals and that abortion doctors have admitting privileges at nearby hospitals -- requirements so onerous that they threaten to shutter all but 10 clinics in the state. Before H.B.2 went into effect in 2014, there were more than 40 abortion facilities in Texas.
A decision in the case will not only settle what happens with H.B.2, but also with women's choice itself -- whether it's truly a right that should carry the force of law for good, or merely a theory that should be left behind.
But the Supreme Court is undergoing change. Before February, the fate of abortion rights rested in the hands of a nine-member Supreme Court. Prior to the death of Justice Antonin Scalia, conservative centrist Kennedy, a Ronald Reagan appointee, was expected to be the pivotal vote in the case.
Kennedy's power is now somewhat diminished, but he remains a key figure because a 4-to-4 deadlock of the justices would allow H.B.2 to stand, leaving women in Texas with severely limited options for obtaining abortions. A split decision also wouldn't set a binding precedent for the future of reproductive rights nationwide.
Lest anyone think the danger of legal uncertainty isn't real: Just last week, the U.S. Court of Appeals for the 5th Circuit -- the same court that last year upheld the Texas regulations before the Supreme Court -- allowed a similar Louisiana law to go into effect, forcing all but one abortion clinic in the state to close.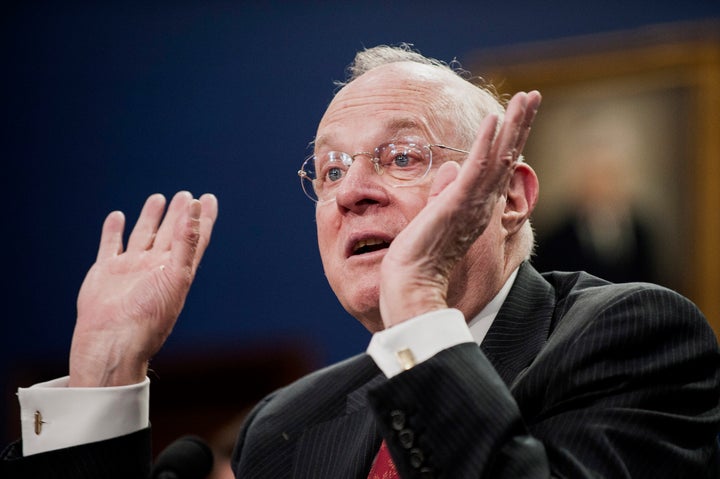 So all eyes will be on Kennedy on Wednesday, and there's every reason to believe he might cherish an opportunity to make history one more time and help clarify what an undue burden on the right to choose means, if it means anything at all.
In a sense, the Whole Woman's Health case brings together two things Kennedy deeply cares about: states' rights and an individual's right to autonomy and dignity. The two can't always coexist, and when confronted with both, Kennedy often has chosen to prioritize the individual over the state -- most notably when the rights of gay people and certain criminal offenders are at stake.
But the issue at hand isn't as clear-cut for Kennedy. Without O'Connor and Souter on the court to help him strike a pragmatic balance, he has been more than willing to rule against abortion rights. The last time he did, in 2007, he led a conservative majority -- then rounded out by Chief Justice John Roberts, as well as Justices Scalia, Samuel Alito and Clarence Thomas -- to restrain women's choice with sexist, paternalistic language.
"Respect for human life finds an ultimate expression in the bond of love the mother has for her child," Kennedy wrote. "While we find no reliable data to measure the phenomenon, it seems unexceptionable to conclude some women come to regret their choice to abort the infant life they once created and sustained. Severe depression and loss of esteem can follow."
Abortion, he wrote, was "so fraught with emotional consequence" that he considered regulations addressing it to be "a legitimate concern of the State."
"While we find no reliable data to measure the phenomenon, it seems unexceptionable to conclude some women come to regret their choice to abort the infant life they once created and sustained. Severe depression and loss of esteem can follow."
That position is almost irreconcilable with his views in the Casey case 15 years prior, the decision for which he is believed to have contributed a florid passage extolling the importance of reproductive choice.
"These matters, involving the most intimate and personal choices a person may make in a lifetime, choices central to personal dignity and autonomy, are central to the liberty protected by the Fourteenth Amendment," he wrote then. "At the heart of liberty is the right to define one's own concept of existence, of meaning, of the universe, and of the mystery of human life."
Inspiring words, no doubt, but indicative that Kennedy is far from principled when it comes to abortion. This has prompted both the state of Texas and the clinics fighting to stay open to set their sights on him -- with a kind of dual strategy that appeals to both his sensibilities as a judge and the imprint of his legal philosophy.
Caught between the conservative interests of Texas lawmakers and the future of his moderate-conservative imprint on the Supreme Court, Kennedy may end up favoring the latter.
"The arc of his legacy starts with Casey and follows a dramatic course to last summer's gay-marriage decision, Obergefell v. Hodges," Harvard law professor Noah Feldman wrote in Bloomberg View. "The Casey doctrine of autonomy and dignity is the key element of that dramatic arc -- which means Kennedy needs the Casey opinion to stay alive."
If that's the case, conservatives will have another reason to remember Reagan and the law he helped shape.
Popular in the Community