WASHINGTON -- The 14 remaining Republican presidential candidates gathered in Washington on Thursday at the Republican Jewish Coalition's headquarters with a clear goal: win the hearts of wealthy donors, namely casino mogul Sheldon Adelson, who is reserving his immense financial support for the candidate who can prove he or she will do the most to protect Israel.
But instead of joining the other candidates in jockeying over whose pro-Israel credentials are the greatest, underdog candidate Sen. Lindsey Graham (R-S.C.) took an unusual approach. For the first 20 minutes of his remarks, he eviscerated rival candidate Sen. Ted Cruz (R-Texas) for what he described as Cruz's alienating stance on abortion and other social issues.
"How many of you believe we've got a problem with young women as Republicans?" Graham asked the RJC crowd, which was largely old, white and male.
"How about abortion?" continued the anti-abortion senator. "I believe that you can be pro-life and win an election. But if you are going to tell a woman who has been raped she has to carry the child of a rapist, you're losing most Americans," he said to a cheering room. "Good luck with that."
"Not the speech you thought you were going to hear?" Graham asked the audience. "[It's] not the speech I thought I was going to give."
Graham's impromptu comments were a surprising choice at an event that is typically dominated by a discussion of security issues. But he was rewarded with applause from potential donors.
It's likely that the South Carolina senator's move was a calculated risk. A 2012 survey by the Public Religion Research Institute found that 77 percent of Jewish Republican voters think abortion should be legal in "all or most cases." (The number rises to 95 percent among Jewish Democrats.)
Immediately before Graham made his comments, Cruz, the first speaker at the event, was asked what he would say to Jews who like his hawkish security policies but are staunchly in favor of abortion rights.
Cruz, who opposes abortion, even in cases of rape and incest, said it comes down to the issue of winning. "The only Republicans who have ever won have run on all three legs of the conservative stool: They have run as fiscal conservatives, social conservatives and national security conservatives. If you chop off one of those legs, you don't get to 51 per cent."
Cruz then quickly segued into attacking the Obama administration for "litigating" against a group of Catholic nuns and "trying to force the nuns to pay for abortion-inducing drugs."
The Little Sisters of the Poor, the group of nuns Cruz was referring to, are actually not being required to pay for contraception -- or "abortion-inducing drugs," for that matter. Obamacare offers religious groups the option to fill out a form expressing their opposition to contraception, which exempts them from having to provide birth control to their employees and instead makes this the responsibility of the administration and insurance companies. But the Little Sisters of the Poor is suing the Obama administration, claiming that signing the form is equivalent to signing a permission slip for their employees to use contraception.
"He didn't answer the question," Graham later said of Cruz's lengthy response to the question about Republicans who support abortion rights. "I am going to answer the question. We will lose if that is the position of the nominee of the Republican party."
Cruz dedicated the bulk of his remarks to the go-to "pro-Israel" issues a conservative audience would except to hear. He vowed to defeat the Islamic State and to punish Europe for differentiating between goods produced in Israel and the occupied Palestinian territories. He slammed Secretary of State John Kerry for suggesting that Israel was approaching an apartheid society. He also pledged to move the American Embassy in Israel from Tel Aviv to Jerusalem, and repeated past promises to tear up the Iran deal on his first day in office.
Graham, in contrast, was well into his remarks before he asked the audience with a mischievous grin, "You want to talk a little about foreign policy?"
When he did get into foreign policy, Graham's stances were similar to Cruz's: vague promises of peace through strength and little tolerance of criticism of Israel. Under his watch, he said, ISIS would be destroyed, Iran would not enrich any uranium, the United Nations would not receive U.S. funding if it continues to "come after" Israel, and the Palestinian Authority would be punished for its cooperation with Hamas.
"You think I even need to talk to you about my support for Israel?" Graham continued. "You know where I'm at."
It's unlikely that Graham's unconventional approach will make a dent in the polls, where Cruz and fellow candidates Marco Rubio and Ben Carson lead the pack behind Donald Trump, while Graham barely registers 1 percent of voter support. Adelson is rumored to be leaning toward backing Rubio, but his equally influential wife, Miriam Adelson, may favor Cruz.
Nonetheless, it was a bold move for the longshot candidate to rely on the assumption that Republican candidates have already proved their love of Israel. Now they have to prove who can win and deliver.
"Almost anybody can beat Hillary Clinton, as long as they're right on two issues: immigration and a sensible position on social issues," Graham concluded. "If we don't have those two positions right, we're going to get creamed."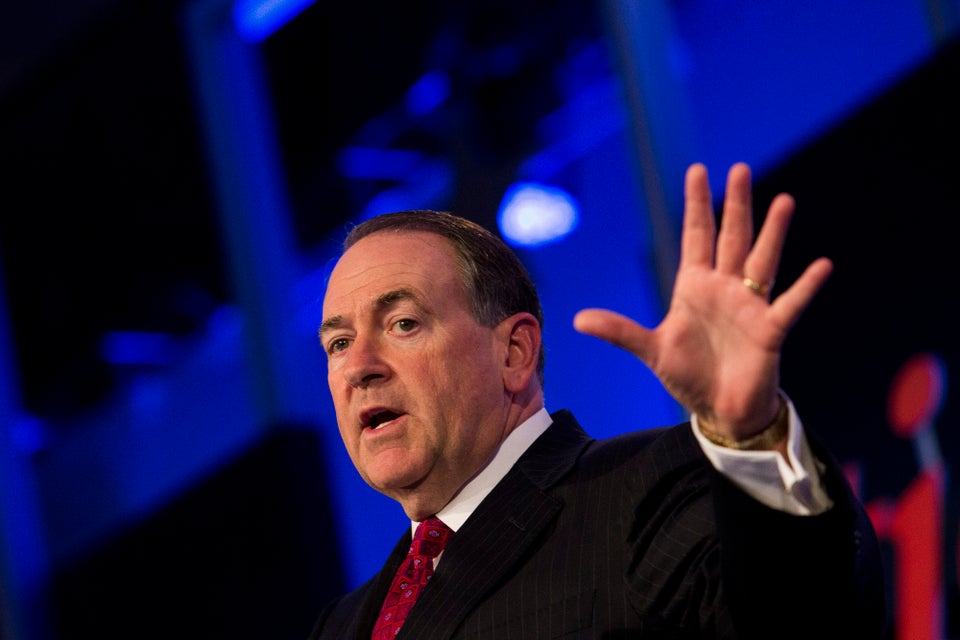 18 Distressing Things The GOP Has Said About Planned Parenthood
Support HuffPost
The Stakes Have Never Been Higher
Popular in the Community