The anti-abortion provision would renew a restriction that prohibits the use of federal funds to pay for abortions, except in cases of rape or incest, or if the life of the mother is in danger, and would extend the same restrictions to the compensation funds paid to victims of human trafficking. This means that child sex trafficking survivors who have become pregnant from rape would be forced to jump through numerous extra legal and administrative hoops in order to prove they were raped so they can use their victims' compensation funds to help pay for their abortion. Often, these victims are young, have endured multiple rapes per day, and are not prepared to confront a deeply confusing and inconsistent legal system.
"It isn't automatically clear that courts around the country view women in these circumstances as having been raped," said Marcia Greenberger, president of the National Women's Law Center. "That is a step that seems obvious. It's a step that we would argue should be obvious, but it isn't established. We have seen all kinds of arguments about real rape and what constitutes rape, and unfortunately, prosecutors and courts around the country include some people with those distorted views about what is actually rape."
The difficulties of allowing money to cover only the abortions of those women who can prove they were raped have been playing out through the Medicaid system for decades. Many rape victims who should qualify for abortion coverage through Medicaid are denied the help, not only because rape victims are sometimes reluctant to report their rapes, but also because states don't have a funding mechanism in place that can differentiate between women who have and have not been sexually assaulted.
"We run a toll-free hotline, and we hear from rape victims across the country every week who aren't able to access the help they need to obtain abortion care," said Vicki Saporta, president of the National Abortion Federation. "In most states, the first answer for people when they call is that they don't fund abortion care, even if you've been raped. Some states will make the woman report the rape to the police and then still not fund it. It's hard to imagine adding that type of burden to survivors of trafficking."
Survivors of sex trafficking have much higher rates of pregnancy than the general population of rape victims because they are often raped multiple times each day they are in captivity. According to a 2014 study by the Loyola University Chicago School of Law, nearly three-quarters of women surveyed reported that they had become pregnant while trafficked, and one in five women reported five or more pregnancies.
The bill doesn't outline a system for enforcing a restriction on which of these women can use their victim compensation funds for abortion care, and women's health advocates fear that new provisions would discourage abortion providers, who might worry about not having cleared necessary legal hurdles, from giving abortions to sex trafficking victims.
"The question really is whether providers who are subject to all kinds of harassment in unthinkable ways could be held responsible, or what kinds of elements of proof could be developed by a hostile government officials to make sure those funds are not used for that purpose," Greenberger said.
The new abortion restrictions in the trafficking bill are politically problematic, too. The Hyde Amendment has long prevented the use of federal funds to pay for abortions, but the sex trafficking victims' compensation fund is not federally appropriated money. The money is raised by fines, not taxpayers. Senate Majority Whip John Cornyn (R-Texas), who wrote the anti-abortion language in the bill, is trying to pass the change off as not controversial.
"All this does is maintain the status quo by making sure that this crime victims compensation fund, the funds available from that fund, are constrained by the same constraint that exists under all other federal law," Cornyn said last week.
But Democrats are not willing to swallow any abortion language that goes beyond restricting taxpayer dollars. They filibustered the human trafficking bill a second time on Tuesday and are planning to dig their heels in until Republicans strip the anti-abortion provision and pass a clean bill.
"I know there are a whole lot of us who are going to fight hard against any attempt to expand the Hyde Amendment and permanently impact women's health," Sen. Patty Murray (D-Wash.) said. "And Republicans know it, too."
Before You Go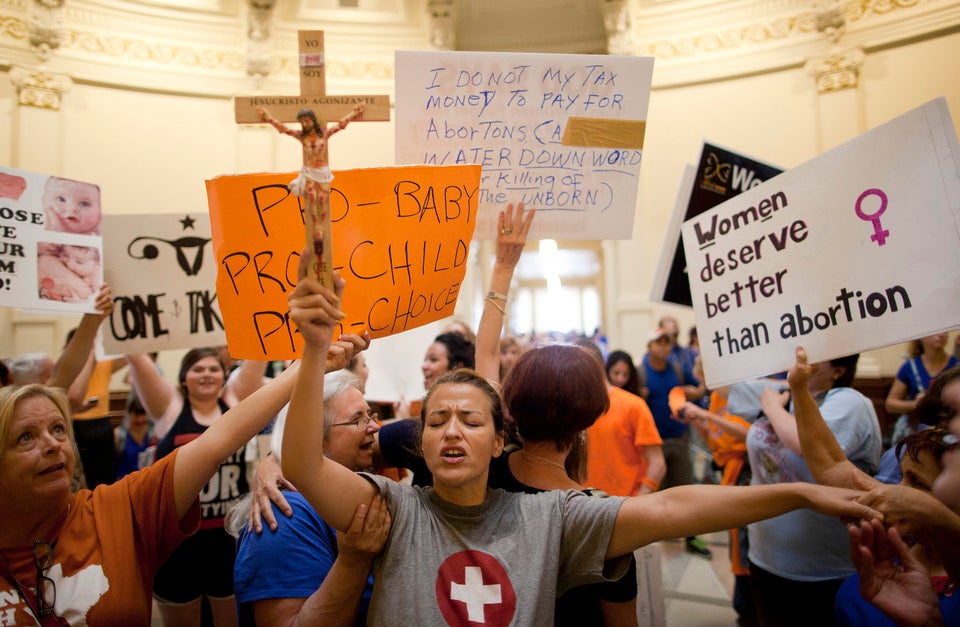 Abortion Protests Around The Nation
Popular in the Community