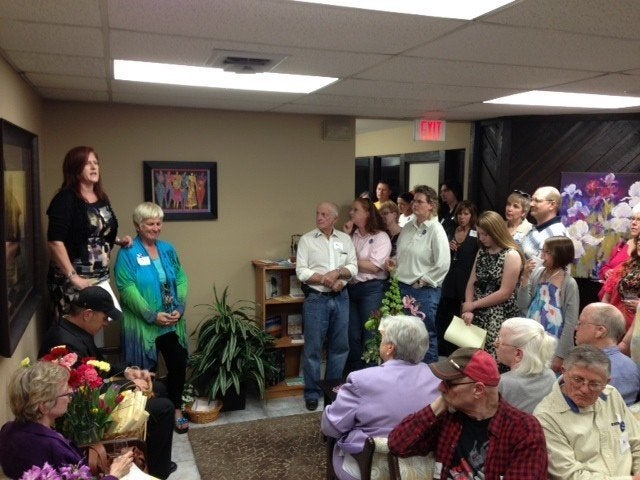 A new women's health center in Wichita, Kan., opened last week in the midst of a massive legislative effort to restrict abortion access across the state, which has long been on the front lines of the abortion wars.
"The protesters haven't been such a big problem," she told The Huffington Post over the phone Monday. "I just feel like they're taking different tactics that aren't necessarily visible."
Mark Gietzen, the chairman of the Wichita-based nonprofit Kansas Coalition For Life, which picketed Tiller's clinic for more than 15 years, confirmed Burkhart's suspicions to HuffPost on April 2.
"We're not interested in putting forth an effort on that," Gietzen said when asked about plans to protest the South Wind Women's Center. "Right now my effort is on heartbeat legislation. If we can get that passed we will be stopping 85% of abortions in the state of Kansas."
"We're seeing more of these extreme bills, like personhood amendments, like the heartbeat bill, gain more traction because basically every conceivable restriction on abortion has been enacted at this point in Kansas," Elise Higgins, a Kansas National Organization for Women lobbyist, told HuffPost over the phone on Tuesday.
But Burkhart says anti-abortion groups in Kansas will also focus on even less visible backdoor measures in their efforts to disrupt her practice, citing a couple of state licensing and regulatory agencies, such as the Kansas Department of Health and Environment, which the center must work with to obtain a crucial surgical license, as examples.
"I think they're going to work through these departments to slow us down," she said.
"We can't stop Julie Burkhart from opening an abortion clinic in Wichita, but we sure can stop her from opening one in a residential neighborhood, and we intend to do that," Gietzen said.
Although the Wichita Planning Commission voted against rezoning and Burkhart calls it "a moot point," the Wichita City Council could still decide to move forward with it.
Now that South Wind Women's Center is operational, it's hired a security firm for protection. But when pressed for details and asked if she wears a bulletproof vest like Tiller, Burkhart refuses to say more.
One doctor at the center said she's mindful of her surroundings but added that protestors are "harmless."
"They are practicing their civil right to protest something that they see as morally wrong. And I understand that," a full-time OBGYN doctor at South Wind Women's Center told filmmaker Charles Stuart on Saturday. The woman wished to remain anonymous for safety reasons.
The center may not have as much to worry about as Tiller's clinic did, because it provides a wide range of services besides abortion. Among the services South Wind Women's Center provides are adoption, pre-natal care, screening for breast disorders, family planning services and STD testing and treatment, Burkhart said.
What's more, Tiller was one of the few doctors in the country who would do abortions on fetuses older than 25 weeks. Burkhart says that South Wind Women's Center will not provide abortions past the 14th week of pregnancy -- even though Kansas law allows it -- because that's as late as her doctors are comfortable with.
When asked why she chose to open the health center in Wichita despite the obvious risks, Burkhart said, "We're here just to help women because women know what is best for their lives and the lives of their families. It makes us a healthier community."
Disclosure: Filmmaker Charles Stuart, who interviewed the doctor for an upcoming documentary, is the father of the reporter.
Calling all HuffPost superfans!
Sign up for membership to become a founding member and help shape HuffPost's next chapter
BEFORE YOU GO
PHOTO GALLERY
U.S. State Capitol Buildings