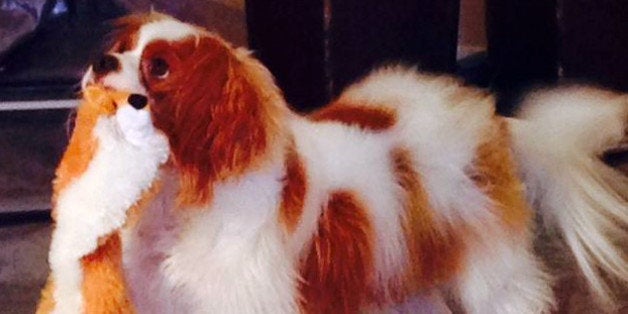 Why all the fuss over a dog? Ask Nina Pham, the Dallas nurse who had contracted Ebola while treating a patient in Dallas. She has since been declared Ebola free. So far, her pet, a Cavalier King Charles spaniel named Bentley has tested negative for the deadly virus. Nina Pham is eager to be reunited with Bentley but she will have to wait as the dog must remain under quarantine until November 1. Or ask Teresa Romero, the nursing assistant in Spain who was infected with Ebola and has also been cured of the virus. She was finally told that her mixed-breed dog named Excalibur was euthanized while Romero was in the hospital. Romero's husband said his wife was heartbroken when she learned of her dog's fate and is asking why authorities killed Excalibur.
Why all the fuss over a dog? They are not just pets. They are beloved family members. My family lost our dear Dakota last week after an intense but short-lived battle with kidney and liver disease. Dakota was a five pound Yorkshire terrier who was just nine years old when she fell ill two months ago. For most of her life she and I had a complicated relationship. She destroyed two sofas and comforters and I often joked about giving her away when nobody else was home. But a funny thing happened when she became ill. I fell in love with her.
Nursing her back to health was a family affair. My wife fed her baby food with a tiny spoon. Our eldest daughter Amanda, who belonged to Dakota as much as Dakota belonged to her, visited her nearly every day. She took Dakota for walks in the sunlight and gently coaxed her to eat to help her regain her strength. I was in charge of grooming. I gave Dakota her last bath. She was adorable and deserved to look her best even when going to the hospital. She spent her last two weeks at home with us swaddled in her favorite blanket and cuddled up against one of us on the couch.
When Dakota went to the animal hospital, the doctor warned that we may not have much time left with her. We did not want to believe that. This little dog was a fighter. We were told that we may soon have to face the difficult decision of whether and when to euthanize her. But Dakota continued to improve. We knew she was getting excellent medical care, but it was our job to make sure she was given as much love as possible. We visited her daily and spoke to her and held her. It seemed to work. Dakota steadily improved, gaining an ounce or two each day and along with that, her strength. She defied the doctor's prognoses and was all set to return home this week. Then suddenly, she was gone. The doctor said her heart simply gave out and that she went quickly. We are devastated -- Amanda, most of all.
Why all the fuss over a dog? Ask Nina Pham or Teresa Romero or my daughter, Amanda. They'll all tell you these are not just dogs. They are much more precious. They are members of our family.