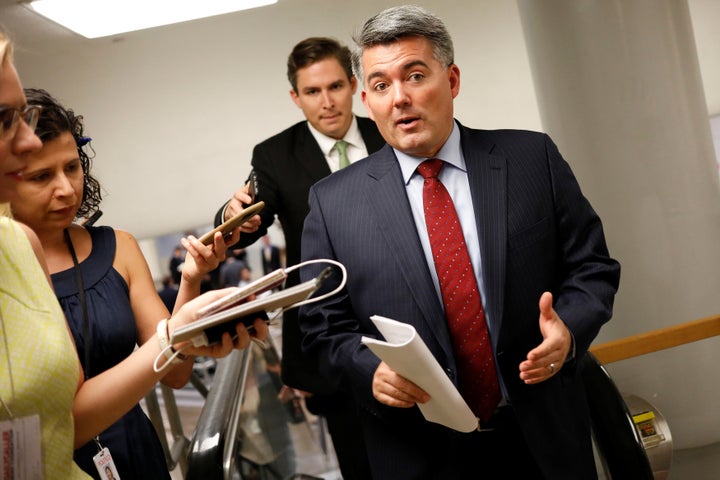 A much anticipated "town hall" meeting with U.S. Sen. Cory Gardner and three other lawmakers, scheduled to take place in Durango today, may include just five minutes for questions from constituents, according to one of the event moderators, La Plata County Commissioner Brad Blake.
"There's not going to be much time," Blake told the Colorado Times Recorder today. "I think people are going to be deeply disappointed."
Blake explained that U.S. Sens. Gardner and Michael Bennet (D-CO), U.S. Rep. Mike Tipton (R-CO) and Gov. John Hickenlooper are slated to speak for 10-12 minutes each. And the event will last 45 minutes.
So, if each speaker uses his maximum number of minutes allotted (12), there will be no time for questions. If they use their minimum number of minutes (10), there will be a five-minute question period. More time would be available if one or more of the lawmakers uses fewer than 10 minutes.
And it appears that the event cannot be lengthened.
"The unfortunate thing is, the governor has a really tight turnaround time frame," said Blake. "So do the senators. They've got to catch planes to get to other areas. So it's pretty discouraging that they are not going to be able to spend more time to answer questions."
But the questions will not be restricted, Blake said.
"The public will be permitted to ask a broad range of questions," Blake said. "I would imagine there will be a good number of questions that do not relate to the mine or the mine spill."
"This is the first time in my recollection that we've had the governor and both senators and the congressman in one place in Durango," Durango's Mayor Dick White told the Colorado Times Recorder. "And so this is a very big deal for us. I'm sure a lot of people will come out. There will be lots of questions, and not a whole lot of time to answer them. So I think we're going to have to be pretty brutal about keeping people to asking short questions."
Gardner touted his appearance at a town hall meeting yesterday on twitter.
"I'm holding a town hall in Durango tomorrow w/ @SenBennetCO, @GovofCO, & @RepTipton following a tour of the Gold King Mine," he tweeted. "I look forward to answering your questions."
When asked about holding a public meeting in the past, Gardner has said he's held telephone conference calls, as well as numerous invitation-only meetings. And he's spoken to assembled groups, such as the Western Conservative Summit.
The announcement comes barely 24 hours before the town hall is slated to take place in one of the most isolated regions of the state, likely preventing many of the progressive activists who have focused their attention on Gardner from being able to attend the event.
The event will take place in the La Plata County Administration Building Board Room at 1101 E. 2nd Ave. Doors open to the public at 1:45 p.m., with the event lasting from 2:15 p.m. to 3 p.m.
Madeleine Schmidt contributed to this post.
Popular in the Community