With Dia de los Muertos/Day of the Dead approaching, I decided to write a letter to my late husband Wilfredo. He was killed 27 years ago while I was pregnant with our son Danny. He loved children and they loved him, but he never got to meet his own son. This letter is an offering to Wilfredo, nicknamed Colocho for his curly hair.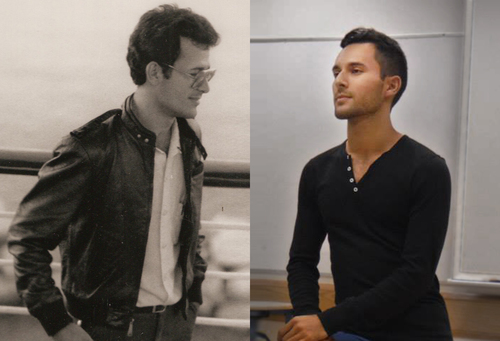 So much has happened since I saw you. In the beginning, I wrote to you often. I needed to feel your comfort. Now I'm writing for another reason - to tell you about our son.
You visited me often in my dreams, and in one of those dreams, you almost got to meet little Danny. I was overjoyed that you had come back. You would finally get to meet our child! I couldn't wait to wake Danny up, to see you take him in your arms. I had to see the tender look on your face, feel the warmth of the love between you, and be together as a family. But, the fear stopped me - the fear that you wouldn't accept Danny for who he was, that you would come down on me for how I was raising him, that you'd even disappear again and never come back. Then it all became clear. You had to know the truth about your son, even if it meant I'd lose you forever. But the dream ended...Now, it's time I shared that truth with you.
How can I possibly put into words who Danny is?
Danny took his sweet time being born. When I finally met him, he was just as beautiful and precious as any baby can be. The first days weren't like I expected. He was thirsty and I was the milk supplier. What happened to that special bond I had been waiting for?
Danny's personality came out little by little. He started to smile and respond and I fell in love in a way that I never dreamed possible. He was hard-headed, like his papa, and when his hair grew in, he became a curly headed colocho too. He was colicky and didn't like being put down. He knew what he wanted, and didn't hesitate to demand it. He was cuddly, and loved being tickled.
Without you by my side, I had to figure things out for myself. I tried to raise Danny in a way that would have made you proud. I did whatever I could so that he would feel a connection to you. I took him to see your family and your beloved El Salvador. I spoke to him in Spanish, introduced him to your friends, and told him stories about you. We sometimes lit candles and told you how much we loved you.
From the beginning, I promised Danny that I would support him to be his own person. He would learn from your example, but I wouldn't push him to follow in your footsteps. I promised to let him find his own path. It wasn't always easy, but I kept that promise.
I kept that promise as Danny's personality blossomed. He loved little ponies, Barbie fashion shows, the Little Mermaid, the color purple, and dressing up like a princess. At the time, I didn't appreciate how amazing he was. I was scared and confused. But, instead of forcing him to act like most other boys, I allowed him to be himself.
Danny's path hasn't always been easy, but it has been full of triumphs, large and small. At times, he stood up to bullies. At other times, he stifled part of his personality to fit in. During his toughest year, he struggled with loneliness and thoughts of taking his own life. Then he got the support he needed to embrace his gay identity and found a place he fit in. He learned to love himself in spite of the name-calling and pressure to change. He blossomed as an artist, dancing his way through high school and singing his first solo in the school musical. He fell in love with his first boyfriend, graduated from college, started paying off student loans, and made a new life for himself in New York. He marched in his first LGBT Pride parade with the New York City Gay Men's Chorus.
Danny hasn't followed in your footsteps, but I can see a lot of you in him, way more than just good looks. Like you, he's got a big huge heart and cares deeply. He has strong convictions and lives by them. He is intense. He knows hard work, and knows how to play. He is loyal to his friends and his family. His dreams take him many places and music feeds his soul. I would like to believe that you would be just as stunned as I am by the incredible human being he has become.
I will never really know, but I choose to believe. I believe that your rigid ways of thinking would have softened. I believe you would've had the wisdom to realize that Danny is his own person, that he is not you. I believe you would've fought for your own son with the same courage that led you to fight for justice. I believe that your big huge heart would've found room to love your son without conditions.
I choose to believe that if you met Danny today, you would wrap your arms around him and never want to let him go. Danny would finally know his father's love, and you would know what it's like to love a child so fiercely that nothing can stand in your way. I picture you together now, father and son standing side by side. There are tears in your eyes and you are beaming with pride.
Con mucho cariño y amor eterno, L
P.S. I am remarried to a wonderful man, who understands how much you meant to me. I know you would be happy for me.
Readers, if you're interested in resources for families with LGBTQ and gender-expansive children, check out my website and videos. Thanks Danny Moreno, for helping me put my thoughts and feelings into words.
Related