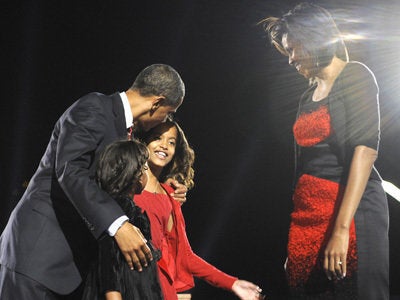 Like everyone I know, Election night was one of the most amazing, gratifying and joyous nights of my life... I sat glued to the couch until I saw CNN's projection: "President Elect Barack Obama" on TV. I burst into tears! I jumped up and down! I talked to friends in California, Pennsylvania and Texas and made a sign for our kitchen wall declaring: "We Won!"
I was too nervous to wait up to see John McCain's concession speech and the President Elect's acceptance speech. Instead, I forced myself to calm down and get some sleep as I had work the next day. Although I had a hard time falling asleep hearing New Yorkers rejoice in the street, louder than when the Rangers won the Stanley Cup in 1994, and the Giants won the Superbowl in 2007, I didn't care!
When I woke up the next morning, I hugged my husband and children and launched into a speech while they ate cereal. My speech was on race, democracy, and women, then back to race again. I pounded the table and flailed my arms as I strode around the kitchen. When I heard The New York Times drop onto our outside door mat, I ran to read the headline:
"OBAMA -- Racial Barrier Falls in Decisive Victory"!
I stared at the picture of the First-Lady-To-Be and gasped: "She wore that? It's awful!" The cereal eaters stared at me in disbelief: how could I talk about clothes at a time like this? I surprised myself at how seamlessly I went from my speech on breaking racial barriers to a critique of Michelle Obama's outfit as though they were both equally important!
I have been staring at that dress and the outfit, (earrings, shoes, cardigan) for days. I've read about it too. Within a short period of time, I did a one-eighty and decided: I loved her outfit. But it could be that I just really like Michelle Obama's style. It seems genuine. She seems real. She wears what a real working, intelligent friend/mother wears. If she came to a party attended by my friends in that dress, every woman would say to her, "Cool dress! Where did you get it?" and we wouldn't care if it was a real Narcisco Rodriquez or a knock off.
It is obvious that she likes her clothes and is confident, but insists on comfort above all. I conclude this by analyzing the facts.
First, the dress. It really is a cool dress; regardless of whether is flatters her waist or not. (I don't think she cares about that either. She looks healthy and strong and that is what matters .) I like the dress because it meets my first rule of fashion: good clothes make you stop and think. Is it a Narcisco Rodriguez or a knock off? I'm not sure and I don't think it matters. How much did it cost? I read that the Obamas pay for their own clothes. It's okay to splurge on an expensive dress for a special occasion if you have the money in the bank and the DNC is not paying for it. Ahem!
Next, the cardigan. Her daringness to put a cardigan over the dress shows her style is about comfort, too. Cardigans must be comforting to her. Or, maybe she gets cold easily and hates to be cold, again, like a real person.
The earrings were a surprise. Rather than little election pearls, she chose dangly and big ones. I doubt any stylist would select them for a First Lady, but that is precisely why they were a good choice.
The shoes. Flats, or close to flats. I read she likes flats. That is very appealing to me, even though, personally, I don't like them for me. Maybe she wears them because they are comfortable. Maybe she has always worn flats because she is so tall. Her husband looks to be her height; maybe she doesn't want to tower over him. I bet flats are just more comfortable and make it easier to keep up with her girls. It looked like she didn't wear stockings. No one does anymore!
Michelle Obama looks like a modern day professional working mother without the luxury of time to look perfectly done-up by a stylist, but who enjoys her clothes. I am relieved she is not trying to be Jackie O simply because her husband reminds us of JFK and there will be young children in the White House. It would be unfair to compare either woman to the other. There is only one Jackie O and this is not the 1960s! Michelle Obama has the power to give us a shot in the arm with her own First Lady look.