For vocalist Alex Vargas, singing in front of the sold out Greek Theatre in Los Angeles Sunday night had gone well -- he was composed, he was smooth, he weathered the adoration of the doe-eyed fans, performing note-perfect acoustic renditions of many of Above & Beyond's hit songs. That is, until he let slip a "wow" in the opening lines of a final song, expressing an appreciation for the audience that had been threatening to bubble over all evening.
This was in many ways a show for the fans. The signatures of a trance show were all present: confetti shooting out of cannons atop the theatre's shell while "Miracle" played early on in the set, face-painted fans waxing rhapsodically about the unified moment we were all experiencing, and shouts of admiration and love aimed at the U.K. trio. By those accounts, it was to be a typical Above & Beyond show, but that's not what the Above & Beyond Acoustic show set out to be. They wanted to give their fans something different.
Above & Beyond's Tony McGuiness (on acoustic and electric guitar, vocals, mandolin, and ukulele), Paavo Siljamaki (handling piano, cello, and vibraphone) and Jono Grant (handling Rhodes piano, guitar and vibraphone) were joined by a 13-piece band on stage to transform their internationally renowned trance music into an acoustic set. The vocals for the evening were handled by the captivating Annie Drury, the sure Alex Vargas, and, in a rare appearance, Zoe Johnston.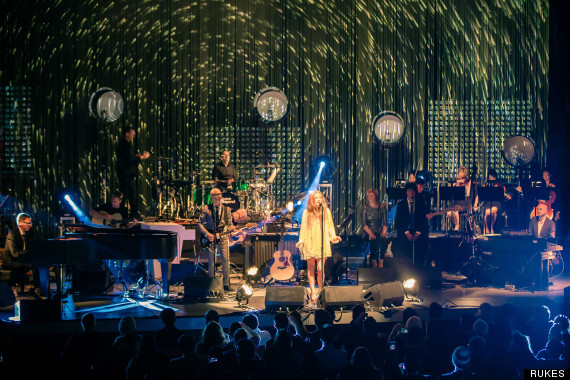 Songs like "Satellite," "Thing Called Love," and "Love is Not Enough" were highlights, proven songs that maintained their emotional resonance even when scaled down. In addition to recognizable Above & Beyond fare the band debuted a new song called "Blue Sky Action," and attributed its inspiration to the Pixar film Wall-E, as well as welcoming Sonny Moore (perhaps better known as Skrillex) on stage to play guitar for an energetic and borderline sloppy version of "Back Room Boy." Favorites were pared down to excellent new forms, guests made other songs engaging and different, and these efforts were celebrated by an eager audience.
What's curious is that the idea of sloppiness and imperfection don't generally enter into a conversation about trance music, or even EDM, where songs are timed out and drops calculated. The noise that triggers from a button pushed can't be out of tune. Vocal samples don't miss their cues. A live band won't have that computer-generated precision.
But in place of all that on Sunday night were musicians, their instruments, and an effort put forth to evoke emotion, even if that emotion was playful and sloppy. As compelling as DJs fist-pumping from atop their pedestals can be, it is hard to shake the feeling of replication, of a set performed a thousand times. The details the 13-piece band added to Above & Beyond's tried-and-true songs cannot be overstated, the uniqueness of the evening magnified. In particular the four-piece string band, native to Los Angeles, were phenomenal.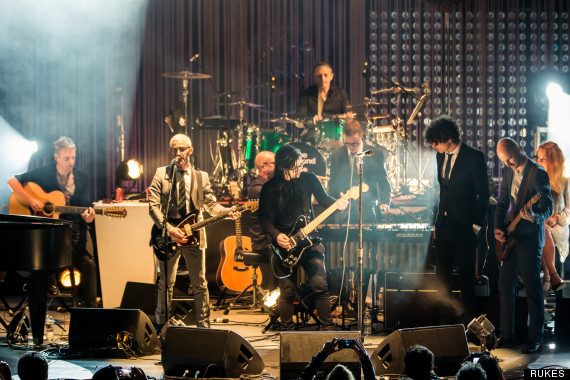 The work Above & Beyond puts into crafting their songs has been apparent to their fans for years. Sun & Moon is powerful and seductive in its original Richard Bedford rendition. It remained alluring with Alex Vargas at the helm, but was arguably bolstered without the beat that races through the original distracting from the vocals. Having thousands sing the words back to him made for a chilling effect.
This did not feel like a performance done a thousand times before, or contracted five nights a week at Vegas like so many mercenary DJs choose. The immediacy of those instruments, the voices that cracked under an audience's rapt attention, and lights used not to overpower but to accompany the selection of songs, this is what goes into making a moment, and not manufacturing one. That distinction may be what sets these pair of nights apart from other performances. In science, an experiment needs to be replicated in order to be deemed a success. For Above & Beyond, the success of this weekend stands on its own without the need of further qualifications.
As Above & Beyond ended the show, the screen flashed with their mantra, "Life is made of small moments like these." One can't help but wonder if they're underselling themselves. In a time when there are an increasing amount of opportunities to take the money and run, Above & Beyond shines as a reminder that certain bands will continue to choose the music.
A film of Above & Beyond's recent acoustic performance at London's Porchester Hall will be released alongside an acoustic studio album in early 2014. The film was was made in partnership with VICE's Thump channel.