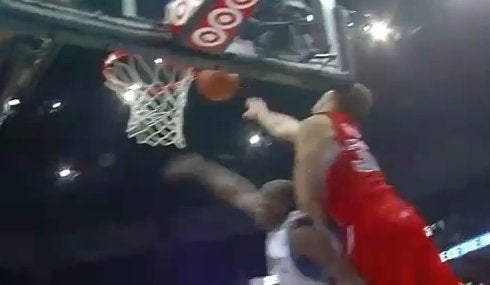 Since the 1960s, basketball fans have celebrated the art and power of the slam dunk. Early dunks were graceful and simple--shots that left no room for error and little chance for a defensive hand to obstruct. By the end of the socially tumultuous decade the slam dunk also became an expression of aggression, an assertion of empowerment that the NCAA banned for a while--requiring Kareem (Lew Alcindor, actually) and other college big men to drop the ball down through the hoop. No matter. When Julius Irving and David Thompson got to the ABA, they helped transform dunking into a spectacle; Daryl Dawkins added the elements of violence and destruction and poetic narration. Larry Nance and Dominique Wilkins and Michael Jordan and the University of Houston's Phi Slama Jama led the creative explosion to which Dr. J had given birth and Spud Webb showed diminutive souls everywhere that they could rise to great heights.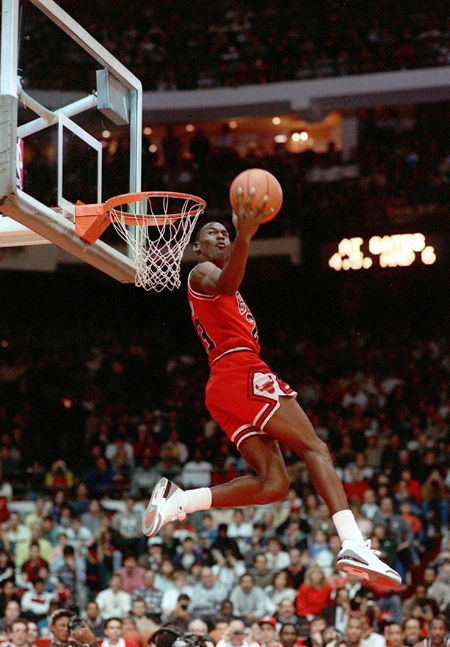 In this Feb. 6, 1988 file photo, Michael Jordan of the Chicago Bulls dunks during the slam-dunk competition of the NBA All-Star weekend in Chicago, Ill.
Hard to believe all that happened a quarter of a century ago. Since the golden age of slam--and the first all-star slam dunk competition in 1984--it has gotten increasingly difficult for players to forge new ground in the art of dunking. Like classical composers in the shadows of Mozart and Beethoven. But they keep on creating, trying to break through the threshold of expectations. Dwight Howard pushed through with his audacity--not to mention prodigious athleticism. This year fans have high hopes for rookie dunk-master Blake Griffin--though we shouldn't go to sleep on JaVale McGee, DeMar DeRozan or Serge Ibaka. The NBA Slam Jam has often given us surprises and been a showcase for the lesser-knowns--Kenny Walker, Dee Brown, Harold Miner, Desmond Mason, Fred Jones, Gerald Green--to find a moment in the spotlight.
Of course, the best dunks are the ones that happen in the heat of a game--the posterizing flush-down-on-top-of-the-defender dunks, the Starks over Jordan over Ewing over Alonzo over Rodman over Olajuwon over Shaq over everyone game-stopping eye-popping net-rippers.
Meanwhile, there are more dunk contests now than ever before--NBA and its developmental league, NCAA, high school. In fact, walk into any high school practice and wait for the coach to step out during a water break; there is a good chance you'll see an impromptu dunk-a-thon--or at least a bunch of kids trying to reach up above the rim with the ball.
I have tried--like many high school coaches--to get my players past the obsession with dunking. A dunk after all, is only worth two points, and though the excitement can be a momentum changer--or reinforcer--a missed dunk (and in high school that is not at all uncommon) can have the opposite impact (and is worth zero points)--and, unlike in the NBA dunk contest, you don't get a do-over.
Still, the allure of that above-the-rim-throw-down is so overwhelming to some boys--having grown up on sports highlights--that I do not expect to convince them. The dunk has, for some young men, become a rite of passage, a losing of their basketball virginity.

Last season I had a player who, after three years of ankle-weight stair-hopping hard work was able, during a game, on a break away, to flush one down. Afterwards, he was so excited he jumped up and down near mid-court, pumping his fist, lost in the moment. His teammates and I had to scream his name to get him out of his trance. One of referees seemed about to give him a technical foul for taunting--but must have realized that the kid had simply lost his mind with the thrill of his accomplishment. The ref and I shook our heads together with the common understanding of grown men who know what real basketball is about.
But the truth is that I--a 6'1" 51-year-old who in my youth could barely touch the rim with the tips of my fingers--still have dreams in which I am leaping effortlessly toward the hoop, cradling the rock, ducking my head to avoid a cranial catastrophe while I shatter the backboard with a tomahawking two.

Related
Popular in the Community