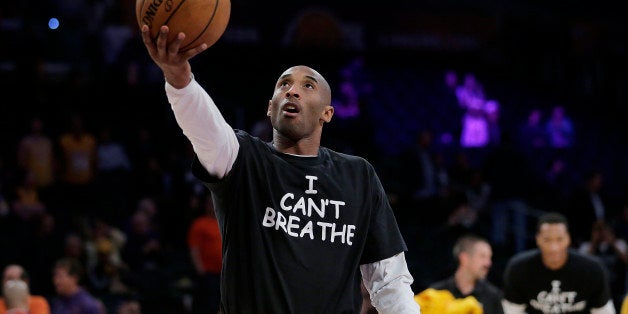 Though it is an unpopular opinion to have in Madison, Wisconsin, I really don't care much about sports. I can understand the appeal of course, but watching televised matches -- or religiously tracking the stats and scandals of the athletes themselves -- never did much to hold my attention. Yet through some sort of cheese curd-infused osmosis, just by living in this small city I can now speak relatively intelligently about Frank Kaminsky, Alan Ameche and of course, Aaron Rodgers.
The celebrity of the athlete can't be overstated. Young kids, many too young to legally drink, attain god-like status at their respective universities and among alumni donors who keep the school and the team alive. Professional athletes cash major pay checks for their continued service to the game, and occupy palatial mansions in the same neighborhoods as actors, models and other American royalty. And knowing this can make someone like me cynical about the cult of the athlete.
But there are moments in sports which force me to drop the cynicism and recognize that some athletes use their celebrity as a platform for activism. Last week, CNN correspondent Paul Armstrong reported that Cristiano Ronaldo brought Syrian refugee Zaid Mohsen out on the pitch of Santiago Bernabeu station prior to Real Madrid's match with Granada. The eight-year-old Mohsen and his father were cruelly tripped by a journalist while seeking refuge in Hungary, sparking international outrage and capturing the attention of the Real Madrid team. Not only were Mohsen and his family offered a place to live and a job for his father in Madrid, but the team also announced a 1 million Euro donation to aid refugees of the turmoil in Syria.
Perhaps the most poignant moments in sports activism was when another beloved footballer ended a civil war. In 2005, after leading his team to qualify for their first ever FIFA World Cup, Ivoirian soccer star Didier Drogba fell to his knees and pleaded for the groups that had been engaged in a Civil War in his country for five years to lay down their arms. They did, and the war ended.
Last year in the wake of the Don Sterling comments, the protests at Ferguson and the abuse and deaths of many black Americans at the hands of the police, several athletes took advantage of their captive audiences by broadcasting a visual message against racial inequality. Derek Rose of the Chicago Bulls and several Los Angeles Lakers teammates donned the "I Can't Breathe" shirts which referenced the death of Eric Garner. Five St. Louis Rams players rose their hands in acknowledgment of the shooting of Michael Brown in Ferguson. In 2012, Miami Heat players posed for a photo wearing hoodies like the one Trayvon Martin was wearing when he was shot by George Zimmerman. The wave of athletes using their fame to fight injustice led Vice to name 2014 "The year of the activist athlete." Jorge Arangure Jr. wrote last year:
We are living in times that rival even the greatest moments in social protest history. Athletes have never been more empowered. The era of the careerist athlete -- the Michael Jordan era -- concerned only with selling shoes is over. Now the biggest names in sport -- LeBron James, Kobe Bryant -- have joined the cry for racial equality and against police brutality. You can sell shoes and fight inequality at the same time.
So while my idea of a nice weekend does not involve watching football, there is no denying that athletes around the world have the ability to inspire incredible change, and Arangure agrees that this power isn't going anywhere. Where it was once almost taboo to be a politically engaged athlete (see Craig Hodges), today activist athletes are more powerful than ever. Their activism becomes a part of their brand, and their unprecedented access to fans through social media affords them an audience even off the field.
A few weeks ago, my family of devoted Green Bay Packer fans celebrated the new season by sharing a story about a teammate and my grandmother. At the end of her life, my grandmother became forgetful. One day, she forgot where she parked her car, and wasn't strong enough to go looking for it. A man came over to help, and ended up running up and down the aisles of cars with her keys until he found hers. He even drove the car over so she wouldn't have to walk. That man, as it turns out, was James Jones. My grandmother was a lifelong Packers fan, and that memory brought her and my family so much happiness.
I am not suggesting that all athletes should take it upon themselves to end war like Drogba, nor that it is the responsibility of athletes to be a role model. The job of an athlete is to play their game well, and, at certain levels of play, to get sponsorships and maintain a fan base. But I do think that as athletes recognize that they have a powerful voice, lingering societal wrongs may start to be challenged in a very real way. Even smaller, less publicized actions like helping an old woman to her car, can be heard clearly above the roar of the crowd. As radio host Murphy summed it up after my dad told the story of my grandma and James Jones on WIXX 101 One on One with the Boys, "It's amazing the impact that you guys make on people's lives."
REAL LIFE. REAL NEWS. REAL VOICES.
Help us tell more of the stories that matter from voices that too often remain unheard.