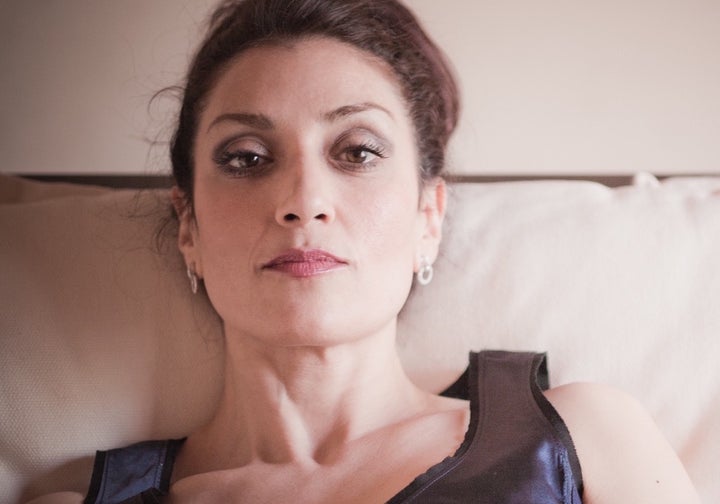 Ahmad Shamlou, the highly celebrated Iranian poet, is the inspiration behind a new opera, Abraham in Flames, conceived by creator/librettist Niloufar Talebi with composer Aleksandra Vrebalov and director Roy Rallo. I spoke with Niloufar Talebi as she prepares for a sneak preview event at the San Francisco International Arts Festival on May 31, a multimedia presentation including sung musical excerpts from the opera, a selected reading of the opera's libretto, and a visual collage of other material shaping the concept of the opera:
Omid Memarian: Who is Ahmad Shamlou and why is he the inspiration behind your opera?
Niloufar Talebi: Ahmad Shamlou (1925-2000) was one of the most important cultural figures of the 20th Century in Iran. He was a poet, translator, essayist, editor, encyclopedist, and much more, with over seventy book to his name, a living encyclopedia of Persian folklore, several recordings of poetry recitations, and numerous translations of major literary works from several languages into Persian. Drawing from both Western and Eastern techniques and movements, he pushed the boundaries of Iranian poetics and helped usher it into its Modern forms. His life's work was also devoted to the struggle for social justice. In other words, he was a cultural giant.
I had the privilege of knowing Shamlou from his participation in my parents' literary salons in the tumultuous years after the 1979 revolution when Iran was besieged in war with Iraq, martial law, and uncertainties as the new Islamic Republic was forming after the deposition of the Shah of Iran. Shamlou is a world class artist who deserves a larger, global audience, one of my reasons for introducing him to new audiences through projects inspired by him. But also because I cannot help it: the extraordinary company I found myself in during my coming of age years had a lasting impact on me and still informs me as an artist.
OM: What is Abraham in Flames about?
My work is driven by memory. The time period I spent around Shamlou remains a sacred space for me. Though it was a time of external turmoil, it marked the blossoming of my artist's soul internally. That, and the time I spent with him in 1990-1991 when he visited the US.
Abraham in Flames is the title of one of Shamlou's seminal books of poetry, many of the poems in which were dedicated to specific people who risked their lives in the pursuit of truth and justice. The title was derived from the biblical story of Abraham having risked being burned in a fire for refusing to worship false idols, and surviving that trial by fire unscathed. I have in turn adapted that metaphor to write an original parable about the power of art, an ode to the empowerment of the young against all their trials by fire. Our Abraham in Flames highlights specific moments in my early life to illuminate the journey of our formative years, commitment to our truth, and spiritual becoming.
OM: Who is creating the opera?
The creative team includes composer Aleksandra Vrebalov and director Roy Rallo. The three of us have what I consider to be a horizontal collaboration — contrary to a top-down protocol, where a text/story is written that the composer sets to music, after which a director stages the work. We have done things completely out of order: Roy and I began conceiving the piece in 2014 together. Our ideation was slow and open-ended, and Roy mostly incubated all the writings and images I was collecting, the dreams I was having, and the epiphanies I was undergoing. A major turning point happened at Janet Cardiff's installation, "Forty Part Motet:" completely awe-struck, we discovered together that the opera would feature our girls chorus (the Young Women's Choral Projects of San Francisco) as the main character, and not as a supporting character to a towering poet figure, a complete 180.
Shortly after that, Aleksandra joined our team and further reshaped the concept. As Aleksandra composes the music, we continue to refine the libretto and the overall vision. All three of us are committed to the work of art that will be discovered by our collective creative process.
OM: What are your dreams for Abraham in Flames?
In any project I do, I want audiences to have an aesthetic, emotional, and poetic experience. I want them to leave in a daze, totally uplifted from having gone beyond the everyday minutiae into their humanity, transported to the silent space of possibility.
I also think an opera that dramatizes a personal story created by two women (me of Iranian, and Aleksandra of Serbian descent) inspired by a pioneering Iranian artist is an act of cultural disruption. For the operatic canon to expand and flourish, it would behoove producers and presenters to consciously seek and advocate for more diverse narratives and opera artists. A few years ago a producer who had produced my starter opera, a universal family drama set in Tehran with Iranian characters, offered to produce another opera by me, but told me not one with Iranian characters and/or about Iran so as not to let the emotional involvement get in the way of my craft. No matter how you look at that caveat, it stems from deeply embedded (and perhaps unconscious) prejudice. Because does writing American operas get in the way of John Adams' craft? Did writing Russian poetry get in the way of Akhmatova's craft? The statement almost makes no sense: how is culture to be divorced from an artist's body? Would I be told this if I had written the same opera with Italian or fictional settings? To resist this exclusion of my narratives, I decided to produce my own opera so that we have the creative space and freedom to make the work of art we want to. But I don't recommend people try this at home!
I dream for Abraham in Flames to have a life after its premiere in San Francisco through co-commissioners and other producers.
OM: How would you characterize your work in general?
I try to MAKE the culture that reflects me — and by extension, all those who are children of cultural displacements. It's a unique and new language that needs me to push boundaries to make it.
After the May 31 sneak preview event, the entire Abraham in Flames team will be in residence at the Wilsey Center for Opera in San Francisco, where the first half of the opera will be workshopped, and the artists, including soloists of the Merola Opera Program, will perform 3 work-in-progress public performances on October 3 and 4, 2017.
Popular in the Community