In Ziggy Stardust fashion, artist Dennis Mukai has reinvented himself from the ubiquitous 20-something pop artist of the 1980s into an equally authentic 21st century alter-ego anxious to arrange a tempestuous marriage of word and image.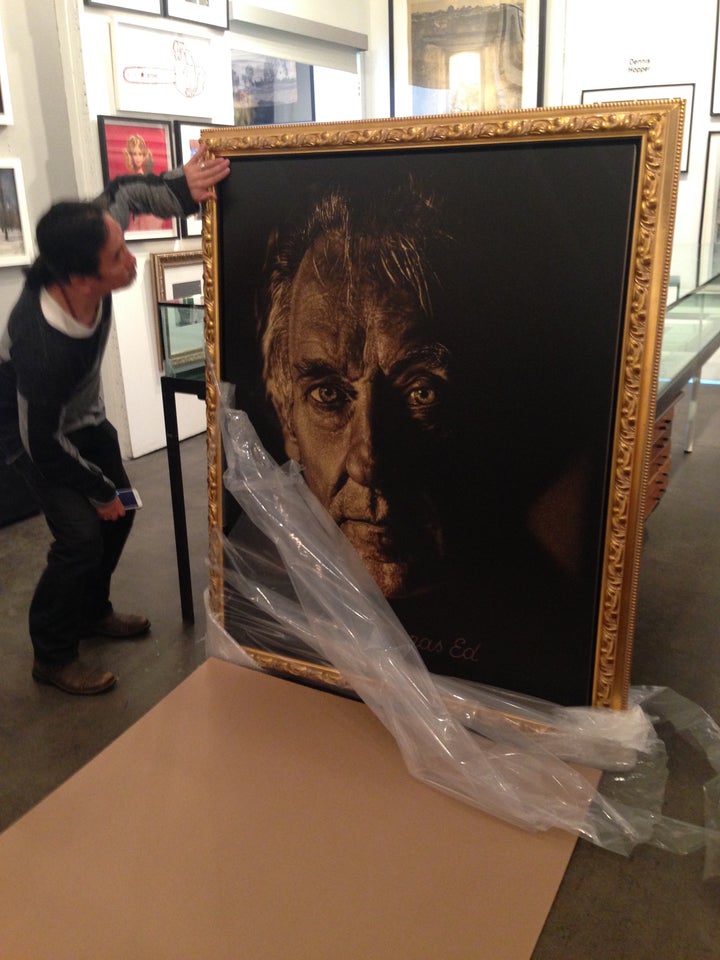 Dennis Mukai's original drawings and prints depicting painfully perfect female forms made legend by Playboy are sold by collectors today with price tags starting in the high hundreds for a signed and numbered serigraph. Originals fetch thousands.
"Rather than these pristine portraits of models, I wanted to get in there and make a face that had depth and character and wrinkles and imperfections," Mukai said. "I had been doing that for so long, I was dying to dig into the beauty of imperfections."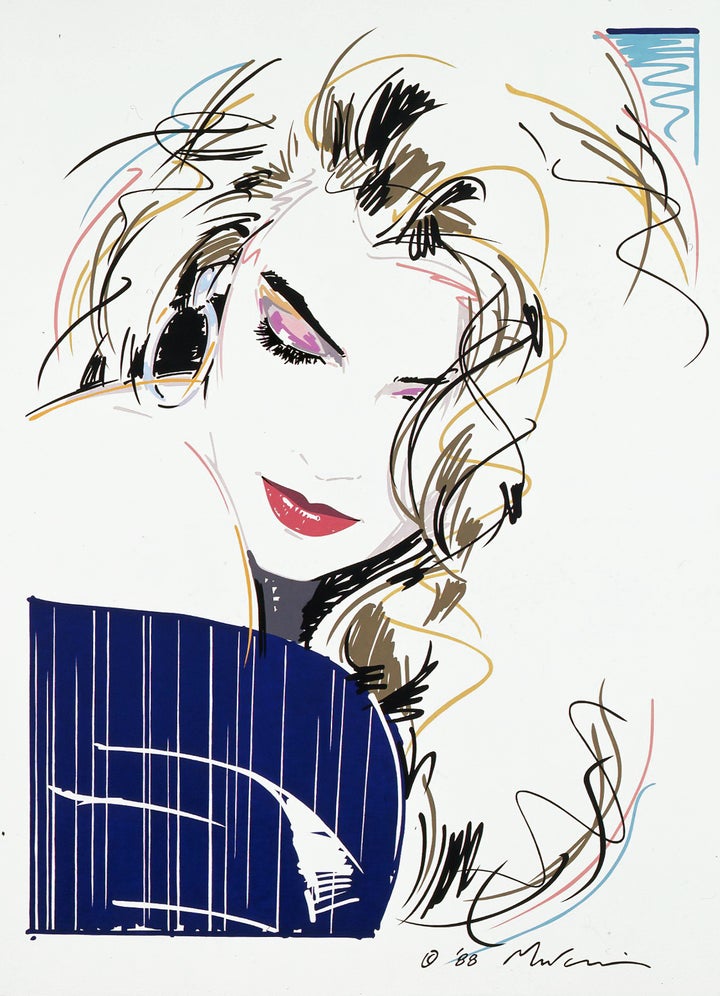 In Mukai's recent incarnation, a portrait of the globally celebrated Japanese contemporary artist Takashi Murakami is excavated from a solid espresso panel, a film-worthy creative process. The camera tilts up to reveal a faithful rendering of the artist in photographic detail, sage and penetrating, a Mickey Mouse hat emblazoned front and center with the Louis Vuitton monogram. The statement in contrasting elements requires no explanation. A survey of Mukai's recent works suggests the artist is having some fun with double entendre, dualism and juxtaposition, light and darkness, texture and tension, eye and mind.
The video by renowned Southern California art documentarian Eric Minh Swenson, a particular treat experienced in situ, will play at the Robert Berman Gallery exhibition "Dennis Mukai: Abrasive Affirmations" running through late March. The encounter is a visual meditation with a ruminating instrumental soundtrack. Swenson's particular videographic approach is a succinct reflection of Mukai's method.
Artist Statement The method of creating my paintings is subtractive. A paint brush is never used. The surface layer of dark paint is removed with sandpaper to reveal varying degrees of the white gesso surface underneath as opposed to the more traditional method of applying paint to a gessoed surface. The technique is slow and precise. The process of minutely abrading and distressing the two-dimensional surface to 'sculpt' the images becomes an obsessive meditation....In this new series my paintings are an exploration of double entendres. The juxtaposition and ambiguity of my word play is intended to bring relief to the dark, evocative visuals. The humor is personal, intentional…and at times, abrasive.
Dennis Mukai: the Making Of
Mukai's illustrations and graphic work have sustained him through a career that began when he was barely out of school at the Art Center College of Design. Likening poster sales to a license to print money, he recalled being published by Mirage Editions where his work kept high-profile company with Jim Brandenburg's wolves and Patrick Nagel's graphically rendered women.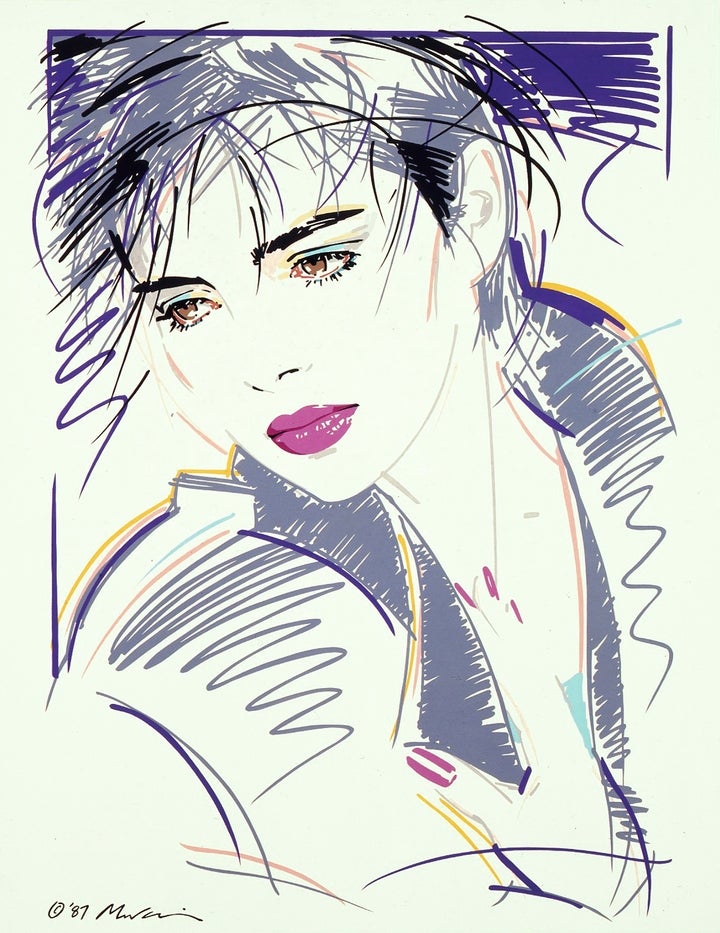 Toru Mukai the boy from Japan who chose an American name upon passing the citizenship test in his early teens would just a decade later be jetting around in limousine style, regretting only that he didn't think to keep his original name until he was already known professionally as "Dennis."
"If I had started using it later, it would have appeared very affected, anyway," he reconsidered. "And people had a hard time saying TO-roo. Everyone called me either ta-ROO or TORO," like Spanish for bull.
The artist's father, who still lives in suburban Los Angeles where Mukai grew up, left work as a carpenter in Japan where he made shoji screens without nails. Creating a wholesome setting for his family in California, he ended up owning an independent gardening enterprise with a sizable roster of clients.
"You didn't call it 'landscape design' or 'architecture,' explained Mukai. "You were just a 'gardener.' But you could tell right away if you had a gardener by looking at the yard." The Japanese gardeners in Mukai's Southern California suburb brought an aesthetic to the job that demonstrated both skill and soul, he recalled.
Mukai's mother worked in sewing factories and made clothes by hand for her son if he wanted something he couldn't find in stores. "In college I wanted a shirt with a narrow band collar and couldn't find it. She made it!" he marveled. "I was one of the few people in school who had a narrow band collar shirt. A narrow half-inch stand-up collar. Draw string pants, too."
She also knitted. "I still have this sweater from elementary school. A full sweater," he mused. "It's amazing to look at it and know my mother made it. I think, 'Wow, she knitted that!'"
Remembering his youth, Mukai reported being disinterested in sports, but "any piece of paper was like gold to me. A chance to draw." The youngster drew to feel good, never knowing there was such thing as an art store.
A foreshadowing of his current endeavors, playtime was formative for Mukai. "A piece of paper was something very exciting. My sister would teach me to draw step by step. One segment at a time, and we'd finish drawing a ship or a car. It was magical because I didn't know where we were going until it was finished."
For Mukai today, it's "light emerging out of darkness. I'm really seduced by that."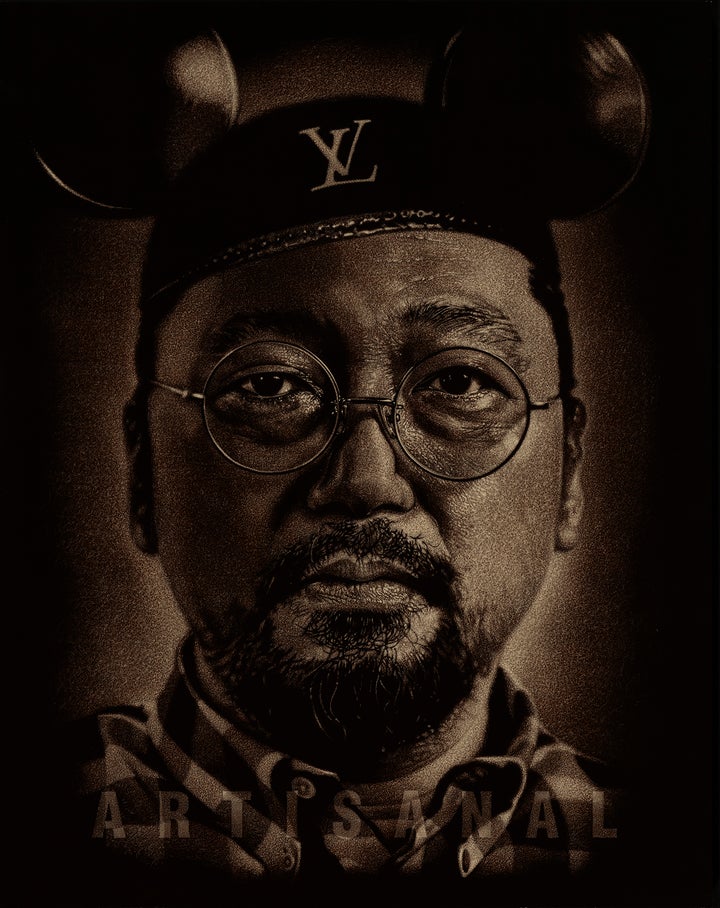 Born outside of Hiroshima just 10 miles from where the U.S. had dropped an atomic bomb in 1945, Mukai ponders the oral histories of his relatives with a certain remove.
The artist said his father Henry talks about seeing the plane that dropped the bomb. Then upon seeing a flash, Henry and his friend instinctively dived to the ground. Henry's father was put into an internment camp.
Meanwhile Mukai's mother recounted seeing everything blown off her desk where she worked near an open window. Having no idea about exposure to radiation, friends and family members went into town looking for loved ones. Friends of his parents have suffered as a result.
Having grown up in a white/Hispanic American suburb, Mukai has had difficulty seeing himself as Japanese and only recently has begun to explore his heritage. "I do feel that connection to my fellow countrymen, but I was too young to have understood all the emotions behind that," said the artist. His decision to avoid direct interaction with politics spans all decades, including his recent preference to dwell in sassy wordplay with painstakingly crafted visuals.
Even at home with his wife of six years in Ojai, California, Mukai mutes himself on politics to keep a serene balance so the energy can be channeled into romance and art.
Reception:
Saturday 18 February 2017
Exhibition:
Location:
Bergamot Station Arts Center
2525 Michigan Ave. B7 Gallery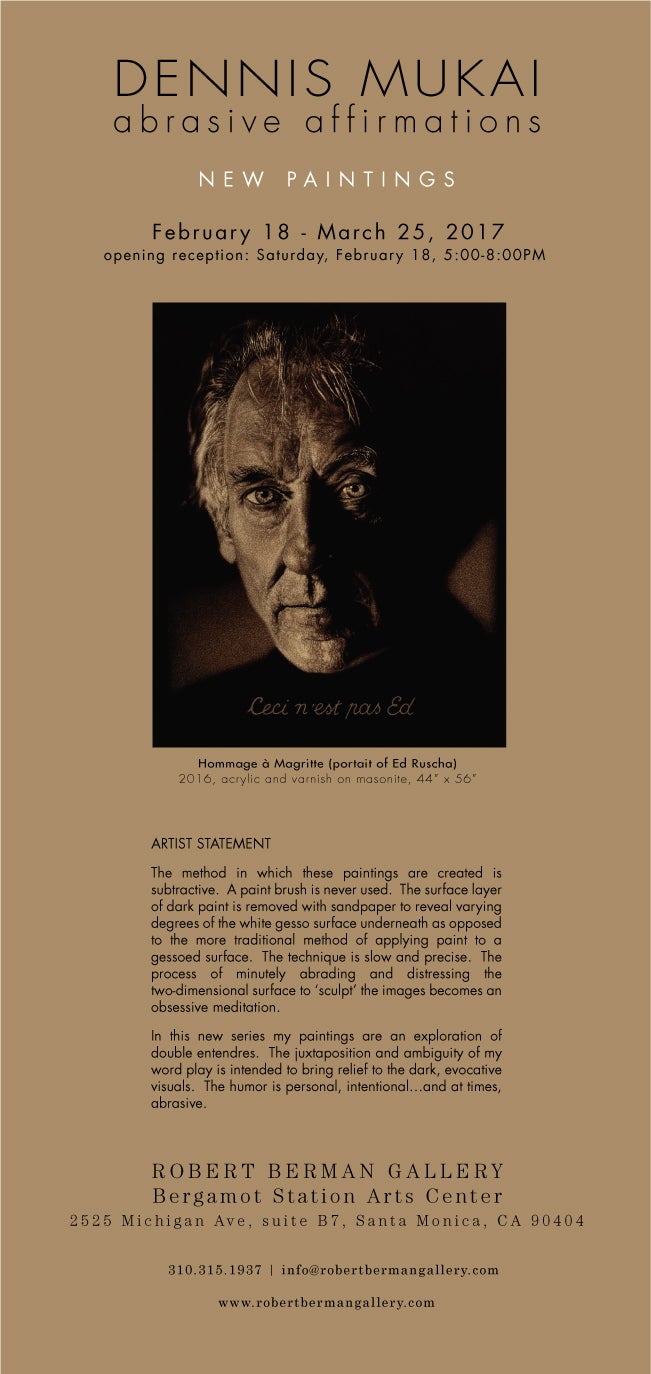 More conversation with Dennis Mukai "At one point in my career when I was doing photography, I was creating images that looked like paintings, but the end result to me was still a bit sterile. I had in my mind to find a way to create this without relying on photography. I wanted to use paint. There's this quality I wanted to achieve."
"I sort of have this thing that I don't like when people think they know me. They had a perception of who I was through my artwork. I wanted to prove them wrong. 'Here's something you haven't seen. I do that.'"
"If you look up very close at the scratches and then pull back, you can see the beautiful depth in the piece. It was just something I had to satisfy in myself, and through trial and error I experimented with materials and came up with this."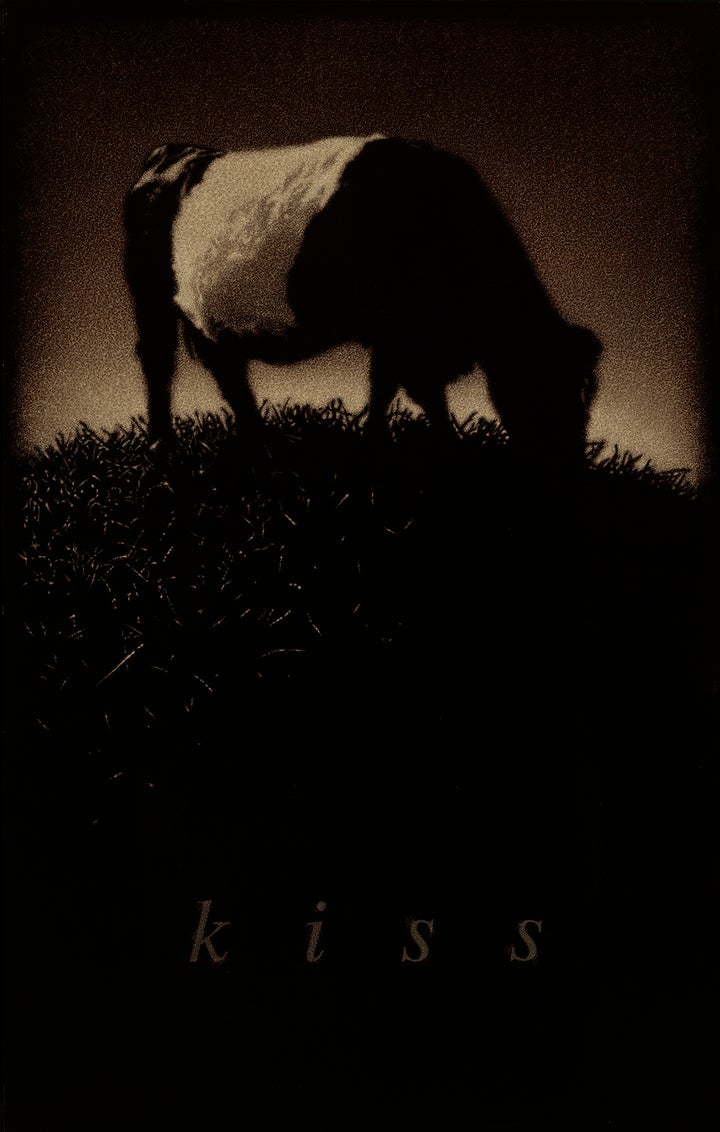 Related
Popular in the Community