Absolut Tune, a new offering from vodka purveyor Absolut, looks a lot like Champagne on first glance. It's packaged in a Champagne-shaped bottle. It has a cork with a classic mushroom shape, a characteristic of most Champagne corks. It has the same light color and small, pearly bubbles that smack of Champagne.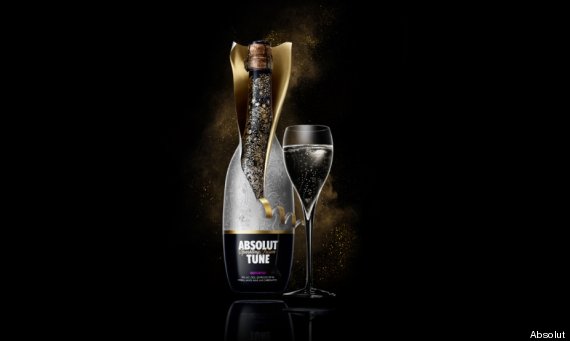 But it's not Champagne, or even sparkling wine. (Champagne technically only refers to wine made from grapes grown in the region of France.)
Promotional materials proclaim it a "sparkling fusion of crisp white wine with a premium vodka finish. That's right, it's a mixture of vodka and New Zealand Sauvignon Blanc, posturing itself as a bubbly libation fit for "raising a glass at Sunday brunch" (prime Champagne real estate) or "romantically sipping during a quiet in-home celebration" (Champagne territory again). An Absolut release even suggests using it in mimosas and bellinis -- famously Champagne-based drinks.
HuffPost's editors were prepared for the worst when we popped open a bottle for a recent taste test. Could a bottle of something easily confused with a frat party misstep (it's like a classier jungle juice!) actually be anything other than terrible?
"This is kind of genius," one editor remarked on first sip.
"This is actually better than expected," quipped another. "Sort of just an extra sweet sparkling wine with more heartburn."
On the whole, the editors agreed that Absolut Tune tastes a little like Champagne with a dash vodka -- which was probably Absolut's aim in the first place -- although there's no Champagne in the mix.
Still, the stuff lost its luster a few sips in for some. "I liked it at first, but on subsequent sips I thought I was drinking cheap sparkling wine mixed with rubbing alcohol," said an editor. "But I think it's worth the novelty."
Our final verdict: By all rights, Absolut Tune should be a lot worse than it is. It's not bad, overall. But there's no confusing it for Champagne.
Absolut Tune hits select U.S. markets this fall. It's 14 percent alcohol by volume (by comparison, Champagne often clocks in at 13 percent) and retails for $31.99 a bottle.
REAL LIFE. REAL NEWS. REAL VOICES.
Help us tell more of the stories that matter from voices that too often remain unheard.
BEFORE YOU GO
PHOTO GALLERY
Worst Liquor Flavors Of All Time