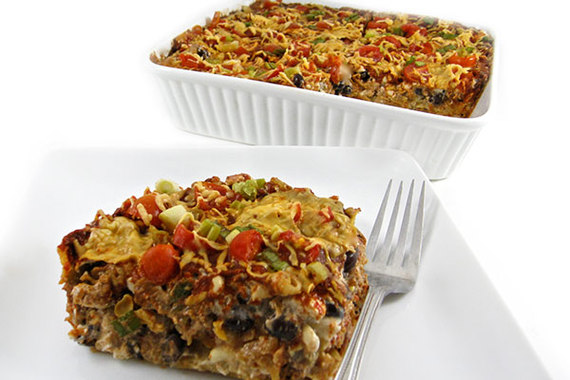 Forget all the tortilla rolling, I've got a skinny twist that's easy to assemble and really, really good. This casserole has many of the same ingredients of a classic enchilada and some updated skinny ones. Each serving has 285 calories, 4 grams of fat and 7 Weight Watchers SmartPoints.
Prep Time: 25 minutes (includes browning the beef)
Bake Time: 35 minutes
Ingredients for Enchiladas:
8 ounces (½ of a 1-pound package) extra lean ground beef, I used Trader Joe's 96/4, see healthy benefits or lean ground turkey
1 (15-oz) can black beans, rinsed and drained
1 (4-oz) can Fire Roasted Diced Green Chiles, see shopping tips
1 cup fat free sour cream
½ cup fresh corn kernels (cut from 1 cob) or ½ cup frozen and thawed
¼ cup fat free cottage cheese
8 (6-inch) Mission yellow corn tortillas, extra thin, see shopping tips
1 (10-oz) can enchilada sauce, see shopping tips
½ cup shredded reduced-fat cheddar cheese
1. Preheat oven to 350 degrees. Coat a 9" square pan with cooking spray. Glass or metal pan is fine.
2. In a large nonstick pan, cook the beef, onions, garlic, chili powder and cumin over medium-high heat until onions are tender and beef is no longer pink. Stir often, breaking up the beef. Stir in black beans, undrained chile peppers and mix well. Remove from heat and set aside.
3. In a small bowl, stir together sour cream, corn, cottage cheese and garlic powder.
4. Place 4 tortillas, overlapping on the bottom of pan. Top with half the meat mixture, half the sour cream mixture and half the enchilada sauce. Reserve topping ingredients until baked. Repeat layers.
5. Cover casserole with foil. Bake for 30-35 minutes, until heated through. Remove from oven, sprinkle with tomatoes, scallions and cheese evenly over the top of the casserole. Bake uncovered for about 10 minutes, until cheese is melted.
6. Remove from oven and let sit for about 10 minutes to set. Cut into 6 servings. Remove servings with a spatula Note: It holds together even better if baked and refrigerated overnight. Just before serving, heat in a 350 degree oven or microwave until hot. Cut into 6 slices.
Makes 6 servings (each serving, 1 slice)

Shopping Tips
You'll find the can of diced Fire Roasted Diced Green Chiles in the Mexican foods aisle where salsa is sold. Trader Joe's also sells it.
Mission (extra thin) yellow corn tortillas are sold in most supermarkets. They're only 40 calories each compared to most tortillas at 60 calories. If you can't find them just use the regular corn tortillas.
Enchilada sauce can be found in the Mexican foods aisle where salsa is sold. There are many types but I used Las Palmas Salsa Para Enchiladas, medium hot. It's a red sauce.

Storage Tip
This casserole will keep for a few days in the refrigerator and freezes great. To freeze, cut into individual servings and wrap each well, before freezing.

Weight Watchers SmartPoints 7
Weight Watchers POINTS PLUS 7
Weight Watchers (old points) 5

SKINNY FACTS: for 1 serving (1 slice)
285 calories, 4g fat, 2g sat. fat, 24mg chol, 24g protein, 42g carbs, 9g fiber, 295mg sodium, 5g sugar
Popular in the Community